Schloss

Bellevue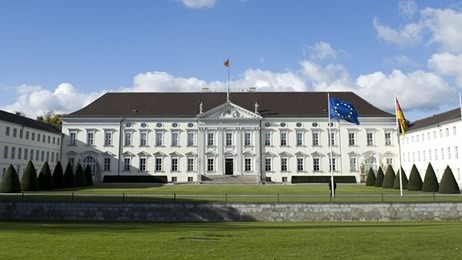 10 February 2011
Schloss Bellevue has been the Federal President's principal official residence since 1994. Situated at the edge of the Tiergarten, not far from the German Bundestag and the Federal Chancellery, the palace is surrounded by a spacious park bordering the River Spree. The Victory Column monument is just down the road. It was Theodor Heuss, the first President of the Federal Republic of Germany, who made Schloss Bellevue his official Berlin residence alongside Villa Hammerschmidt in Bonn as a symbol of Germany's aspirations for reunification.

The palace, which has a main wing and two side wings, was built in the late 18th century in the early neoclassical style. The sandstone figures on the portal gable symbolise hunting, farming and fishing, a reminder that the palace was originally situated in the countryside. The palace owes its name "Bellevue" to its beautifully landscaped surroundings. The park was designed to provide vantage points in different directions – so-called "points de vue" – looking towards Charlottenburg, towards the south-west and across the Spree River.


The presidential standard

The presidential standard is flown on the roof of Schloss Bellevue when the Federal President is in his official residence in Berlin or in another part of Germany. It is taken down only if he is at Villa Hammerschmidt, his official residence in Bonn, or if he designates another place in Germany as his official residence. The standard is then hoisted there prior to his arrival. When the Federal President travels abroad, the standard is taken down as soon as his aeroplane takes off and hoisted again when he lands in Berlin.