The building / Virtual tour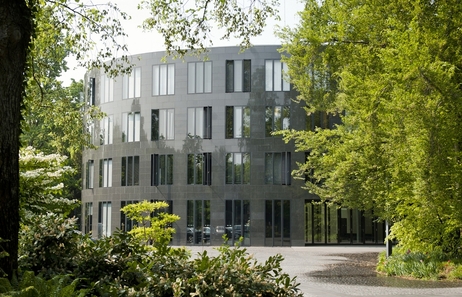 23 May 2011 Außenansicht des Bundespräsidialamts © Guido Bergmann
After the German Bundestag decided in 1991 to relocate Parliament to Berlin, the then Federal President Richard von Weizsäcker moved the first official residence of the Head of State to Berlin in 1994 and proposed a new building for the Office of the Federal President beside Schloss Bellevue.
The foundation stone for the Office of the Federal President building only a few metres from Schloss Bellevue was laid on 14 November 1996. After two years of work, the new building designed by Frankfurt am Main architects Martin Gruber and Helmut Kleine-Kraneburg was inaugurated on 23 November 1998.
Some 180 people currently work there. The Federal President still has his own office in Schloss Bellevue, however.
The building housing the Office of the Federal President is elliptical in form and its façade of black polished stone mirrors the nearby trees. In this way, the building blends unobtrusively into the surrounding park landscape – a symbol also of its function, namely to serve the head of state.
In contrast to its dark façade, the interior is bright and full of light. The offices of the staff are positioned against the outside walls on three floors, with four connecting walkways on each floor. This ensures all offices are well-lit in daytime and have no need of artificial lighting.
The glass roof reinforces the feeling of light and airiness. The inner area behind the offices houses several conference rooms and a library. The walls between the doors along the outer corridors are hung with a series of majolica objects, 90 in all, each in two different colour tones. The tones relate to the colour spectrum used by artist Caspar David Friedrich in his landscape paintings, in which heaven and earth meet and seemingly connect.