International treaties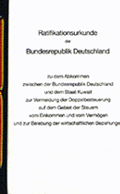 Ratification document Source: BPA 10 May 2011
Pursuant to Article 59 (1), second sentence, of the Basic Law, the Federal President concludes treaties with foreign states on behalf of Germany.
However, he usually grants the requisite full powers to the Minister for Foreign Affairs, a State Secretary or a German Ambassador so that they may act on his behalf.
Treaties by which the Federal Republic of Germany enters into a binding agreement with another state must be ratified by the head of state. Ratification denotes the formal declaration of approval by the head of state that makes a treaty binding on the Federal Republic of Germany. This is given in an "instrument of ratification" issued by the Federal President.
The Federal President is also responsible for declaring Germany's recognition of foreign states. However, the political decision on whether to recognize a state or not is made by the Federal Government.
Treaties between states are concluded in the name of the President of the Federal Republic of Germany. In certain cases the Federal Government or federal ministries may conclude agreements that are binding under international law – intergovernmental or interministerial agreements, for example – but they do so on the basis of powers delegated by the Federal President. Where the Federal President does not act himself, the Federal Minister for Foreign Affairs is responsible for supervising and coordinating the conclusion of such agreements.