Visit to Israel and Palestinian territories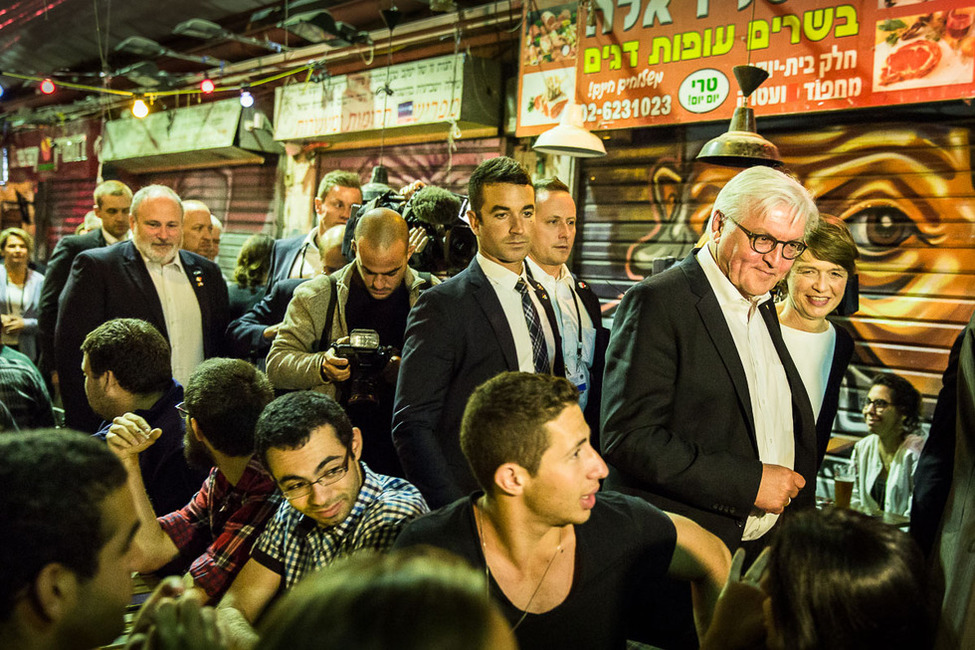 Jerusalem/Israel, 6 May 2017 Visit to Israel and Palestinian territories – At the Mahane Yehuda market © Jesco Denzel
Federal President Frank-Walter Steinmeier and Elke Büdenbender paid their first official visit to the State of Israel and to the Palestinian territories from 6 to 9 May 2017.

Israeli President Reuven Rivlin, who was among those with whom Federal President Steinmeier met in Jerusalem, invited Steinmeier to visit the country. With his trip, the Federal President wanted to both pay tribute to and deepen the special friendship between Germany and Israel. Amongst other things, he visited German-Israeli cooperation projects and held discussions with civil society representatives and students at The Hebrew University.
In the Palestinian territories, the Federal President met with President Mahmoud Abbas and visited a training centre that receives financial support from Germany.
Overview of the programme:
Saturday, 6 May 2017
Flight to Tel Aviv
Jerusalem, Mahane Yehuda Market
Welcome by Reuven Rivlin, President of the State of Israel
Thereafter
Joint tour of the Market and guided graffiti tour
Sunday, 7 May 2017
Jerusalem, delegation hotel
Talks with David Grossman
Jerusalem, Mount Herzl, Military Cemetery
Wreath-laying ceremony at the graves of Yitzhak Rabin and Shimon Peres
Yad Vashem Remembrance Centre
Memorial and wreath-laying ceremony
Thereafter
Visit of the Remembrance Centre and signing of the visitors book
official seat of the President
Welcome by Reuven Rivlin, President of the State of Israel
Thereafter
Joint press conference
Thereafter
Signing of the visitors book
Thereafter
Joint luncheon
Beit Ben Yehuda International Meeting Centre
Talks with representatives of Action Reconciliation - Service for Peace on "Young volunteers as lifelong mediators between Israel and Germany"
official seat of the Prime Minister
Talks with Benjamin Netanyahu, Prime Minister of the State of Israel
The Hebrew University of Jerusalem
Speech by the President of the Federal Republic of Germany
Thereafter
Talks with students
residence of the Prime Minister
Dinner hosted by the Prime Minister
 
Monday, 8 May 2017
Givat Haviva
Welcome by the Executive Director, Yaniv Sagee
Thereafter
Visit of the Centre for a Shared Society
Herzliya, residence of the German Ambassador
Luncheon with representatives of Israeli civil society, including Amos Oz
Herzliya Accelerator Center (HAC)
Tour of the HAC, presentation by selected start-ups and talks with HAC representatives
Tel Aviv, Café Europa
Meeting with survivors of the Holocaust
Jerusalem, St Charles Hospice of the Sisters of St Charles Borromeo
Reception hosted by the President of the Federal Republic of Germany and Elke Büdenbender
delegation hotel
Talks with the Knesset opposition leader Yitzhak Herzog
Tuesday, 9 May 2017
Qubeibeh, nursing home
Visit
Thereafter
Visit of the nursing college and talks with
students and graduates
Ramallah, official seat of the President of the Palestinian Authority
Wreath-laying ceremony at the grave of Yasser Arafat
Thereafter
Welcome by the President of the Palestinian Authority, Mahmoud Abbas, followed by talks
Joint press conference
Joint luncheon
Thereafter
Flight to Berlin