State visit to Singapore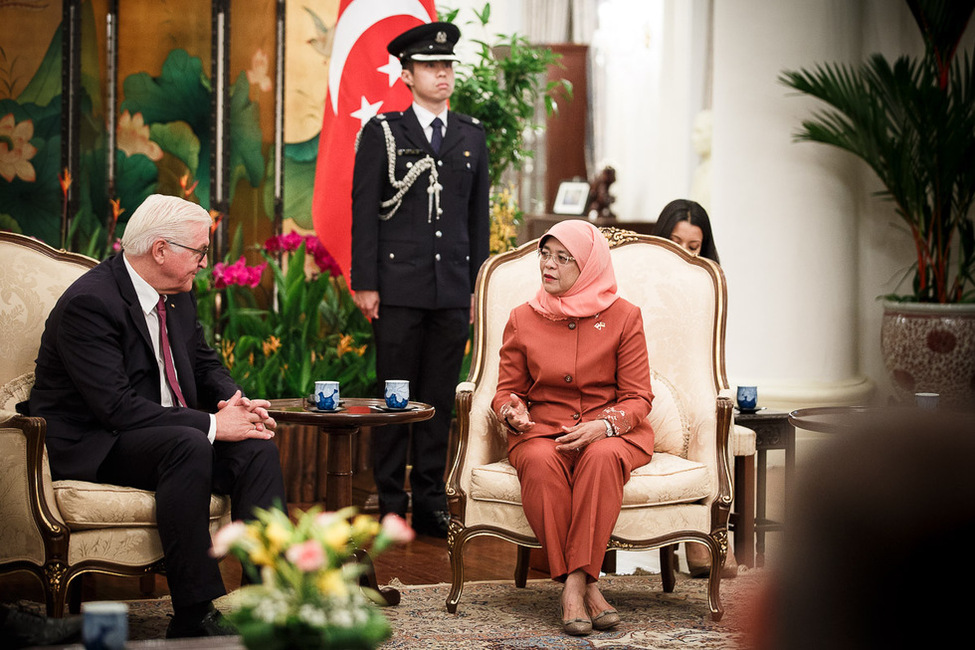 Singapore/Republic of Singapore, 2 November 2017 Federal President Frank-Walter Steinmeier in talks with President Halimah Yacob at the Presidential Palace Istana on the occasion of his state visit to the Republic of Singapore © Jesco Denzel
Federal President Frank-Walter Steinmeier and Elke Büdenbender paid a state visit to Singapore from 1 to 3 November.
In Singapore, Germany's interest in expanding relations with ASEAN, the Association of Southeast Asian Nations, was the focus of attention. This was prompted by ASEAN's 50th anniversary. In a speech at the Singapore Management University, the Federal President addressed issues relating to democracy and its further development and had a discussion with students.
Afterwards, the Federal President and Elke Büdenbender will pay state visits to Australia and New Zealand from 3 to 8 November.
Overview of the programme:
Wednesday, 1 November 2017
In the evening
Flight to Singapore
Thursday, 2 November 2017
Arrival at Changi airport
Istana (Presidential Palace)
Welcome with military honours by the President of the Republic of Singapore, Ms Halimah Yacob
Followed by talks
Talks with Prime Minister Hsien Loong Lee
Speech at the Singapore Management University
Meeting with representatives of the Asia-Europe Foundation
Presidential Palace
Dinner hosted by President Halimah Yacob in honour of the Federal President and Ms Büdenbender
Friday, 3 November 2017
Botanic Gardens
Dedication of an orchid and visit to the Orchid Garden
Talks with representatives of German business in Singapore
Flight to Perth, Australia