Visit to the Slovak Republic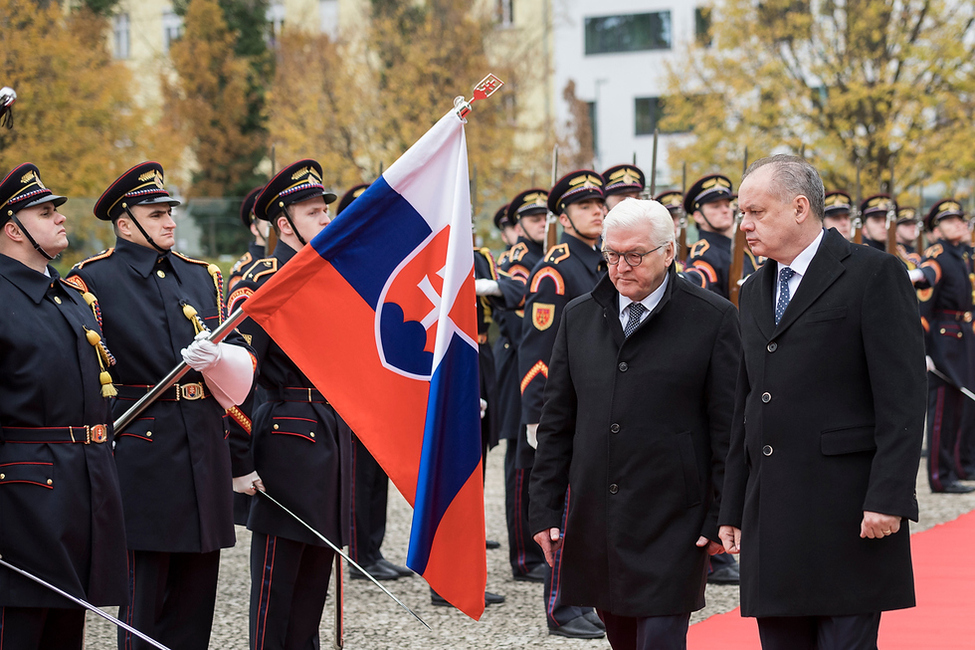 Bratislava/Slovak Republic, 17 November 2017 Federal President Frank-Walter Steinmeier is welcomed with military honors by the Slovak President, Andrej Kiska, at the Presidential Palace in Bratislava on the occasion of his first official visit to the Slovak Republic © Steffen Kugler
Federal President Frank Walter Steinmeier paid his first official visit to the Slovak Republic on 17 November. He met Slovak President Andrej Kiska for political talks in Bratislava during his official visit.
He also held meetings with Speaker of the National Council Andrej Danko and Prime Minister Robert Fico.
Together with President Andrej Kiska, Federal President Steinmeier took part in a panel discussion in Žilina attended by civil society representatives and students entitled "The future of democracy in Europe". Both Presidents visited the Orthodox synagogue in Žilina.
Overview of the programme:
Presidential Palace in Bratislava
Welcome with military honours
Talks with President Andrej Kiska
Thereafter
Joint press conference
Bratislava Castle
Talks with Speaker of the National Council Andrej Danko
Presidential Palace
Lunch, hosted by the President of the Slovak Republic
Ruzinov cemetery
Wreath-laying ceremony with President Kiska at the memorial to the victims of totalitarian regimes (1945-1989)
Žilina, New Synagogue
Panel discussion entitled "The future of democracy in Europe"
Bratislava, Vice Governor's Palace
Talks with Prime Minister Robert Fico