State visit to the Republic of Ghana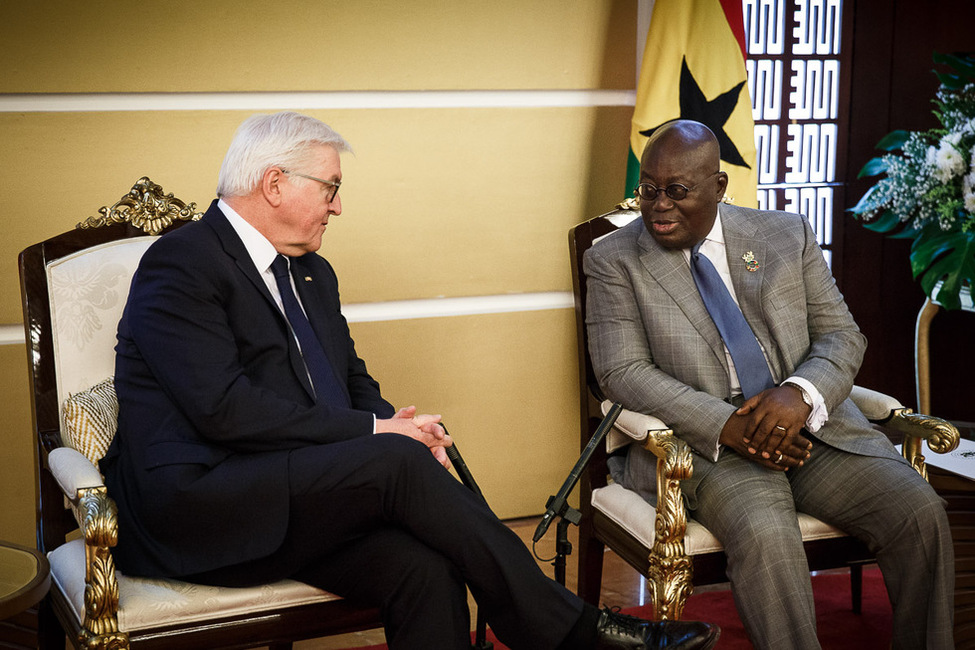 Accra/Republic of Ghana, 12 December 2017 Federal President Frank-Walter Steinmeier in talks with President Nana Addo Dankwa Akufo Addo on the occasion of his state visit to the Republic of Ghana © Jesco Denzel
Federal President Frank Walter Steinmeier visited the Republic of Ghana from 11 to 13 December. He was accompanied by a business delegation.
The Federal President opened a business round table discussion in Accra at the Delegation of German Industry and Commerce in Ghana. He met Nana Addo Dankwa Akufo Addo, President of the Republic of Ghana, for political talks focussed on the development of bilateral relations and Africa's development. Further topics of the visit icluded training, academic collaboration, economic cooperation and migration. The Federal President also discussed these topics in Accra with apprentices at a training centre, students at the university and young entrepreneurs from a start up incubator. Furthermore, the Federal President opened a migration centre funded by Germany, where he spoke with returnees. The Federal President found out more about military cooperation between Ghana and Germany at the Kofi Annan International Peacekeeping Training Centre.
Ghana is regarded as West Africa's most stable democracy. As the second largest economy in West Africa, it is a key country and important political partner for Germany in the region. It is a major country in the Partnership with Africa initiative under Germany's G20 Presidency.
After his visit to Ghana, the Federal President traveled on to the Republic of The Gambia.
Overview of the programme:
Monday, 11 December 2017
Afternoon
Flight to Accra/Ghana
Arrival in Accra
Tuesday, 12 December 2017
delegation hotel
Speech by the Federal President at the opening of the business round table discussion at the Delegation of German Industry and Commerce in Ghana
seat of the President
Welcome with military honours by the President of the Republic of Ghana, Nana Addo Dankwa Akufo Addo,
followed by talks
Signing of a declaration of intent on the two countries' bilateral reform partnership in the presence of the President and the Federal President
Joint press conference,
followed by signing of the visitors' book
Scania West Africa Ltd. training centre
Tour of the training centre and meeting with apprentices
auditorium of the University of Ghana
Signing of a declaration of intent on the Merian International Centre for Advanced Studies (MICAS) in the presence of the Federal President
Meeting with experts and students
Accra International Conference Centre
Speech by the Federal President at the state banquet in his honour hosted by the President of the Republic of Ghana
Wednesday, 13 December 2017
Kofi Annan International Peacekeeping Training Centre
Talks with the Commandant and security experts,
followed by the planting of a tree
Artists Alliance Gallery
Tour of the gallery
Start up incubator iSpace Ghana
Talks with young entrepreneurs
Ghanaian German Centre for Jobs, Migration and Reintegration
Opening of the centre in the presence of the Federal President,
followed by talks with returnees
Flight to Banjul, the Gambia