Official visit to Portugal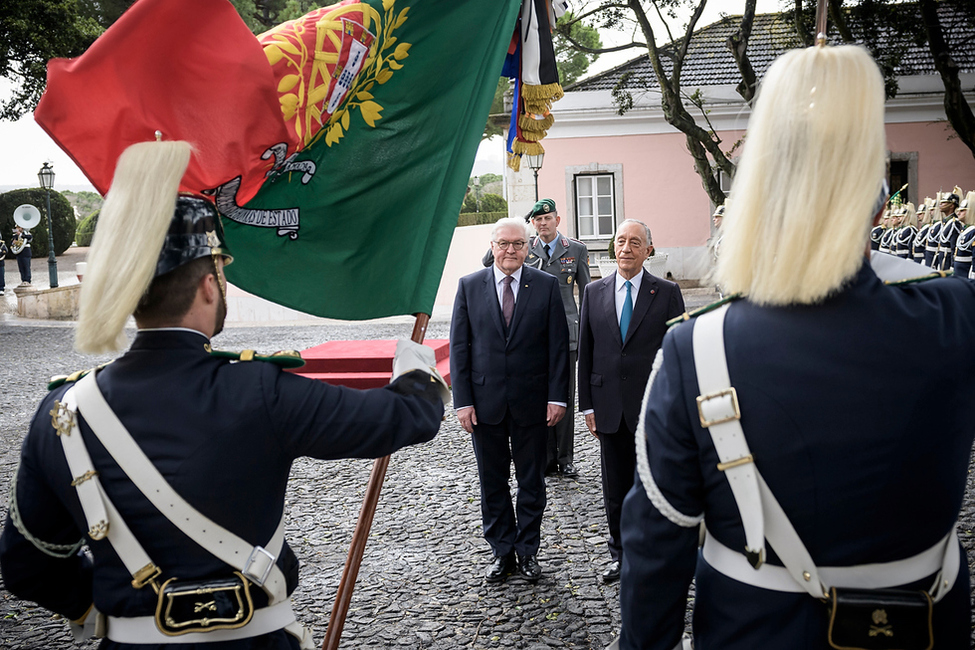 Lisbon/Portugal, 1 March 2018 Federal President Frank-Walter Steinmeier is welcomed with military honors by President Marcelo Rebelo de Sousa in his residence Palácio Nacional de Belém on the occasion of his official visit to Portugal © Steffen Kugler
Federal President Frank-Walter Steinmeier travelled to the Portuguese Republic from 1 to 2 March 2018.
In Lisbon, he held political talks with the President, the Prime Minister and the President of the Assembly of the Republic. He also met German and international scientists and was briefed on new medical treatment methods and research projects.
On the second day of the trip, the Federal President travelled to Porto, where he visited the Science and Technology Park at the University of Porto (UPTEC) and attended cultural events together with the Portuguese President. He met German and Portuguese business representatives and others at a luncheon.
Overview of the programme:
Thursday, 1 March
Morning
Flight to Lisbon, Portugal
Morning
Arrival in Lisbon
Residence of the President
Welcome with military honours
followed by talks with President Marcelo Rebelo de Sousa
Joint press conference
Ministry of Foreign Affairs
Luncheon, hosted by Prime Minister António Costa
Seat of the Assembly of the Republic
Talks with Eduardo Ferro Rodrigues, President of the Assembly of the Republic
Welcome by the Assembly of the Republic
Historic Old Town
Trip by historic tram together with the President of the Portuguese Republic
Hieronymites Monastery
Guided tour of the church and monastery
Champalimaud Foundation
Tour and discussions with scientists
Palácio Nacional da Ajuda
Dinner hosted by the President of the Portuguese Republic

Friday, 2 March
Morning
Flight to Porto, Portugal
Morning
Arrival in Porto
Visit to the Science and Technology Park at the University of Porto (UPTEC)
Casa-Museu Guerra Junqueiro
Joint tour of the Günter Grass exhibition "Begegnungen" with the President of the Portuguese Republic

Palácio da Bolsa
Ceremony for joining the Port Wine Brotherhood
thereafter

Luncheon with the President of the Portuguese Republic hosted by Rui Moreira, Mayor of Porto


Joint tour of the Church of Saint Francis and the Old Town with the President of the Portuguese Republic
Afternoon
Return flight to Berlin