State visit to the Republic of India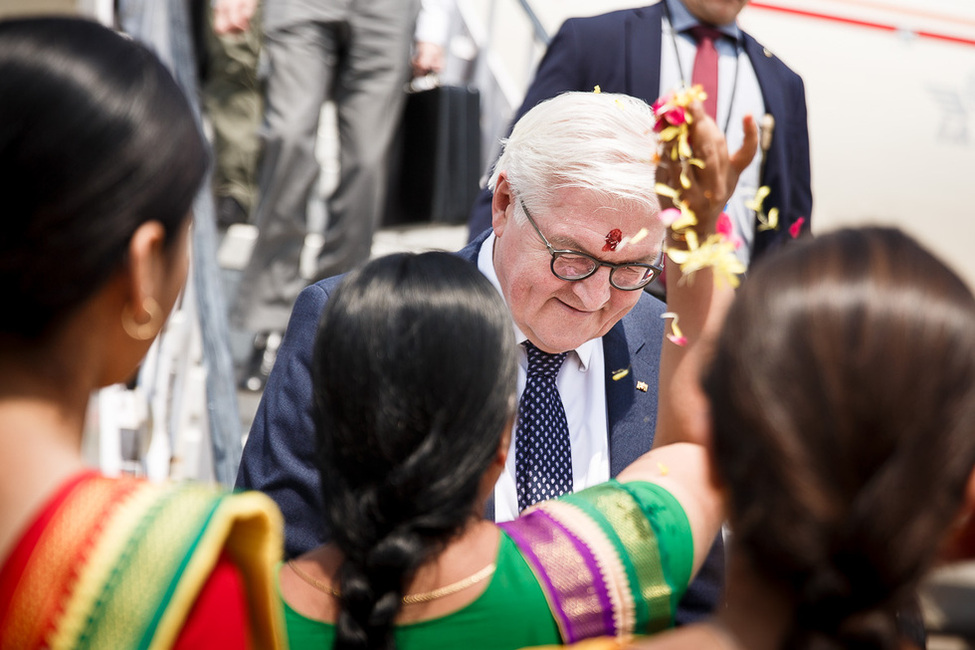 Varanasi/India, 22 March 2018 Federal President Frank-Walter Steinmeier arrives in Varanasi on the occasion of his state visit to India © Jesco Denzel
Federal President Frank-Walter Steinmeier and Elke Büdenbender payed a state visit to the Republic of India from 21 to 26 March.
They first traveled to Varanasi, a holy city for Hindus and Buddhists, where the Federal President talked to students of Banaras Hindu University about religious diversity. On the second day of the trip, the Federal President and Ms Büdenbender visited the Jama Masjid (Friday mosque) in New Delhi and the University of Delhi, where the Federal President gave a speech. He subsequently held talks with representatives from India's civil society and academic and business communities.
On the third day of their state visit, the Federal President and Ms Büdenbender were received by President Kovind in New Delhi. The Federal President also held talks with Prime Minister Modi and further high-ranking politicians, as well as other public figures, in the Indian capital. The final destination of his state visit was Chennai, an important location for German business in India. In Chennai, he toured the Daimler India Commercial Vehicles plant and the Indian Institute of Technology (IIT) in Madras Research Park.
Overview of the programme:
Wednesday, 21 March
Evening
Flight to New Delhi, India
Thursday, 22 March
Morning
Arrival in New Delhi
thereafter onward flight to Varanasi, India
Around noon
Arrival in Varanasi
Sarnath
Tour of the Archaeological Museum
Banaras Hindu University
Discussion with students on the topic of religious diversity
Attendance of a Ganga Aarti ceremony
Evening
Flight from Varanasi to New Delhi
Friday, 23 March
Visit to the Jama Masjid (Friday mosque), talks with the Imam
University of Delhi
Speech by the Federal President
Luncheon with representatives of Indian civil society
Visit to the CSIR-Institute of Genomics and Integrative Biology
Ambassador's Residence
Talks with representatives from the business world
Reception hosted by the Ambassador of the Federal Republic of Germany in honour of the Federal President and Ms Büdenbender
Saturday, 24 March
Residence of the President
Welcome with military honours by Ram Nath Kovind, President of the Republic of India
Wreath-laying ceremony at Mahatma Gandhi's cremation site
Talks with External Affairs Minister Sushma Swaraj
Luncheon with representatives of Indian think tanks on the topic of foreign and security policy
Guest house of the Indian Government
Talks with Narendra Modi, Prime Minister of the Republic of India
thereafter joint press conference
Residence of the President
Talks with Ram Nath Kovind, President of the Republic of India, and Ms Savita Kovind
State banquet
Sunday, 25 March
Morning
Flight to Chennai, India
Tour of the Daimler India Commercial Vehicles plant
Madras Research Park
Visit to the Indian Institute of Technology (IIT)
Talks with representatives from the business world
Reception hosted by the Consul-General of the Federal Republic of Germany in Chennai in honour of the Federal President and Ms Büdenbender
Monday, 26 March
Tour of the Mahabalipuram temples (UNESCO World Cultural Heritage site)
Around noon
Flight to Berlin
Evening
Arrival in Berlin