Official visit to Ukraine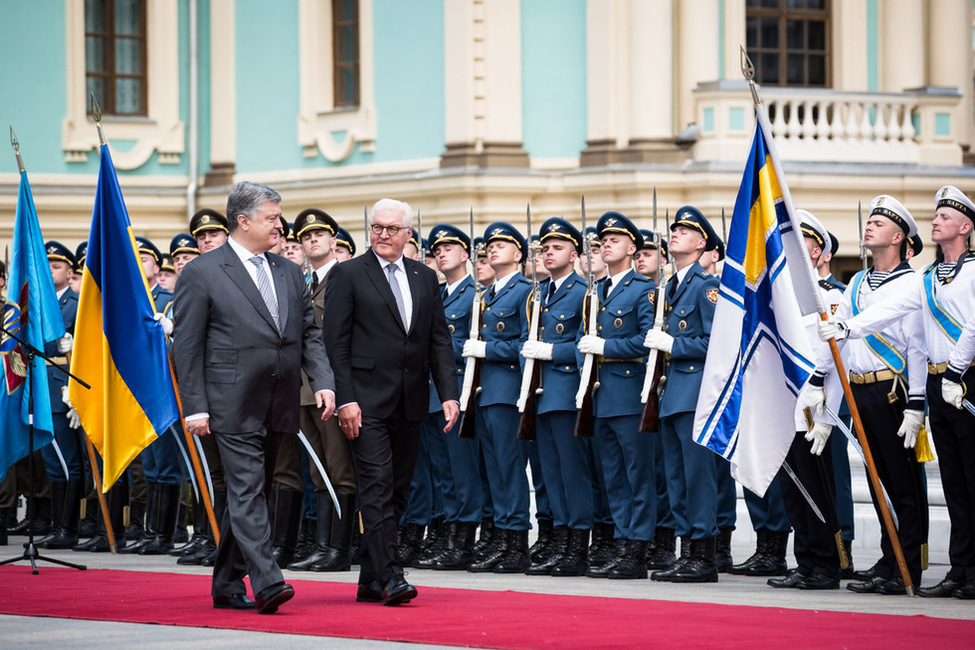 Kyiv/Ukraine, 29 May 2018 Federal President Frank-Walter Steinmeier is welcomed with military honours by President Petro Poroshenko in the Mariyinsky Palace on the occasion of his official visit to Ukraine © Sandra Steins
Federal President Frank-Walter Steinmeier visited Ukraine from 29 to 30 May 2018.
The Federal President held talks in Kyiv with President Poroshenko and Prime Minister Groysman, learn about the state of play of reforms in Ukraine and gave a speech to students at the National University of Kyiv-Mohyla Academy.
In connection with the German-Ukrainian Year of Language, he met pupils and teachers of German in Kyiv and students and lecturers of German Studies in Lviv on 30 May, thus also marking the tenth anniversary of the initiative "Schools: Partners for the Future".
Overview of the programme:
Tuesday, 29 May
Morning
Flight to Kyiv
Park of Eternal Glory Memorial
Wreath-laying ceremony at the Tomb of the Unknown Soldier, followed by a visit to the Holomodor Memorial
Thereafter drive to the National Memorial to the Heavenly Hundred Heroes
Mariyinsky Palace
Welcome with military honours by President Petro Poroshenko
Joint press conference
Joint luncheon
National University of Kyiv-Mohyla Academy
Speech by the Federal President at the event, Ukraine, Germany, Europe – Partnership and Prospects
Cabinet of Ministers building
Talks with Prime Minister Volodymyr Groysman
Talks with experts from the NGO coalition, Reanimation Package of Reforms, on fighting corruption, judicial reform and decentralisation
Talks with the author and musician Serhiy Zhadan
Wednesday, 30 May
Visit to St. Sophia's Cathedral

School 239
Visit to a Ukrainian school to mark the German-Ukraine Year of Language and the tenth anniversary of Schools: Partners for the Future

Thereafter onward flight to Lviv

Potocki Palace
Talks with Oleg Syniutka, Head of Lviv Regional State Administration; Andriy Sadovyi, Mayor of Lviv; and Oleksandr Hanushchyn, Chairman of Lviv Regional Council
Ivan Franko National University of Lviv
Talks with students and lecturers of German Studies
Tour of the Old Town, passing selected redevelopment projects by the Deutsche Gesellschaft für Internationale Zusammenarbeit (GIZ) GmbH, followed by a meeting with the representative of the Reform Jewish community at the Golden Rose Synagogue memorial
Evening
Return flight to Berlin