Visit to Poland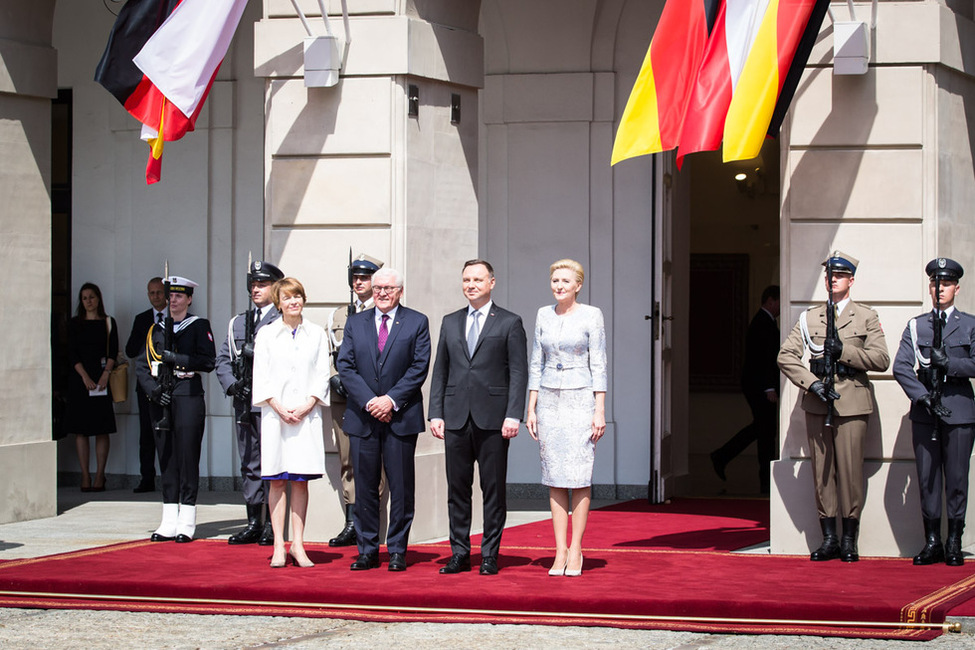 Warsaw/Poland, 5 June 2018 Federal President Frank-Walter Steinmeier and Elke Büdenbender are welcomed by Mr Andrzej Duda, President of the Republic of Poland, and Mrs Kornhauser-Duda © Sandra Steins
Federal President Frank-Walter Steinmeier and Elke Büdenbender visited the Republic of Poland from 5 to 6 June.
In Warsaw, the Federal President had talks with President Andrzej Duda and joined him at a conference on "Poland and Germany in Europe: Conference on the 100th anniversary of Poland regaining independence".
On the second day of the trip, the Federal President and Elke Büdenbender met representatives of Polish civil society and visit the Museum of the History of Polish Jews.
Overview of the programme:
Tuesday, 5 June
Afternoon
Flight to Warsaw, Poland

Official residence of the President of the Republic of Poland
Welcome by the President of the Republic of Poland, Andrzej Duda,
followed by talks

followed by press conference

Wreath laying ceremony at the Warsaw Uprising Monument
Royal Castle in Warsaw
Speech at the conference "Poland and Germany in Europe: Conference on the 100th anniversary of Poland regaining independence"
Belvedere Palace
Dinner given by the President of the Republic of Poland
Wednesday, 6 June
Residence of the Ambassador of the Federal Republic of Germany
Talks with representatives of civil society
Talks with representatives of the German minority in the Republic of Poland
Wreath laying ceremony at the Warsaw Ghetto Heroes Monument
Visit to the Museum of the History of Polish Jews (POLIN)
Skaryszewski Park
Tree planting ceremony in the German-Polish Garden
Afternoon
Flight back to Berlin