Official visit to Spain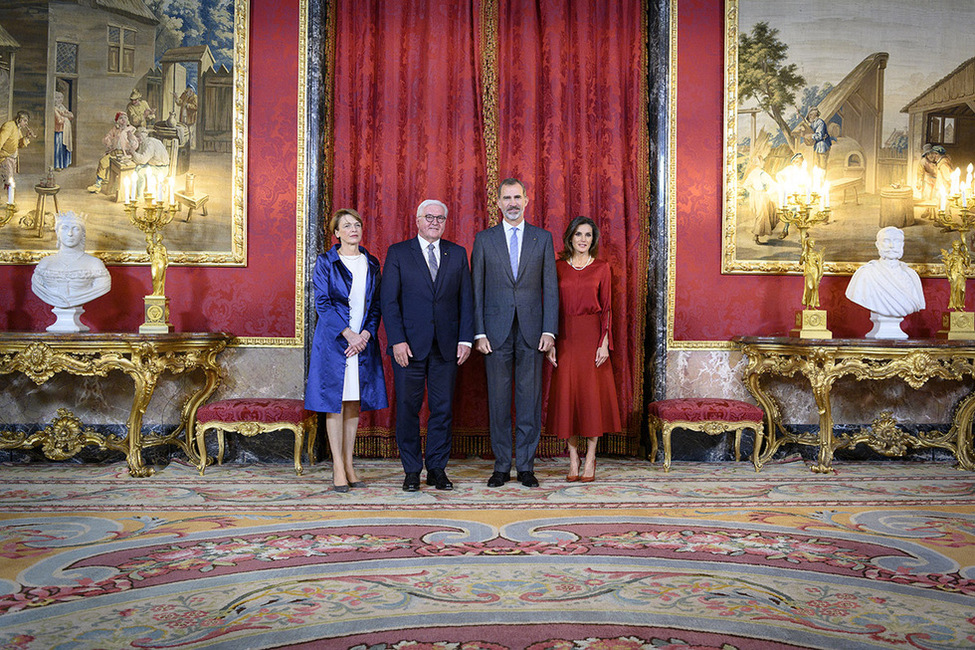 Madrid/Spain, 24 October 2018 Federal President Frank-Walter Steinmeier and Elke Büdenbender are welcomed by King Felipe VI and Queen Letizia of Spain in the Palacio Real in Madrid on the occasion of the official visit to Spain © Guido Bergmann
Federal President Frank Walter Steinmeier and Elke Büdenbender travelled to the Kingdom of Spain from 24 to 25 October 2018.
The Federal President held political talks in Madrid with King Felipe VI of Spain, Prime Minister Pedro Sánchez, and Ana Pastor, President of the Congress of Deputies. He joined the King of Spain at the concluding session of the German-Spanish Forum during the afternoon. In the evening, the Federal President opened a Max Beckmann exhibition at the Thyssen-Bornemisza Museum.

On the second day of their visit, the Federal President and Elke Büdenbender travelled to the province of Extremadura, where the Federal President's programme included a discussion on rural space and experiences in Spain with structurally weak regions with the President of the Regional Government of the Autonomous Community of Extremadura, Guillermo Fernández Vara, a tour of a technology park near Badajoz and a visit to a hotel management college in Mérida.

Overview of the programme:
Wednesday, 24 October 2018
Morning
Departure for Madrid
Palacio de la Zarzuela
Welcome by and audience with King Felipe VI of Spain
Palacio Real
Lunch hosted by King Felipe VI and Queen Letizia of Spain, with short speeches by both Heads of State
Talks with Pedro Sánchez, Prime Minister of the Kingdom of Spain, Palacio de la Moncloa
Palacio de las Cortes
Talks with Ana Pastor, President of the Congress of Deputies
Palace Hotel
German-Spanish Forum, with short speeches by both Heads of State
Thyssen-Bornemisza Museum
Opening of the exhibition "Beckmann. Exile Figures" by the Federal President
Thursday, 25 October 2018
Morning
Flight to Badajoz
Talks with Guillermo Fernández Vara, President of the Regional Government of the Autonomous Community of Extremadura
Visit to FUNDECYT science and technology park and tour of various start-ups
Visit to HaciendasBio company
Visit to the seat of the President of the Regional Government of the Autonomous Community of Extremadura
Tour of Mérida Amphitheatre
Visit to ESHAEX hotel management college and talks with students Lunch at the college
Afternoon
Return flight to Berlin