Visit to Romania, Bulgaria and Slovenia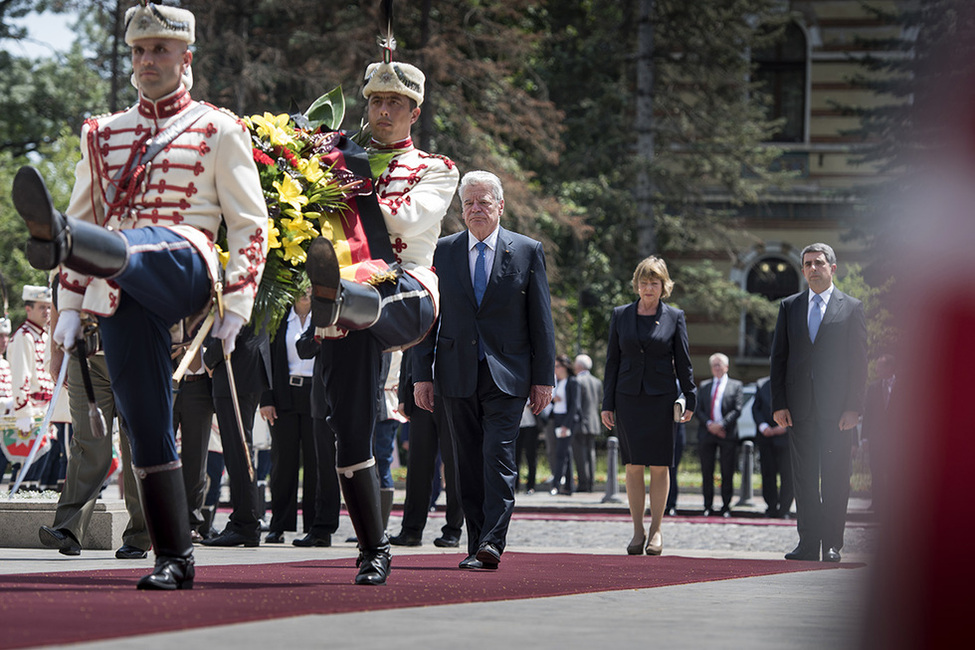 Sofia/Bulgaria, 22 June 2016 Federal President Joachim Gauck and Daniela Schadt are welcomed with military honours by the President of the Republic of Bulgaria, Rosen Plevneliev, on Alexander Nevski Square in Sofia on the occasion of the visit to the Republic of Bulgaria © Guido Bergmann
Federal President Joachim Gauck and Daniela Schadt travelled on a state visit to Romania and the Republic of Bulgaria from 20 to 24 June, as well as to the Republic of Slovenia for the 25th anniversary of the country's independence on 24 June.
The visits took place against the backdrop of Germany's excellent bilateral relations with the three countries.
During his two day visit to Romania, the President Gauck visited Sibiu and a fortified church in Transylvania in addition to the capital Bucharest. Moreover, he discussed the topic of European cohesion and focus on German-Romanian business relations and the reform process in Romania. During his two day visit to Bulgaria, he held political talks in Sofia, discussed students' expectations of the European Union and took part in a panel discussion on coming to terms with the country's communist past. Germany and Bulgaria's intensive business relations was a further focus of his trip to Bulgaria while an excursion to the Rila Monastery was the cultural highlight of the visit.
In Slovenia, the Federal President then attended the celebrations to mark the 25th anniversary of the independence of the Republic of Slovenia as a guest of President Pahor.
Overview of the programme:
Monday, 20 June 2016
Morning

Flight to Romania/Bucharest

12.15 p.m. [CEST +1], Bucharest, Cotroceni Palace

Welcome with military honours by President of Romania Klaus Johannis and Carmen Johannis

12.30 p.m.
Great hall

Signing of the guest book

1.45 p.m.

Joint press conference

3.30 p.m.
Parliament

Talks with the President of the Senate and the President of the Chamber of Deputies

4.20 p.m.

Wreath laying ceremony at the Tomb of the Unknown Soldier and signing of the guest book

4.45 p.m.
Official residence of the Prime Minister

Talks with Dacian Cioloş, Prime Minister of Romania

7.30 p.m.
Cotroceni Palace

State banquet hosted by the President of Romania Klaus Johannis and his wife Carmen Johannis
Tuesday, 21 June 2016
9.30 a.m.
National Library

Welcome by Andrei Pleșu, President of the New Europe Foundation

Thereafter speech by President Gauck

Approx. 11.00 a.m.

Flight to Sibiu

12.15 p.m.
Sibiu City Hall

Welcome by Mayor Astrid Fodor

Signing of the Golden Book of the city

12.40 p.m.

Joint walk through old city to Brukenthal College and to the Lutheran Church Sibiu

1.45 p.m.
Forumshaus

Visit to the Democratic Forum

3.45 p.m.
Cisnădie

Visit to fortified church

Approx. 5.00 p.m.

Return flight to Bucharest

8.00 p.m.
Ambassador's Residence

Reception in honour of the President of Romania Klaus Johannis and his wife Carmen Johannis, hosted by President Gauck and Ms Schadt
Wednesday, 22 June 2016
10.00 a.m.
Bucharest Grand Hotel

Talks with Romanian and German business representatives

11.15 a.m.

Talks with representatives from civil society and independent state institutions focusing on efforts to fight corruption

Early afternoon

Flight to Bulgaria/Sofia

2.30 p.m. [CEST +1]
Sofia, Alexander Nevski Square

Welcome with military honours by President of the Republic of Bulgaria Rosen Plevneliev

Thereafter wreath laying ceremony at the Monument to the Unknown Soldier

Thereafter laying of a garland at the monument to Ivan Vazov

3.00 p.m.
Office of the President

Welcome by President of the Republic of Bulgaria

Thereafter official welcome photo and exchange of decorations

4.30 p.m.

Joint press conference

5.00 p.m.
Council of Ministers

Welcome by President of the Republic of Bulgaria Boiko Borisov

8.00 p.m.
Office of the President

State banquet hosted by the President of the Republic of Bulgaria
Thursday, 23 June 2016
9.30 a.m.
National Assembly of the Republic of Bulgaria

Talks with the President of the National Assembly of Bulgaria, Tsetska Tsacheva

10.30 a.m.
Sofia University "St. Kliment Ohridski", Aula

Panel discussion with students entitled "Germany and Bulgaria – partners in Europe" with keynote address by President Gauck, together with the President of the Republic of Bulgaria

12.45 p.m.
Sofia Hotel

Joint luncheon with business representatives

2.00 p.m.

Speech by President Gauck at the opening of the German-Bulgarian Economic Forum

4.00 p.m.
Rila Monastery

Joint tour

8.15 p.m.
National Gallery

Reception in honour of the President of the Republic of Bulgaria, hosted by President Gauck and Ms Schadt
Friday, 24 June 2016
9.30 a.m.
Military Club

Panel discussion with business representatives and representatives from civil society entitled "Lessons from the past. Remembering and coming to terms with Communism"

1.20 p.m.
Pirdop

Visit to a copper recycling firm

Thereafter

Flight to Ljubljana/Slovenia

5.30 p.m.
[CEST] Ljubljana, Presidential Palace

Welcome by the President of the Republic of Slovenia, Borut Pahor

6.00 p.m.

Group photo with the attending Presidents (Federal Republic of Germany, Italy, Croatia, Republic of Austria, Republic of Slovenia)

6.00 p.m.

Dinner hosted by the President of the Republic of Slovenia

9.00 p.m.
Congress Square

Attendance of celebrations to mark the founding of the state and the 25th anniversary of the independence of the Republic of Slovenia

Evening

Return flight to Berlin