Visit to Chile and Uruguay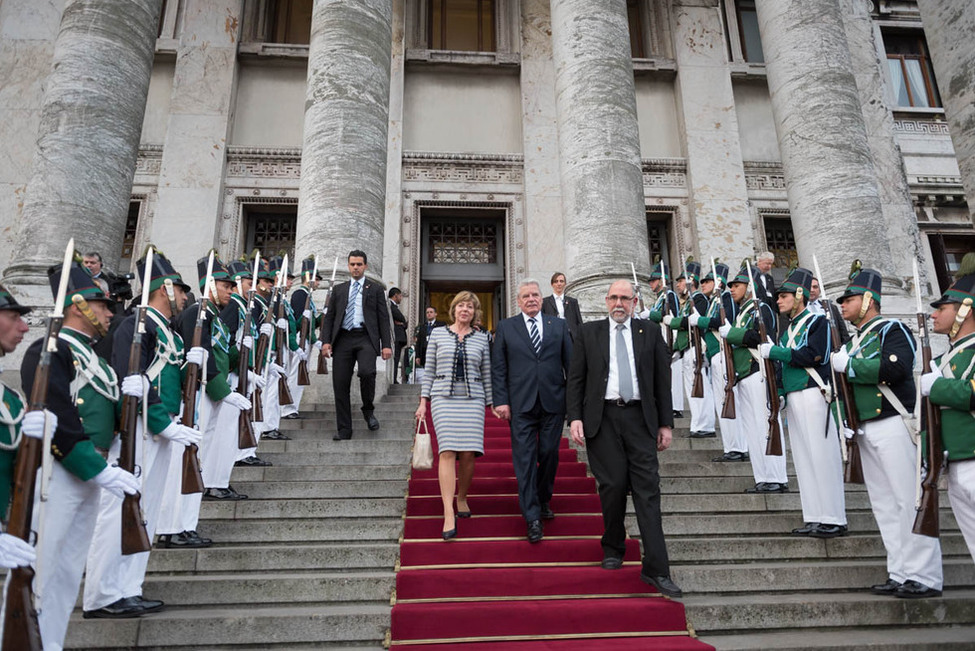 Montevideo/Uruguay, 14 July 2016 State visit to the Eastern Republic of Uruguay – House of Parliament © Steffen Kugler
Federal President Joachim Gauck and Daniela Schadt made state visits to the Republic of Chile and to the Eastern Republic of Uruguay from 11 to 17 July.
During his visit to Chile from 11 to 14 July, the Federal President held political talks in Santiago, including talks with the President and with members of parliament, the government and the judiciary. Along with the Chilean President, he opened a German-Chilean Forum organised by the German political foundations. During his visit to the Museum of Memory and Human Rights, the Federal President met representatives of Chilean civil society. In addition to bilateral, foreign policy and EU topics, the agenda of the talks in the Chilean capital focussed on the current challenges facing democracy in Chile.
During his visit to Uruguay from 14 to 16 July, the Federal President held political talks in Montevideo before visiting a German company and a training project. He also opened an exhibition on 160 years of German-Uruguayan relations and took part in a discussion on young people's social inclusion in Uruguay.
The Federal President was accompanied by representatives of the cultural sphere, academia, businesses and trade associations, with whom he visited the bilateral chambers of commerce in both countries to mark the 100th anniversary of their foundation.
Overview of the programme:
Monday, 11 July
Flight to Santiago de Chile
Tuesday, 12 July
former seat of the National Congress
Meeting with the President of the Chilean Senate, Ricardo Lagos Weber, and with the President of the Chilean Chamber of Deputies, Osvaldo Andrade
Wreath-laying ceremony at the memorial to Bernardo O'Higgins
La Moneda presidential palace
Welcome with military honours by the President of the Republic of Chile, Michelle Bachelet Jeria
Followed by talks
Joint press conference
former seat of the National Congress
Joint opening of the conference on challenges facing democracy
With speech by President Gauck
Courts of Justice Palace
Talks with the President of the Supreme Court of Chile, Hugo Enrique Dolmestch Urra
La Moneda presidential palace
State banquet hosted by the President of the Republic of Chile
Wednesday, 13 July
Visit to the Museum of Memory and Human Rights
Thereafter: talks with representatives from civil society
Club de la Unión
Luncheon hosted by the German-Chilean Chamber of Industry and Commerce to mark the centenary of its foundation
With address by President Gauck
Residence of the Ambassador of the Federal Republic of Germany
Reception hosted by President Gauck and Daniela Schadt
Thursday, 14 July
Flight to Montevideo
seat of the Parliament
Welcome by the Vice President of the Eastern Republic of Uruguay and President of the Senate, Raúl Sendic
Followed by talks
Ceremony to present two commemorative stamps issued by the Uruguay postal service on the occasion of the 160th anniversary of the establishment of diplomatic relations between Germany and Uruguay and tour of the Parliament building
Friday, 15 July
seat of the Supreme Court
Welcome by the President of the Supreme Court, Ricardo César P. Manrique
Followed by talks
Plaza Independencia
Wreath-laying ceremony at the memorial to José Gervasio Artigas
Welcome with military honours by the President of the Eastern Republic of Uruguay, Tabaré Ramón Vázquez Rosas
Followed by talks
Joint press conference
Luncheon in honour of President Gauck and Daniela Schadt hosted by the President of the Eastern Republic of Uruguay
With address by President Gauck
City Hall
Welcome by the Mayor of Montevideo, Daniel Martínez
Followed by talks
Presentation of the keys to the city to President Gauck
Thereafter: address by the President Gauck
Museum of Art History at the City Hall
Opening of the exhibition on 160 years of German-Uruguayan relations
Saturday, 16 July
Visit to the Bader company (leather manufacturer for the automobile industry)
Visit to the Ánima training centre (education centre for young people)
Club de Golf del Uruguay
Luncheon hosted by the German-Uruguayan Chamber of Industry and Commerce to mark the centenary of its foundation
With address by President Gauck
Casona Mauá cultural centre
Panel discussion with youth representatives on social inclusion of young people in Uruguay
delegation hotel
Reception hosted by President Gauck and Daniela Schadt
Flight to Berlin