Official visit to Japan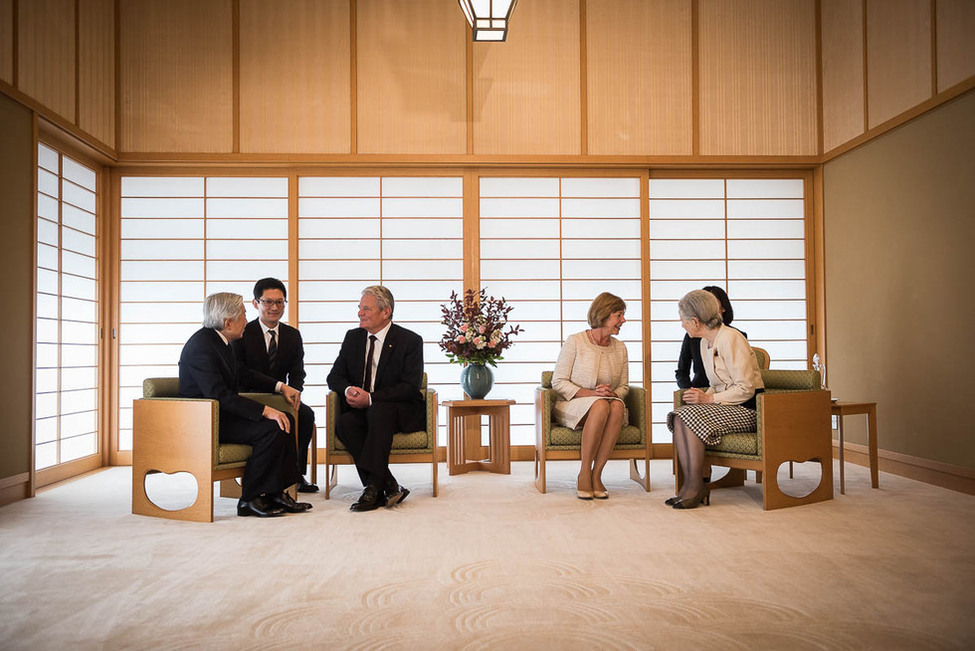 Tokyo/Japan, 15 November 2016 Official visit to Japan – Talks with Emperor Akihito and Empress Michiko © Steffen Kugler
Federal President Joachim Gauck and Daniela Schadt made an official visit to Japan from 13 to 18 November.
During his stay in the capital, Tokyo, the Federal President met Emperor Akihito, Empress Michiko and Crown Prince Naruhito. He also had political talks, including with Prime Minister Abe. These discussions focussed on foreign and European policy issues as well as current political and economic challenges, particularly in East Asia. The Federal President gave a speech at Waseda University in Tokyo. While in the capital, he also met business representatives and Japanese intellectuals.
In the old imperial city Kyoto, the programme was concentrated on history, art, culture and science. At Kyoto University, the Federal President presented the Philipp Franz von Siebold Award of the Alexander von Humboldt Foundation and conversed with students.
The trip ended in the city of Nagasaki, where Federal President Joachim Gauck's engagements included a visit to the Atomic Bomb Museum and the Peace Park.
Overview of the programme:
Sunday, 13 November 2016
Monday, 14 November 2016
Arrival in Tokyo
Kantei (seat of the Prime Minister)
Welcome with military honours
Thereafter
Talks with Shinzō Abe, Prime Minister of Japan
Joint press conference
Dinner hosted by the Prime Minister
Tuesday, 15 November 2016
National Diet of Japan
Talks with Tadamori Oshima, Speaker of the House of Representatives
Imperial Palace
Talks with Emperor Akihito and Empress Michiko
Tokyo Metropolitan Government
Talks with Yuriko Koike, Governor of Tokyo Prefecture
delegation hotel
Meeting with academics and journalists to discuss relations between Japan, China and Korea
Akasaka Palace
Talks with Crown Prince Naruhito
Residence of the German Ambassador
Meeting with winners of the Watashi no Doitsu painting competition for school pupils
Reception
Wednesday, 16 November 2016
Waseda University
Welcome by Kaoru Kamata, President of Waseda University
Speech by the Federal President to students
delegation hotel
Lunch with business people to discuss the impact of the Digital Revolution on society
Travel to Kyoto by Shinkansen
Kyoto
Visit to Ginkaku ji Temple. Tour and talks with the abbot
State Guest House, Kyoto
Dinner hosted by Daisaku Kadokawa, Mayor of Kyoto
Thursday, 17 November 2016
Kyoto University
Welcome by Juichi Yamagiwa, President of Kyoto University
Thereafter
Discussion with students and doctoral candidates
Award ceremony for the Alexander von Humboldt Foundation's Philipp Franz von Siebold Prize
Villa Kamogawa (seat of the Goethe-Institut)
Meeting with German fellows and artists
Friday, 18 November 2016
Flight to Nagasaki
Nagasaki
Visit to the Twenty Six Martyrs Museum
Visit to Urakami Cathedral. Talks with Archbishop Mitsuaki Takami
Peace Park
Wreath-laying ceremony at the Peace Memorial
Tour of the Atomic Bomb Museum and visit to the memorial hall for Japanese and foreign victims of the atomic bomb
Atomic Bomb Museum
Talks with an atomic bomb survivor; Hōdō Nakamura, Governor of Nagasaki Prefecture; and Tomihisa Taue, Mayor of Nagasaki
Thereafter
Return flight to Berlin