Visit to the Kingdom of the Netherlands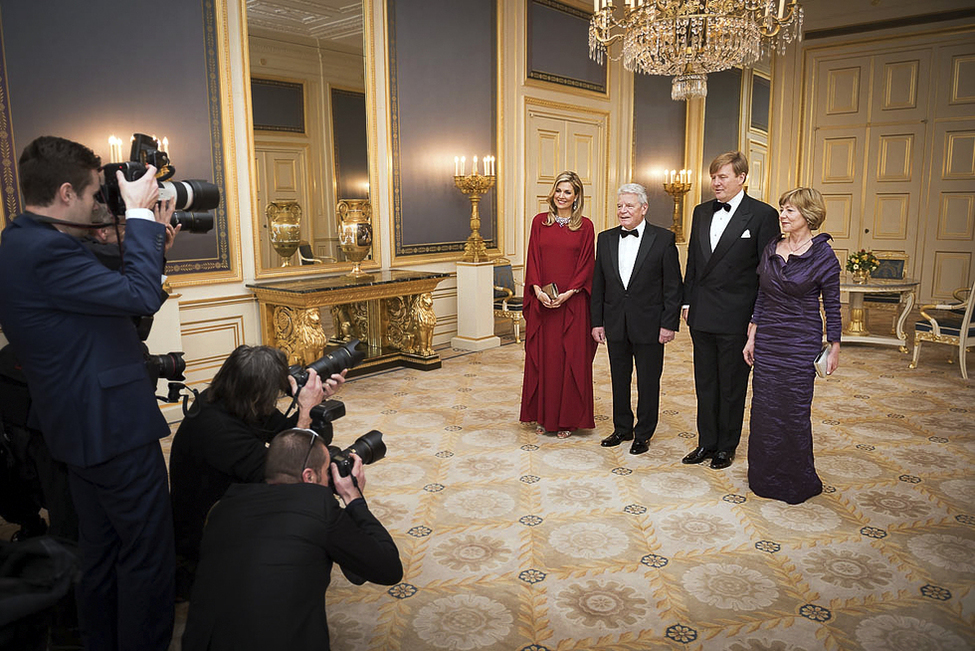 The Hague/Netherlands, 6 February 2017 Federal President Joachim Gauck and Daniela Schadt are greeted by King Willem-Alexander and Queen Máxima of the Netherlands in the Paleis Noordeinde in The Hague on the occasion of their visit to the Netherlands © Steffen Kugler
Federal President Joachim Gauck and Daniela Schadt visited the Kingdom of the Netherlands on 6 and 7 February 2017.
The Federal President and Ms Schadt stayed in The Hague as the guests of King Willem-Alexander and Queen Máxima of the Netherlands. They dined with the Royal couple and representatives from the worlds of politics, business and culture in the Paleis Noordeinde on the evening of 6 February.
On the second day of their trip, the Federal President and Ms Schadt visited the Mauritshuis in The Hague and thereafter travelled to Maastricht, where the Federal President met students of Maastricht University. He joined Princess Beatrix of the Netherlands at the Dies Natalis ceremony in Theater aan het Vrithof. During the ceremony, the Federal President received an honorary doctorate by Maastricht University. He marked this occasion by giving a speech on European policy issues.

Brief programme overview:
Monday, 6 February 2017
Flight to Rotterdam The Hague Airport
The Hague, Paleis Noordeinde
Dinner, hosted by Their Majesties King Willem-Alexander and Queen Máxima of the Netherlands
Tuesday, 7 February 2017
The Hague
Visit the Mauritshuis Museum
Thereafter
Flight to Maastricht
Maastricht, Lumière Cinema
Welcome by Theodorus Bovens, the King's Commissioner for the Province of Limburg, and Annemarie Penn-te Strake, Mayor of Maastricht
Thereafter
Talks with students of Maastricht University
Theater aan het Vrijthof
Attend the Dies Natalis ceremony together with Princess Beatrix of the Netherlands and speech on the awarding of an honorary doctorate of Maastricht University to the Federal President
Return flight to Berlin