New Year Reception for the Diplomatic Corps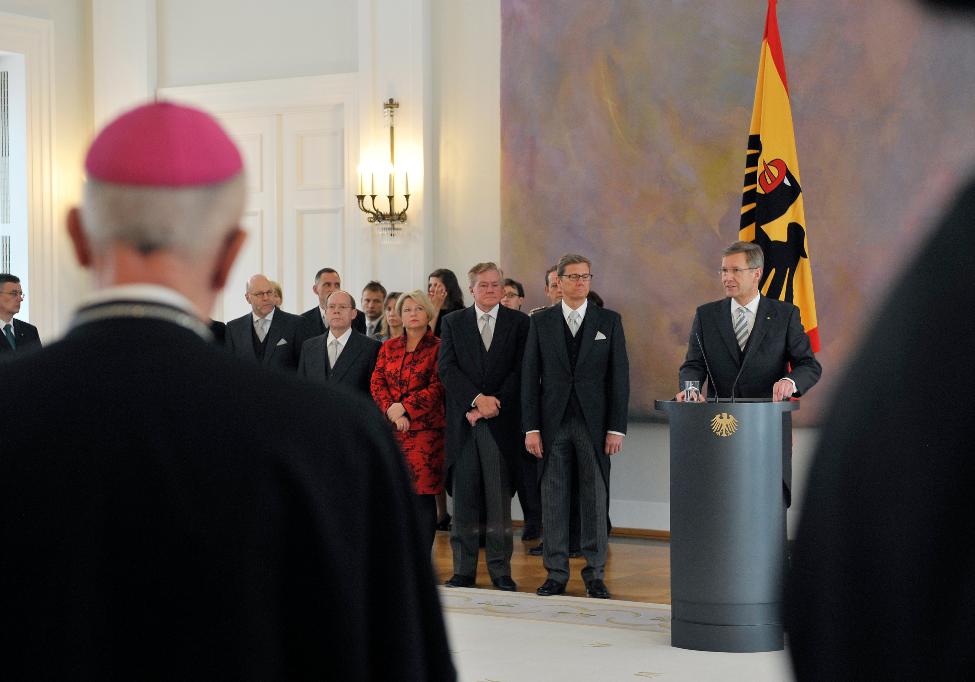 Schloss Bellevue, 10 January 2012 Speech by Federal President Christian Wulff at the New Year Reception for the Diplomatic Corps on 10 January 2012 in Schloss Bellevue © Jürgen Gebhardt
May I first bid you all a very warm welcome to Schloss Bellevue. Thank you very much, Nuncio, for the kind New Year's wishes you have offered on behalf of the Diplomatic Corps. I am delighted to wish you the same.
A few short weeks ago, we bid farewell to Václav Havel. Tens of thousands paid their final respects to him in Prague. His funeral underscored what an impressive legacy he has left us. At a time of political repression, Václav Havel took a steadfast stand for universal values. He was and remains a role model for many who long for justice and the right to self-determination.
I have been greatly moved this past year to have met a number of remarkable Presidents who have themselves been persecuted for standing up for their beliefs in the past: my friend Bronisław Komorowski from Poland several times, as well as Dilma Rousseff from Brazil, José Mujica from Uruguay and Zillur Rahman from Bangladesh. Figures like these show us that the struggle for democracy and respect for human rights require great sacrifices, but also that we can ultimately triumph in this struggle even under the most adverse conditions.
Ever more countries are putting into practice the universal principles of democracy and human rights. In many countries, particularly in the Arab world, human rights activists are currently demonstrating great courage in fighting for these principles. We cannot abandon unarmed citizens who are being shot at.
Germany stands beside the forces of peaceful reform – this was a key message of my visit to the Gulf region a few weeks ago. At the same time, we seek dialogue with those who still have a ways to go on this issue but are open to exchanging views with us.
Respect for human rights also means taking differences into consideration and valuing diversity. Unity in diversity: this is a guiding motto of many political communities around the world – from the United States to Indonesia to the European Union. In order for this vision to become a reality it's important for people to respect one another and enter into conversation. This is true around the world, including here in Germany.
We will not tolerate xenophobia, violence or political extremism. Our government defends the lives and freedom of everyone who lives in Germany. Each and every one of us is called upon to help make sure we succeed at this. On 23 February, in coordination with the other highest constitutional organs, I will be hosting a ceremony to commemorate the victims of right-wing extremist violence in Germany in order to send a clear message.
What is essential to me is greeting the diversity in our world with openness, responsibility and compassion. At home I do this by recognizing the full breadth of German society – and that includes Islam. And internationally I do this by promoting intercultural dialogue – not least in my conversations with religious leaders such as Pope Benedict XVI and at forums like the UN Alliance of Civilizations in Doha, Qatar.
We also need to act responsibly and be willing to enter into conversation if we hope to make progress in political trouble spots. At the same time, however, we must take a decisive stand against those who disrespect international law, wield violence against peaceful civilians, or even resort to methods of terror.
Our ability to combat poverty and instability depends on strengthening transparency, the rule of law and good governance. After all, the consequences of weak statehood affect us all, as problems such as piracy and drug trafficking show.
Global climate change poses a further threat. It is therefore vital to share responsibility. The Rio+20 conference planned for June 2012 will offer an important forum to do so as well as a major opportunity to achieve greater sustainability around the world.
At the same time many countries, including poorer ones, are benefiting from the flows of trade and investment that come with globalization. Decisions such as the German shift to green energy are opening up new fields of economic cooperation – for example, in the area of energy efficiency. Germany wants to cooperate closely at the international level to effectively combat climate change.
For months Europe has been under massive pressure from the global financial markets. This pressure has only become so great because countries and budgets incurred excessive debt and neglected to cultivate their competitive strength. Now this lost competitive edge, lost scope for action and trust must be regained.
The member states of the European Union have begun to pursue the necessary structural reforms. The task now for governments in Europe is to take a permanently stability-oriented approach and to implement reforms that benefit as many people as possible, especially young people. The path towards a healthier economy – not only in Europe, but in many places – requires major political and societal effort, it takes time and calls for endurance. We will have to safeguard the good things that Europe has brought us in the past decades. I have been extremely thankful for the intensive dialogue we have had with almost all of the 26 EU ambassadors.
At the G20 level as well, the regulation of financial markets demands far more ambitious measures than those which have been agreed to date. I am confident that following the path of renewal will pay off. At the same time, the task in Europe is also to strengthen the institutional framework of the monetary union as well as the democratic legitimacy of decisions made at European level.
These are considerable tasks.
I am confident that Europe can master them. This will require us to recall the spirit of solidarity which has made the peaceful unification of our continent possible in the past decades.
The interdependencies in Europe and the world demand that we shape policy in a cooperative way. There will be no returning to our national niches. Our actions must be shaped by shared reflection, shared decision-making and shared responsibility for the world's development. As the legitimate world forum, the United Nations has a vital role in this. As a non-permanent member of the Security Council, Germany will keep working to strengthen the effectiveness of the United Nations.
Permit me in concluding to return to Václav Havel, whose reflections on the lovely ambiguity of the German word "Heimat", meaning native land as well as home, I will now quote: "We should learn," Václav Havel said, "to once again experience our Heimat the way we probably used to – as our part of the world as a whole, that is, as something that gives us a place in the world rather than separating us from the world."
I would like for Germany to tackle its tasks in the world as a fair and reliable partner. That is why I seek close contact with my counterparts and other decision-makers around the world. In doing so I depend on cooperation with all of you, and I may say that that cooperation is excellent.
I wish you and your families as well as the staff of your embassies a happy and peaceful New Year 2012!