Address by Federal President Horst Köhler on the Day of German Unity in Erfurt on 3 October 2004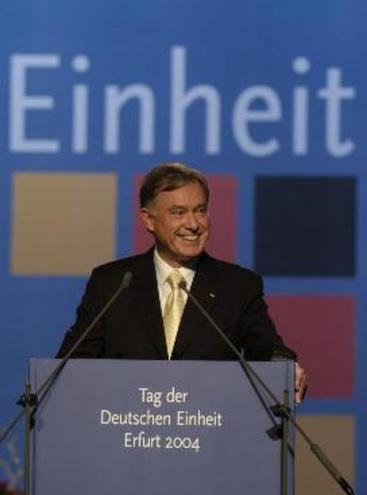 Erfurt, 3 October 2004 Photo: © Photo:
"Unity is the firm rock on which we stand"
I.
Today Germany is celebrating its birthday. I wish us all a happy 3 October!
Together we have turned 14. Our nation lives in freedom, unity and peace. That gives us cause to celebrate. We are grateful for that. And we reaffirm our responsibility for our country.
Only 15 years ago walls, barbed wire and minefields separated us. Nowhere in the world was there such a high density of soldiers, tanks and missiles as there was on German soil. Anyone who switched on the news in the West on 3 October 1989heard, "The GDR is closing the border to Czechoslovakiato halt the mass exodus via Pragueto the West. In Saxony's railway stations the People's Police are beating off people trying to jump on board the special trains taking embassy refugees to West Germany."
Anyone who participated in the Monday demonstrations at that time put their freedom and their life on the line. Yet people still took to the streets. In a few dramatic months they defeated the SED dictatorship and won their fight for freedom - democratically, courageously, peacefully and rationally.
The people in the GDR thus wrote one of the most beautiful chapters in German history and made a gift to all of us in Germany. This led to the emergence of the new, united Federal Republic of Germany on 3 October 1990. Many friends and partners helped us to achieve this, and the whole world rejoiced with us.
Do we really always need floods, library fires or the reconstruction of ruined churches to make us realize how fortunate we are? Have we even grasped the extent of the healing process which has been under way in Germanysince 1990? Admittedly, our language, our history and our culture linked us even during the decades of division. But only the end of the separation has truly revealed the strength of these ties, and we recognize that this unity is the firm rock on which we stand.
Since then we have all been able to enjoy Germany's cultural heritage to our heart's content, from Magdeburg Cathedral all the way to Speyer Cathedral. Once again everyone can now discover why Gerhart Hauptmann loved to spend his holidays on Hiddensee and what attracted Adalbert Stifter to the BavarianForest. If we wish, we can follow Goethe's footsteps from Frankfurt/Main to Weimar, go with Schiller from Ludwigsburgto Jenaor accompany Richard Wagner from Dresdento Bayreuth. Germanyis becoming whole again in people's hearts and minds. That is good for our country.
II.
Yet the picture is not all rosy. At the moment we are also grappling with undeniable difficul­ties. I believe we are now better able to identify the reasons for this than we were 15 years ago. Even before 1989 the old FederalRepublicomitted to make many changes that were really necessary. And we all expected too much, too soon, from eastern German reconstruc­tion. To compound the issue, the world around us is changing rapidly without really taking us into consideration.
Undoubtedly West Germanymade many positive contributions to unification in 1990: close integration in the western community of values, the Basic Law, solid democratic institutions and economic power. East Germanybrought with it an overwhelming desire for transforma­tion and change.
But the west and the east soon had to confront the same evil. The West German system was all too strongly marked by self-indulgence, exaggerated demands and an all-pervading urge to regulate everything. It had become far too lavish and far too complex. It stifled private initia­tive and ought to have been trimmed down and readjusted long before. Instead it was also introduced in the so-called new Länder, almost down to the last comma.
We must remember that the East and West Germans agreed to this. Almost everyone thought the breakdown of the GDR confirmed that the West was doing everything right. And don't forget that time was of the essence. Nobody knew how long the door to unity would remain open.
Even with hindsight, Helmut Kohl and Lothar de Maizière were right to push for swift unity. But all of us, including the State Secretary at the Federal Ministry of Finance, Horst Köhler, lacked the time or the foresight to instigate at least some of the long-overdue reforms in the West. We ought to have asked ourselves whether the West German economic miracle would ever have happened if it had been burdened by so much legislation and bureaucracy. The whole of Germanystill has to bear this load. That is one of the main reasons for many of our troubles. When are we going to act on this insight?
III.
And when are we going to abandon the myth that we can keep on putting off our problems forever running up higher and higher national debts? The Federation alone now pours many more resources into interest payments than it allocates to education, science, research and family affairs combined. That already puts our children and grandchildren at a tremendous disadvantage in the future. Additionally, Germany's birth rate has been declining for decades. At the same time the country is plagued by stubbornly high unemployment. In short, things have been going downhill for a long time, and this particular mixture is especially dangerous, as debt, a weak economy and an ageing society aggravate each other.
IV.
And even that does not represent the entire picture, for we are not alone in the world. The end of the Cold War has brought many countries the freedom to compete on an international scale and to prosper through hard work and skill. Modern modes of transport and communication make their task so much easier. Can we blame other nations for seizing the opportunities they have been given with enthusiasm and resolve? On the contrary, we must rise to this challenge ourselves and make the most of it.
Other countries want our advice and our goods. They are relying on commerce and commit­ment, as we have always done to multiply our wealth. If we work hard, we will have a fair share of global economic growth, and that secures jobs. But we have to exert ourselves, and at the moment we are not yet sufficiently well prepared to make the effort that is required.
A mountain of tasks lies ahead of us. Some people fear it is insurmountable. I am convinced that we can and shall scale this mountain.
V.
After all, the Germans have already overcome quite different challenges. Recently I visited the town hall here in Erfurt. It is decorated with wall paintings portraying the city's history - from Saint Boniface to Martin Luther, from Henry the Lion to the uprising against Napoleon. Nowadays we certainly paint differently. But pictures like those in Erfurttown hall convey something of the storms we have ridden out throughout our history and of the power within us. The Germans rebuilt their country in the wake of the Thirty Years War and trans­formed it into a mainspring of education and culture. During the Wars of Liberation they reformed it from the bottom up and in the 19thcentury they established the world's best universities. They were leaders in all academic and technological fields. They then threw it all away, twice, through their own folly and particularly through the failure of the German elite, and Germans committed terrible crimes. The East Germans were the ones who paid the higher price for all this after the war was over. On the other hand, the reconstruction process after the fall of the Nazis, the integration of refugees and exiles and the restoration of the world's faith in Germanyand the Germans rank among our greatest past achievements.
VI.
Our present achievements are also perfectly respectable. Unfortunately we tend to paint a gloomy picture of our situation and to belittle our successes. But take the example of eastern reconstruction. What we have built there in the past one and a half decades is remarkable.The city centres have been saved from decline and now shine in all their glory once again. New roads and railway lines have been constructed everywhere. We have some of the most modern telephone and data networks in the world. The destruction of the environment has been halted and to a large extent reversed. Scientific and technological centres which can measure up to any other have sprung up - from the shipbuilders in Wismar to the car manufacturers in Eisenach, Leipzig and Dresden, from the fusion researchers in Greifswald to "Optic Valley" in the Jena and Erfurt region, from the plant geneticists in Gatersleben to the molecular biologists in Berlin-Buch, and I could cite many more examples of such high-performance centres. All this has a future and offers hope for the future.
And perhaps the most important point is that on every visit to the new Länder I have met people brimming with ideas and self-confidence, this week, for example, in a software company in Rostockand with a drinks producer in Weißenfels in Saxony-Anhalt. The first is even taking over foreign markets with customized computer programs, the other, together with his group, has succeeded in becoming Germany's fourth-largest drinks producer. More than once during such encounters I have thought, "Who is encouraging whom here?"
But the hard fact of the matter is that we lack enterprises and hundreds of thousands of pro­ductive jobs. Work gives life a point. Its absence creates a breeding ground for disillusion and despair. If we want to transform this into hope and optimism, all those in positions of re­sponsibility must realize that employment is currently the top priority! We cannot afford to resign ourselves to the fact of unemployment anywhere, not in the north, the south, the east or the west! The reconstruction work must therefore continue. That has been agreed for the next 15 years in the Solidarity Pact II, and no one should call it into question.
However, it is also advisable for us now to explore ways of providing more effective promo­tion. After all, sponsorship is designed to target investment, not consumption or administra­tion.
We must use the coming years to bolster the strengths of the new Länder even further. This involves more than just financial support. Our country is geographically and culturally so varied, it offers people so many different opportunities to shape their own lives and draws so much momentum from this diversity - so why do we find it so hard to tap this power at the political level? Increasing numbers of people are eager to implement their own ideas. To do this they need more say and more scope to take decisions. Of course that involves more re­sponsibility. "All the better!", I say. Then citizens will be able to discern much more clearly who is really making the most of regional characteristics and strengths.
Our differences have potential. That is why I believe it is beneficial to discuss differences openly. It can help us. But anyone who participates in this debate must have the general good at heart and not be driven by their own interests or the short-lived impact of making the news headlines.
VII.
Not just Eastern Germany, but Germanyas a whole must be revamped to ensure a good future for us all.
We have every prerequisite for this sweeping process of renewal. Not without reason, after all, does our country have a good name all over the world. It stands for inventive genius, hard work and organizational talent, for a great cultural nation and its masterworks of art and its scientific achievements, for social peace and certainty of the law, for a wealth of experience on the world's markets and for top-quality products. There is thus reason to be confident and optimistic.
And Germanyis indeed starting to make some progress. The first steps have been taken. But we must not grind to a halt again, nor can we afford to pursue a zigzag course, much less shrink from the magnitude of the changes that must still be made. And because it is the people who are profoundly affected by this process, all decisions must be more satisfactorily ex­plained, well-founded and dovetailed. We need reforms that are marked by two things: continuity and consistency.
VIII.
What values and principles should guide us as we rebuild our country? If you think about this, some very basic questions quickly present themselves: What holds us together? What do we want to achieve together? No one wants to force everyone in the same mould, and no one wants unbridled egoism - how can we avoid both? How can we create a socially equitable balance of interests without disempowering or demanding too much of each other? How can we keep our eyes open for opportunities that lie ahead instead of timorously bricking up the horizon? All these questions ask to be thought through anew. Haven't we sorely neglected them far too long already?
What, then, should guide our actions? All that we do must - as the Basic Law demands - serve to protect human dignity and strengthen the capacity of the individual to assume per­sonal responsibility. This capacity is great, and it has made our country great. It deserves far more faith, encouragement and assistance.
Wouldn't it be a good idea, then, if everyone in Germanywere to make a solemn promise to each other, a promise everyone could put their faith in, a promise to this effect: "We have confidence in you and your abilities. We want to afford you the very best possible opportunities from childhood on, but you will have to do your part as well. We will help you if you are not quite strong enough, or if you are struck by misfortune, but we will only help those who are truly needy, not those who are lazy. Test the extent of your abilities, and make the most of your talents, but do this in a way that will strengthen our cohesion."
I believe that this approach reflects the convictions of the vast majority of people here in Germany. If we pursue it, Germanywill make headway.
IX.
The most important thing, and I say it again, is this: We must put people back to work. Let all our actions be guided by the following consideration: What serves the aim of putting people back to work? We must finally comprehend the fact that the Bundestag, the Federal Govern­ment and the Land governments cannot themselves create any permanently productive jobs. They must, however, work to ensure the best possible framework conditions. Only successful and innovative companies create jobs.
I do not wish to talk at length about the mistakes of those who bear no risk themselves and whose mismanagement entails consequences that ultimately affect their employees. We need real entrepreneurs, outstanding individuals who are willing to shoulder full entrepreneurial responsibility and full entrepreneurial risk. They do exist. They can above all be found in the SME business sector: in newly launched businesses, in the crafts and trades, and in small and medium-size enterprises.
I have come into contact with many of them over the course of the past weeks: real entre­preneurs who fight for their employees' jobs, motivate them and work hard for the benefit of the community. They deserve far greater public recognition. Here is where we can really find "heroes of the working world" and we should accord them due recognition!
But it is precisely these entrepreneurs who are increasingly being strangled by the superabundance of regulations and requirements. They tell me: "Our main problem is this mass of bureaucratic red tape." I hear this all over Germany. And that is why I agree with Helmut Schmidt: What we need to do here in Germanyis to finally prune the regulations and bureaucracy - radically and permanently. And if we cannot manage to liberate all of Germanyfrom this mass of red tape in one fell swoop, then we should at least let the new Länder do so. I am sure that the other Länder would quickly follow suit.
X.
Now, more than ever, our future hinges on independence, personal initiative and creativity. Steps must consequently be taken as quickly as possible in the areas of education and training as well.
Our children and grandchildren need good schools, training places and universities in order to prepare them for life. It is not only they who depend on these but we as well - who else, after all, is supposed to pay our pensions later on?
Education of course enables us to lead lives that are successful in far more than just the economic sense of the word. It gives us a sense of direction, brings joy and self-confidence in good times and is a source of comfort and hope when times are hard. Education is a value in itself. But it is our greatest source of prosperity as well.
Without always agreeing with everything other people say about us, including people abroad: Isn't it sad that in a country with an educational tradition as great as ours our schools and universities are only deemed mediocre by international standards of comparison? Isn't that just plain sad?
We must improve everything: from kindergartens and schools to training workshops and universities. In order to accomplish this, we need a clear realization throughout society of just how important education and training are for our future; we need far greater recognition for those who teach and train; and we need teachers and trainers who earn this recognition anew every day.
Creating equal opportunities by providing the best possible education is the most important contribution we can make to social justice.
And let us not forget one thing in the process: It all starts in the family. Parents must devote themselves to bringing up their children. If they fail to do this, no school can pick up the pieces. Parents must take time and have time to raise their children, even if they work. It is our common task to make it easier for them to do this.
We will need a lot of money to revamp the education system. That is true. Precisely in this area, however, the State must not haphazardly cut corners, for nowhere else is the money better invested. A story from ancient Greeceis instructive here: A rich man wished to have his son taught by a philosopher. The philosopher demanded a high price in return. The rich man protested, "For that amount of money, I could buy myself a slave!" The philosopher re­sponded: "So buy yourself one - then you will have two."
If we fail to invest the necessary money in the education of our children today, we will make them slaves of their ignorance and pawns of circumstances tomorrow. They - even more than we - will be highly dependent on education, research and innovation. Only with the very best education will they be free to make their own way and build a good future for themselves and for our country.
XI.
They will need plenty of room to fully realize their potential. We must therefore redefine the functions of the State and the limits to its activity.
The State should not do all that is possible but rather all that is necessary. It has very important functions, and it should concentrate on them: It must protect us from external threats and maintain law and order here at home; it should afford equal opportunities for education and advancement, and the truly needy should be able to rely on its assistance.
Presently, however - due to excessive demands on the part of everyone - we have more State than we can afford. And we also have more State than is good for the personal responsibility and personal initiative of its people.
Armed with countless programmes, projects and regulations, the State intrudes on the lives of its citizens, prohibits and commands, recommends and disapproves, pockets a little money here, contributes a little there, and everything, everything is administered and steered and controlled and must above all be paid for with taxes and levies. Nearly one out of two euros currently passes through the public coffers as revenue and expenditure.
If we create more freedom for our country's citizens instead, and if we place greater faith in them, we will gain the strength that is needed in order to bring Germanyback in the vanguard again as a land of ideas.
XII.
In order to accomplish this, it is urgent that we also modernize our federal structure. The entire State apparatus needs to be freed of rust, reorganized, streamlined and kick-started. A commission established by the German Bundestag and the Bundesrat is addressing this issue and is to present suggestions by the end of this year. Accretion of power is not the object here, but rather enhancement of decision-making capacity. The work of the Commission on Federalism is of tremendous importance for the ability of our country to undergo reform.
Why? Because the legislative process must not resemble a game of "Barricade" any longer, and because the people of this country want to know who is really in charge of and politically responsible for what.
Politics must be brought closer to the citizen again. The Länder and the municipalities should be given greater leeway to find and try out new solutions. All this will also strengthen our democracy.
I am following the deliberations of the Commission on Federalism very closely. I expect that they will ultimately lead to reforms worthy of that name. And I call upon all the people of this country: Take an interest in the work of the Commission and the fate of its proposals! Judge the quality of German politics by the results of this debate!
XIII.
More jobs, a world-class education system, the proper degree of government action and a modern federal order: These are four major steps out of the crisis - certainly not the only steps that are necessary, but particularly important ones.
These steps take time. They will not have an impact overnight. There are no sensible alter­natives, however. And I believe and am firmly convinced that in the end, they will pay off for our entire country.
We therefore need stamina. I know this is difficult for many who really cannot wait any longer but instead need work, training, promising prospects for their lives. Their situation is just as dire in Geraas in Gelsenkirchen. I wish I could help each of them personally, but no single one of us can do this, only all of us together.
It is thus all the more important that each and every one of us continually see to it that condi­tions improve soon. Everyone can contribute. Each one of us can do a little bit more for the commonweal - or for once do without something to which we may "actually" be entitled. So: Let us open our eyes! It is the sum of all good deeds that makes the difference!
XIV.
I would like to make one last point: We have no use for anti-constitutional extremism. Our Basic Law is the best constitution that Germanyhas ever had. It protects us and our freedom. A look at our history and a look at the world around us show just how valuable this protection is. One of the greatest achievements of the 1989 Revolution is this: The people of Eastern Germanyhave built democracy throughout the country and fill it with life every day. By the way: I believe that we would all do well to accord greater respect and assistance to the victims of political persecution and opponents of the SED regime. In my eyes, such justice is also one of the democratic values for which the people of the GDR took to the streets.
In recent opinion polls and elections, unfortunately, many of our country's citizens have indicated that they do not think very highly of our democracy. This causes me great concern, not least because so many of them are young people. Only one thing can change this: All democrats must seek to win back the disaffected and resolutely stand up to those of bad faith. Disparaging remarks are not the answer. We must take those who are disillusioned seriously and win them back with convincing arguments. We must also be vigilant - and that we will be!
XV.
At the beginning of my remarks I wished you all a happy 3 October. Perhaps some of you are now thinking: "Well, the Federal President has managed to thoroughly ruin people's good spirits, and on Thanksgiving Day to boot!"
Do you know what? I am convinced that this is not the case. "People", after all, are like you and me: They want to know the truth. And the truth is this: We have reason to be confident and optimistic. If we all stick together and join forces, we can master this challenge. Why shouldn't we be happy? Germany is a beautiful corner of the world.
God bless our country.