Speech by Federal President Horst Köhler at the ceremony to commemorate the victims of the flood disaster around the Indian Ocean held in the German Bundestag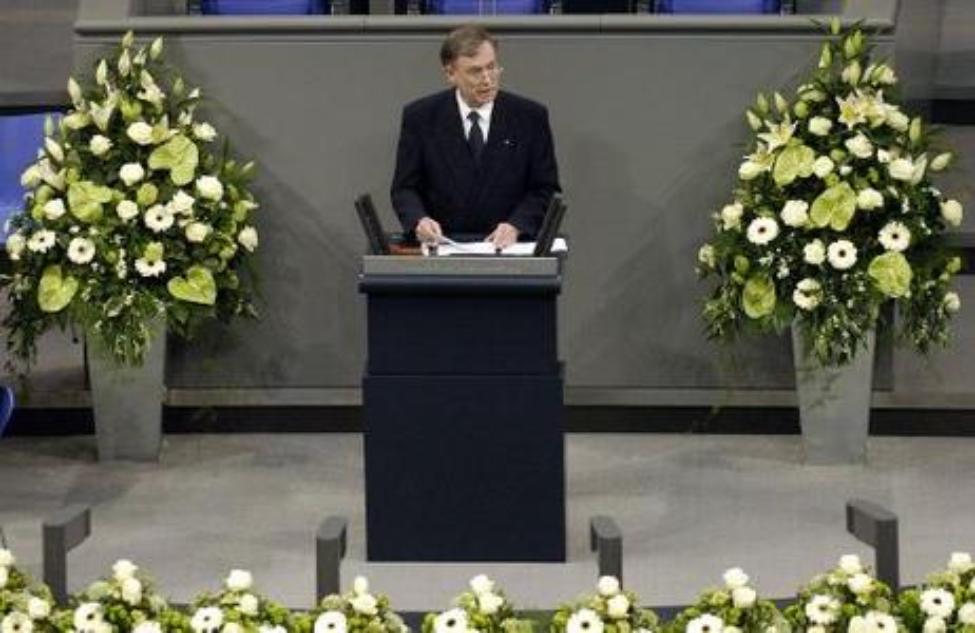 Berlin, 20 January 2005 Photo: Andrea Bienert © Photo: Andrea Bienert
During the last few weeks we have all been witnesses to a horrendous disaster. Even though it took place far away from Germany, it has deeply shocked us all. Among the victims, who numbered well over 200,000, there were many Germans. Today we want to commemorate all victims.
Following a seaquake which no-one could see, a giant tsunami swept across the Indian Ocean on Boxing Day at the speed of an aircraft and unleashed its force on the coast of many Asian and African countries.
At first, we could not foresee the magnitude of the disaster. We then watched with horror as the number of victims rose daily. However, this is not about numbers, but about the fate of the countless individuals behind the figures. Every death extinguished a unique life.
The floods severed thousands upon thousands of ties between people. Mothers and fathers searched desperately for their children who had been playing outside just before the disaster struck. Men and women ran through the rubble and mud looking for their partners. Children stood apathetically among piles of corpses. Whether a local or a tourist, whether rich or poor, whether young or old - the destructive force of the water spared no-one.
Today we are commemorating our fellow Germans who perished. Most of them had treated themselves to a dream holiday. They wanted to relax and then go back to their daily lives with renewed strength. They will not be returning now. We are mourning for the Germans who died. And we are also mourning for the many, many dead from Indonesia, Sri Lanka, India, Thailand and other countries around the Indian Ocean. We are also mourning the deaths of so many tourists from around the world.
Every dead man or woman leaves behind relatives and friends who mourn for them. Anyone who has lost a loved one knows the emptiness caused by death. With us today, as at the commemorative service in the Berliner Dom just over ten days ago, are relatives of those who lost their lives. I would like to say to you that although we can hardly imagine your pain we grieve with you. We wish you strength and hope that you have people to stand by you.
The tension for the relatives and friends of those still missing is unbearable. We share their anxiety, even if hope is diminishing from day to day. Many of those still missing will most likely not return home. In the case of many, we will never even know where they are. Their families will therefore have no grave where they can go to mourn for their son or daughter, their father or mother, their husband or wife, their sister or brother. I know that everyone affected in this way needs almost superhuman strength. You may rest assured that we will do everything we can to find out what happened to your loved ones.
Our thoughts are also with those who were injured. Almost all of them have received medical treatment and have been brought back to Germany. We wish you a speedy recovery and hope that you will overcome this experience and find your way back to your everyday lives as quickly as possible.
The fact that the injured and many holidaymakers were able to fly home so quickly is, above all, thanks to the numerous helpers who, in some cases, have been working tirelessly for weeks now. If you consider how disturbing we at home found the images in newspapers and on television, one can imagine what they are experiencing and have to bear. The helpers pitted themselves against the chaos, rolled up their sleeves and have to face horrifying sights to this very day.
Men and women from charities, the Federal Armed Forces and the Federal Criminal Police Office have done incredible work: water and food supplies are up and running again in most areas, most of the dead have been found, medical care has reached the injured and the sick and the risk of epidemics has been contained. I would like to thank the helpers on behalf of us all.
I would also like to express my appreciation for the work done by members of the Federal Foreign Office. Whether in the disaster areas or in the central Crisis Unit: particularly during the first hours and days as desperate relatives or injured people asked for help, when the telephones did not stop ringing, they did their work with untiring energy and with a great sense of duty.
The level of assistance supplied is only possible because so many people, especially in Germany, are supporting the operations. The donations and the commitment of German helpers bear witness to a genuine desire to help. The same was the case after the flood in Hamburg in 1962 or along the Elbe in 2002. But people in this country are not only ready to help and show solidarity when disaster strikes here in our own country.
Way back in 1953, when there was a major flood in the Netherlands, Germans did everything they could to help - despite poverty and their own privations in the post-war period. The same thing happened when there was great hardship in Poland after martial law had been declared in 1981/82. In both parts of the then not yet united Germany, from the Ruhrgebiet to Cottbus, clubs, schools and congregations sent parcels to Poland filled with clothes or food.
And now we are experiencing it again: when necessary, people in Germany are eager to help.
The small and large donations from millions of individuals who gave what they could for the flood victims in the Indian Ocean have accumulated into a vast sum. The Federal Government has made available 500 million euro in public funds. In view of the magnitude of the disaster, this is an appropriate sum for our country which - despite all its difficulties - is strong and in a position to help.
The large volume of assistance aid brings with it considerable responsibility. People rightly have expectations regarding what will be done with their donations. We must succeed in rebuilding the destroyed coastal regions in a sustainable manner, ensure that above all families in need receive support, that children do not fall into the hands of traffickers, that a tsunami early warning system is established and that no-one feathers their nest at the cost of those in trouble.
It is also crucial that after the first vital emergency assistance from the rest of the world, people in the disaster regions take over the reconstruction work themselves. They should not remain mere recipients and should not lapse into a permanent dependency on outside assistance. The principle of help towards self-help must apply here, too.
But our expectations and hopes must continue. When the floods came, there was civil war in both Sri Lanka and in the Indonesian province of Aceh which had caused the local population much suffering for many years. However, in the first hours and days after the floods, people from opposing groups spontaneously helped each other - and, in some cases, spoke to each other for the very first time. The parties to the conflicts should take up this spontaneous human impulse and make peace. Only then can reconstruction be successful.
The images of the crashing wave, of the many people who died, of grieving people standing helplessly in front of rubble, made many doubt and feel anger. When something so terrible happens, we would like to find a guilty party, to lay the blame on someone. As regards this natural disaster, however, there is no satisfactory response to the many questions as to "why?".
A flood in particular is an archetype of sudden and destructive disaster. It appears in stories and myths in all cultures. These old myths and the disaster which we have just experienced around the Indian Ocean show us that nature, our planet, is no Garden of Eden. Not even the beautiful beaches are an eternal paradise. The blue water of the Indian Ocean seemed to many tourists in particular to be a peaceful element. As inhabitants of a modern industrialized country, they felt protected by technological advances. Even as the wave rushed towards them, some of them remained standing, filming and taking photographs, not realizing that they were in danger.
Could they, indeed should they not, have been warned in time? This question is inevitable. Had there been an early warning system, there would probably have been fewer fatalities. But at the same time, it has to be said that we cannot eliminate all risks. We are merely a part of Creation, an all too sensitive entity. In the future, too, the ground will continue to quake, rivers will continue to burst their banks and tsunamis will continue to flood coasts and islands. Man-made environmental damage will also take its toll.
The forces of nature tend to foil man's plans and expectations. Our lives are dangerous. In earlier times, people in Germany were perhaps more aware of this because they were more exposed to the forces of nature. Until well into the 19thcentury, for example, large parts of Europe were hit time and again by bad harvests and famines. Respect for nature, for its tremendous strength many times greater than that of man, takes away our illusion that civilization guarantees our safety. "In the midst of life we are in death" - this very old saying, this law of human existence, cannot be repealed by anything. This should teach us humility - as well as a new sense of responsibility towards nature.
If we recognize our own mortality and limits, we will also become aware of the hardship and need for help of others. The devastating destructive force of the water aroused concern and sympathy all over the world.
The flood disaster in South-East Asia has made us realize that we all belong together and that we live in one world.
During the Middle Ages, the motif of the dance of death appeared time and again in the visual arts, in stories and plays. It was intended to remind people that death is a great leveller. No matter whether you are a king or a farmer, the pope or a servant - we all have to die. Today, the social borders are often between continents, between individual regions and countries. But it is still true to say that the differences do not matter anymore in times of trouble. We all belong together.
Some may now protest that only a disaster which claimed the lives of tourists from all over the world could evoke this sense of belonging together with faraway countries. Others say that only the strong media presence triggered off this desire to help. However, we should be grateful that the media and tourism have helped us to feel and see ourselves as part of one world. I believe that the outcome is particularly important - the solidarity among people from all nations. We see our world with new eyes, we have discovered partnerships with distant regions and this has helped us find renewed strength to act. That gives rise to hope. And it inspires us with courage.
I hope this awareness that we must help others will last. There are people in need all over the world - whether as a result of natural disasters as at present around the Indian Ocean, or whether as a result of poverty, war and AIDS as in Africa. I think that the time has come to reconsider cooperation within the international community - and assistance for poor countries as a whole. When, if not now, will we muster the strength to understand that everything we do is part and parcel of global governance?
What has happened around the Indian Ocean during the last few weeks will be etched in the collective memory of mankind. Many from our own country were affected personally by the disaster. They know places like Phuket, Khao Lak or the Maldives because they have been on holiday there themselves. Many are mourning for someone who lost their life, are anxious about someone who is missing or know someone who was injured. The grief has thus touched our country, too. Perhaps it is a comfort to the friends and relatives of the victims, who feel helpless and alone in their suffering, to know that we are thinking of them and mourn with them. I hope so.
I always find great comfort in these lines from the carol by Jochen Klepper which I would like to share with you:
The night is nearly over
The daylight nearly here:
With praises let us welcome
God's bright and morning star.
Who suffered long in darkness
Join in the joyful strain:
The morning star is shining
On all your fear and pain.