Words of welcome by Federal President Horst Köhler at the Opening of the XX World Youth Day at RheinEnergieStadion in Cologne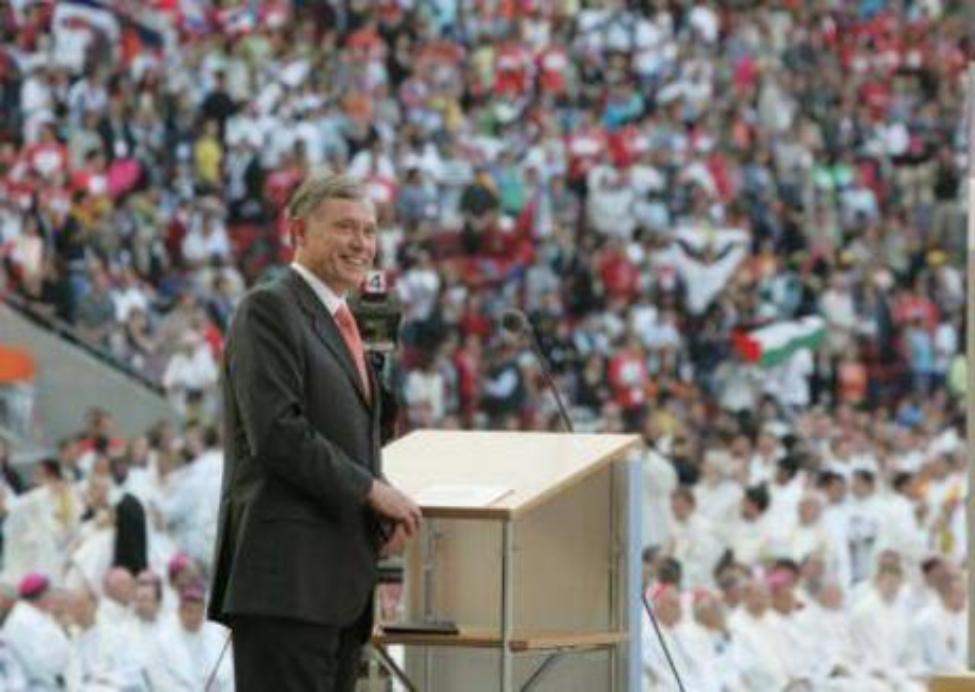 Cologne, 16 August 2005 Photo: Ute Grabowsky, bpa © Photo: Ute Grabowsky, bpa
Archbishop Rylko,
Cardinal Meisner,
Cardinals and Bishops, who have joined us from around the world, and especially,
My young friends,
You are at the centre of this event. You are the focus of World Youth Day. Welcome to Ger­many. We are happy that you are here.
My young friends,
May your energy and enthusiasm embrace Germany and the whole world!
The invitation to World Youth Day in Germany was extended by the late Pope John Paul II. Pope Benedict XVI reaffirmed it. You, my young friends, have followed this call. You set off, just as The Three Magi did. You have come in such numbers that this stadium here in Cologne is much too small to hold all of you.
For this reason, I would also like to greet everyone who celebrated the opening service in Düsseldorf and Bonn at the same time we did. I would also like to greet all those who were unable to come. Many of you are now watching on television screens around the world. You are also part of the unique community of World Youth Day.
In the theme song from Toronto we hear "we scatter the darkness when love becomes our way" and "together let us stand against the storm". At World Youth Days, young people of different nationalities grow closer together. You establish contact. The result is a network that circles the entire globe when you return to your home countries. This is a network through which you can share with one another, a network that strengthens the sense of belonging to a global community.
There is an ancient Roman legal principle according to which "what is everyone's concern is everyone's responsibility". This principle is more important than ever. Only together can we create and preserve peace in our One World, anchor justice and protect our environment. These issues concern us all.
World Youth Day offers all of us the possibility of learning to understand each other better and laying a foundation for friendships. Let's use this opportunity. When you return to your home countries, continue to build this network in your communities, with your neighbours, and with people from other religions as well. No matter how different our lives and how enriching this diversity: we live life to the fullest not through our differ­ences, but by being part of a community.
The same holds true for World Youth Day. I am very pleased that, along with young Catho­lics, Protestants representatives of other religions and non-believers were invited. We must all stand together when our responsibility for Creation is at stake.
I hope the days you spend here are rewarding. Over the past months, the World Youth Day Office planned and organized everything for you. Seemingly small tasks became a challenge; for example, getting rolls for breakfast for everyone - for half a million people. Apparently this is no easy task. We will see whether it works tomorrow morning.
But I do not want to wait until then to express my gratitude. I would like to thank everyone who helped organize this event. I wish every success to those of you who will be working around the clock, many as volunteers, during the coming days. I would like to say a special thank you to the many hosts, including the Catholic and Protestant congregations, who have provided lodging and accommodation. And it will be a great compliment for the World Youth Day when the people of this Carnival-loving region, the Rhineland, say once all is done: "It was almost better than Carnival."
Enjoy your stay in Germany. I hope you will return to your home coun­tries with new energy and confidence, remembering the impressions of this World Youth Day with lots of new phone numbers and e-mail addresses in your pockets. Do not let go of the hands reaching out to you over the next few days.
Once again: welcome everybody. Soyez les bienvenus. Bienvenidos todos. Un cordiale ben­venuto a tutti. Herzlich willkommen. The sun is coming out. We remember Pope John Paul II with respect and gratitude. And we are very much looking forward to Pope Benedict XVI's visit.