Citation by President Horst Köhler at the presentation of the 9th Weilheim Literary Prize to Wole Soyinka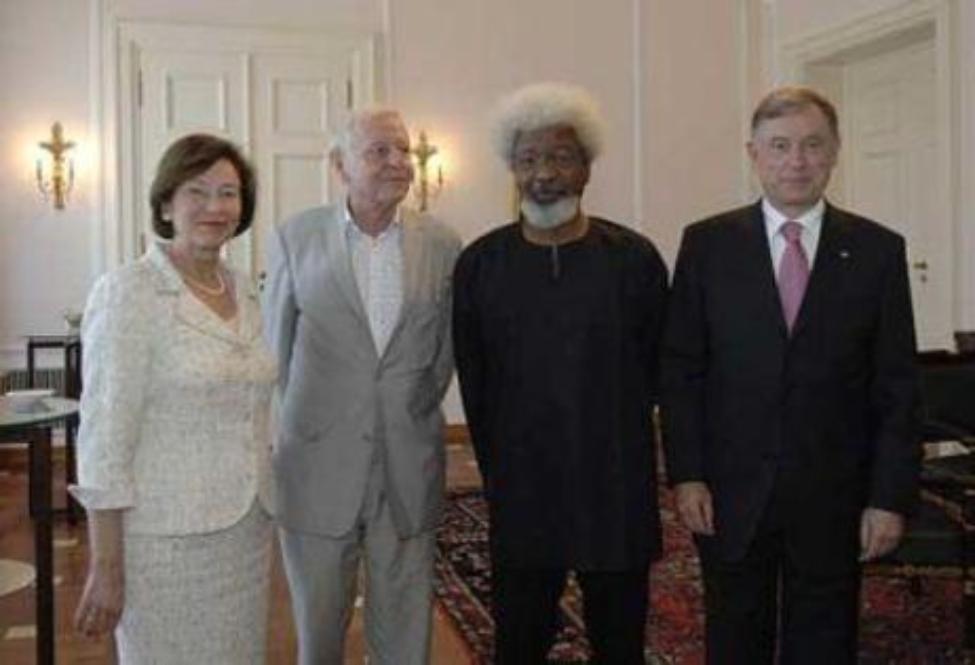 Berlin, 13 June 2006 Photo: Sandra Steins, Presse- und Informationsamt der Bundesregierung (BPA) © Photo: Sandra Steins, Presse- und Informationsamt der Bundesregierung (BPA)
"We must learn to listen much better to each other"
When the Swedish Academy awarded the Nobel Prize for Literature to Wole Soyinka 20 years ago in 1986, thus honouring an African for the first time, it did not mean to imply that African literature had only then come of age. It had done so long before. What the prize did was broaden our literary horizons and open our eyes to how constricted our vision had previously been. Until then, African literature was hard to come by in Germany, only being available from Swiss publishers, in the GDR or from smaller church-run publishing ventures.
With today's prize, the young people of the jury are in effect recommending Wole Soyinka's works to other schoolchildren. This is in my opinion an important sign of how much broader the horizons of our youngsters have now become. This is very encouraging indeed.
Wole Soyinka himself is a courageous man. Few lives are characterized by such extremes as that of our guest of honour. He is a writer who was imprisoned several times because of his outspoken advocacy of fundamental human rights and democracy in his homeland, Nigeria. He received the most renowned literary prize in the world, and nevertheless had to leave his country many times because his life was in danger.
The genesis of his campaigns can be found in his early years. Wole Soyinka described this period in his autobiography "Aké, the years of childhood". In many ways Wole had a typical childhood, being brought up by his parents, playing with siblings and friends, taking part in the usual escapades and arguments and going to school. Wole's father was the headmaster of the local school in Aké. He emerges from many descriptions and stories as a formative figure, and was himself strongly influenced by the intellectual and cultural atmosphere of the Colonial years. While many facets of Wole Soyinka's childhood are familiar to western readers, one is simultaneously drawn deep into the culture and life of the Yoruba, represented not least by Ìsarà, his father's hometown. This is the side of the book that you, distinguished members of the jury, have just said "spirited [you] away to a fascinating foreign world". This side of the book introduces us to a set of African gods, enables us to picture the village embedded in an African landscape with all its flora and fauna, and with its vivid descriptions of Afri­can dishes allows us to savour many new tastes and smells.
When reading, one is overcome by a feeling of combined familiarity and strangeness. This ambivalence reflects the relationship between Africa and Europe. Young Wole's story begins during the Colonial years, and some of his descriptions refer back to the long and guilty past that links many European states to Africa.
Soyinka's childhood memoirs do not only serve as a fine introduction to another fascinating culture, but can also be understood as a metaphor for the relationship between our two con­tinents.
By way of illustration I would like to mention a scene in which the young Wole comments on adult behaviour, on something that every child in the world must have experienced: "It was another of their strange habits ...; they would discuss their children as if the children were not there. ... As I listened to them from our own table I shook my head in strong denial. Yes, they had missed the point."
With this scene, Wole Soyinka shows how it is the so-called adults - or should I say the so-called developed people - whose behaviour can offend or even humiliate others. Applied to the relationship between Europe and Africa this can be read as a plea for Europe not to treat Africa like a little child. This message runs through all of Soyinka's works and I heard it again when he spoke at the Partnership with Africa conference in Bonn on 4 November 2005. He did not try to conceal his scepticism regarding talk of partnership. But he did say that partner­ship is possible, despite the current asymmetry in European-African relations - if it is based on mutual respect and as long as it does not mean that Africa should blindly adopt European models of development.
I think that Wole Soyinka's advice to us Europeans is sound, and that we should take it to heart. We must learn to listen much better to each other. My Partnership with Africa Initiative will, I hope, contribute to this, and I am very glad that Wole Soyinka is participating in this dialogue, which we wish to continue with a discussion between young people from Africa and Germany.
The scene I have just mentioned of young Wole and the adults illustrates a character trait of today's guest of honour. Numerous episodes from the book show clearly that he does not simply accept things as they are, but examines his surroundings with an insatiable curiosity, notices faults and injustices, and - if necessary - speaks up unfalteringly for his convictions, for his own rights and for those of others. This is illustrated by two scenes that provide a framework for the book:
Near the beginning, we learn that Wole fought with all his wiles to go to school, although he was still much too young. He watched the children going past his window to school, and heard sounds from the school buildings that fired his imagination. And so one day, at the beginning of lessons, he just went in and sat down next to his big sister. The teachers told him to leave the classroom. But in the end the stubborn little boy had his way and was allowed to stay. He was not even three at the time.
At the end of the book he describes one of the key experiences of his childhood. As a ten-year old he served as courier during a women's revolt in which his mother and her relative Mrs Kuti played a leading role. This uprising was triggered by the hardship inflicted on many women because of taxes levied by the British Colonial Government on the King of Egba and the Chiefs under the principle of indirect rule. The Egba women's movement was a protest against the increasing political disempowerment of women in Nigeria and against the Colo­nial authorities. By acting as a messenger, Wole Soyinka was actively involved in events. This was an early, natural outing as a campaigner for a robust civil society, even if the 10-year old would not yet have put it in such terms.
The first signs of his campaigning spirit were there in his childhood, but it was in his under­standing of himself as an artist that they found their full expression. Not every writer has to be political, as Soyinka himself would agree. But for him it was clear from the very start that his literature had to be political, that it had to address the necessary issues in order to contribute to a humane society. Driven by his infallible sense of right and wrong, he became a ceaseless advocate of freedom, democracy and enlightenment in his country and beyond. He is well-known as a visiting professor in numerous universities around the globe. Indeed, his un­ceasing sorties have also led Mrs Soyinka to bestow on him the title of "visiting husband".
It was his plays that first brought him to prominence in his home country. Even today, the theatre is the true home of his creative writing. For in the theatre the interaction with the audience is direct and immediate, which means that plays can have a much more powerful political impact. I understand that the pupils at Weilheim grammar school put on one of Wole Soyinka's plays in the autumn of 1999 with his assistance, and are still feeling its effect. This too shows that the power of words is universal. Soyinka sometimes speaks of the power of language as his weapon. It can exhort, galvanize and help people learn of their rights and come to understand that these rights prevail in the face of all authority.
My honoured Mr Soyinka, I often ask myself where you draw your strength to continue so relentlessly, in spite of long terms of imprisonment, in spite of exile and in spite of the death of friends such as Ken Saro-Wiwa.
One thing is clear: the more people in Nigeria were harassed, the more you personally were attacked, the more you were driven to fight for human dignity and liberty with the power of your words. This has made you a moral guide for your nation and a symbol for an Africa that can find its own way. Your actions have strengthened the self-confidence of many Africans - not least young African writers. The intellectual force and moral authority that is now amassed in this group is considerable, as I witnessed at the readings given by African writers at the 72nd International PEN Congress in Berlin three weeks ago.
Your writings have opened up a gateway to Africa for us Europeans. It opens not onto a one-way street, but onto a bridge on which ever more people meet. Often it is these encounters that open our eyes to a new world. This has been impressed upon me in my conversations with the school pupils who accompanied me on my two trips to Africa since becoming President. It is not simply that some of these youngsters notice things that development cooperation officials sometimes no longer see - and sometimes can no longer see. It is also my experience that young people who have seen Africa come back with a new perspective on their own country, their own lives and problems. Maybe the same thing has happened to the young jury as a result of reading your books. In any case, it is very important that young people should time and again have the opportunity to view their own culture and history with new eyes and to question their assumptions. That is the best kind of training; and it is also training in critical thought as originally defined, i.e. in distinguishing good from bad.
One issue that we need to examine critically is the question of what images and news actually reach us from foreign cultures and nations. Is it not the case that we are permanently bom­barded with reports about the latest crises and disasters in Africa? We rarely hear anything positive. Are colonial patterns of thought really a thing of the past in the western world? I am not so sure. In any case, I hope that Germans will soon be better informed about Africa than they are at present. Our school books and teaching materials still all too often contain stereo­types and clichés about Africa.
You, the pupils of Weilheim grammar school, are not fooled by such clichés. You have chosen to award your prize to today's recipient because he has enriched the world through his actions as an African advocate for liberty, democracy and human rights.
In explaining your decision to confer the Weilheim Literary Prize on Wole Soyinka, you mentioned Weilheim's association with the ancient monasteries of Andechs, Diessen, Wesso­brunn and Polding. For many centuries these were places where the great literary tradition of the Occident was nurtured and sustained.
For more than 25 years your school has hosted readings by some of the most influential writers of the present. These readings have been prepared with great commitment, not least on the part of the teachers. And since you set up the "literary gym" in Weilheim, the old phrasemens sana in corpore sano, a healthy mind in a healthy body, has taken on a whole new meaning.
The attention paid to literature in Weilheim is exemplary. I would like to thank all involved for their commitment. Keep up the good work! I hope that your example will inspire others to similarly school their minds. Mr Denk, word of your services to literature in Weilheim has spread to Berlin and beyond. Indeed, Hans Magnus Enzensberger has told me that "when Denk calls, you just have to come!"
I have heard how much you pupils enjoy discovering new worlds with each collection of visiting author's works. In my opinion it is therefore only right that you should continue studying them in class, so that you are well prepared for the readings when the authors arrive.
You, distinguished members of the jury, have after long and careful consideration chosen your favourite works. You yourselves were selected by your teachers last spring to form a jury that is mixed in terms of age and subjects studied. Over the summer holidays you spent hours reading more than 20 collections of works, before unanimously voting for today's guest of honour. I congratulate you on this choice.
Your commitment and your enthusiasm for reading will not be rewarded with good marks for "jury service", nor will they be reflected in your final exam results, which some of you will hopefully receive in just a few weeks - at least not directly. However, a thirst for words can change not just you, but the whole world.
This is also the lesson to be drawn from another African story. The events in question happened exactly 1,600 years before Wole Soyinka won the Nobel Prize. In the year 386 AD, the North African cosmopolitan bon vivant Aurelius Augustinus heard a voice which did not simply drive him to read without cease, but also radically changed his character and later made him go on to preach and write. The voice he heard said "tolle, lege" - "take up and read". This command changed the later St. Augustine's life, and helped shape Occidental civilization, for much of his thought is still prevalent in Europe. I hope that the Weilheim Literary Prize will have a similar impact - the initial signs are good!