Message of greeting from Federal President Horst Köhler at the Conference of the Third European Ecumenical Assembly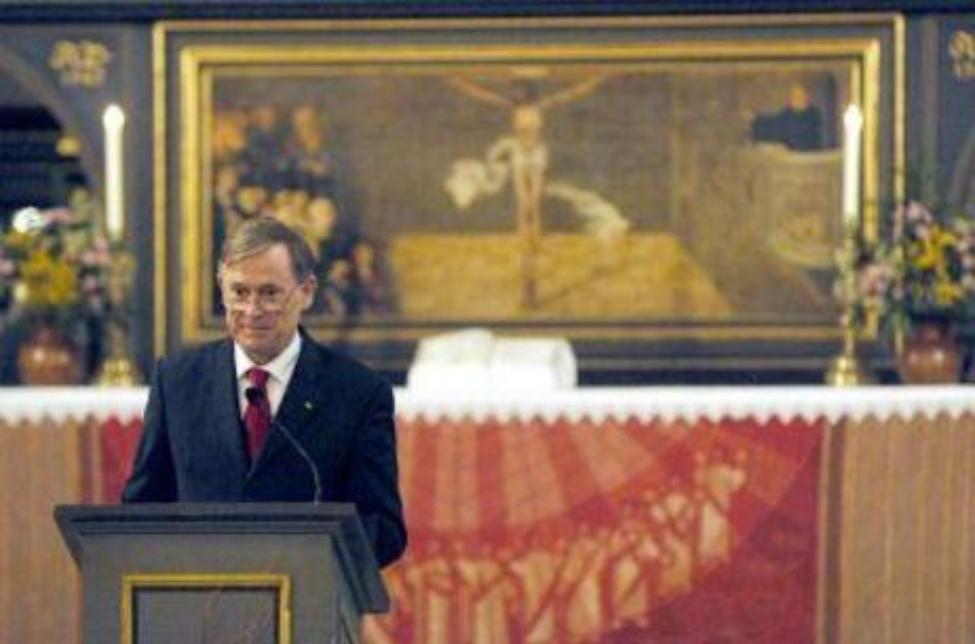 Wittenberg, 16 February 2007 Photo: Guido Bergmann, BPA © Photo: Guido Bergmann, BPA
Welcome to Germany, and to the cradle of the Lutheran Reformation here in Wittenberg. It was my pleasure to come and deliver this message of greeting to you today. When else does one have the op-portunity to see so many distinguished Church representatives from all over Europe gathered together in one place? That is the power of ecumenism.
Like many people of faith in our country, I too strongly believe in the importance of dialogue between the various Christian denomina-tions. But the engine of ecumenism seems to have stuttered somewhat when Cardinal Lehmann himself, an insightful man truly committed to exchange with his Christian brothers and the last person to advocate the exclusivity of his own religion, writes in a recent newspaper article: "Ecumenism is a spiritual gift. This is why the ecumenical movement will prevail. And yet there will be crises and setbacks which it must overcome. If I am not mistaken, we are facing a test of this kind right now."
Chairman Bishop Huber, you too have always sought to promote dialogue between brothers and sisters of different denominations. But in your own contribution to that same newspaper article, entitled "Leading bishops in Germany offer guidelines for the Christians of to-morrow", you avoid mentioning ecumenism. You speak of "our church" and "our parishes" with reference to the Protestant Church. But do the two major churches not also share guidelines for the Christians of tomorrow?
It seems to me that ecumenism needs new impetus. Every one of us as Christians has a role to play here. This is also why you are here in Wittenberg this week, ladies and gentlemen. I can assure you - and you yourselves are aware - that many people in our country wish to see greater cooperation and mutual recognition between the various Christian Churches. Shared Communion, for example, is a major issue.
Turning to the theologians in the audience, I know that there are good reasons for your differences. Belief systems and religious prac-tices developed over hundreds of years cannot simply be ignored. And Churches have taken steps towards each other in recent decades in particular - the European Ecumenical Assemblies provide just one ex-ample. But communities are continuing to call for more fellowship and greater rapprochement - particularly at a time when church-goers in-creasingly feel part of a minority.
On the other hand, there is a great interest in religious topics and issues today. Churches enjoy considerable attention, and their opinion in ethical matters is greatly sought-after. They can take advantage of this opportunity by pooling the range of opinions to promote the central message of their faith and beliefs. But they can also squander this opportunity by letting differences and disputes drown out the message of their faith.
My hope is that Christians and Churches in our country, a country in which Protestants and Catholics live in roughly equal numbers, will help give new impetus to ecumenism.
My own view of ecumenism is obviously very much a German one. Here in Wittenberg, it is particularly pertinent to consider which paths the Protestant and Catholic Churches today follow together, and which they follow for themselves and why. But it is also important to broaden our perspective to Christians in the whole world, and pay spe-cial attention to dialogue with the Orthodox Churches.
Our aim is perhaps best described in the Epistle to the Ephesians: "Endeavouring to keep the unity of the Spirit in the bond of peace."
We are gathered here together today in this beautiful church in Wittenberg, in the place where Martin Luther once delivered his sermons. One of his greatest concerns - if not his single greatest concern - was that people should hear the Word, that the Bible should be the source of all teaching and the point towards which all Christian beliefs, thoughts and actions should be oriented. And unless I am mistaken all of you here today subscribe to this understanding of the Holy Scriptures. Ladies and gentlemen, the words of the Epistle to the Ephesians give you a clear mandate.
I wish you the strength and courage to act in the spirit of ecumenism. I wish you a feeling for the right word at the right moment - and composure if the wrong word should come at the wrong moment.
I would like, in conclusion, to quote from a prayer. It was penned by Luther's loyal collaborator, the man of the Greek surname and "teacher of Germany", a scholar of whom Luther himself is reported to have said: "Anyone who does not recognize this man as his teacher is an incorrigible fool and a philistine." He was born exactly 510 years ago to this day. These are the words which he - Philipp Melanchthon - addressed to God:
"Choose and preserve in this land an eternal Church! Consecrate and unite it with your Holy Spirit such that they are one in you in the recognition and invocation of your Son." May the Third European Ecumenical Assembly and the meeting here in Wittenberg today serve this same end.