Speech by Federal President Horst Köhler at the state banquet in Entebbe/Uganda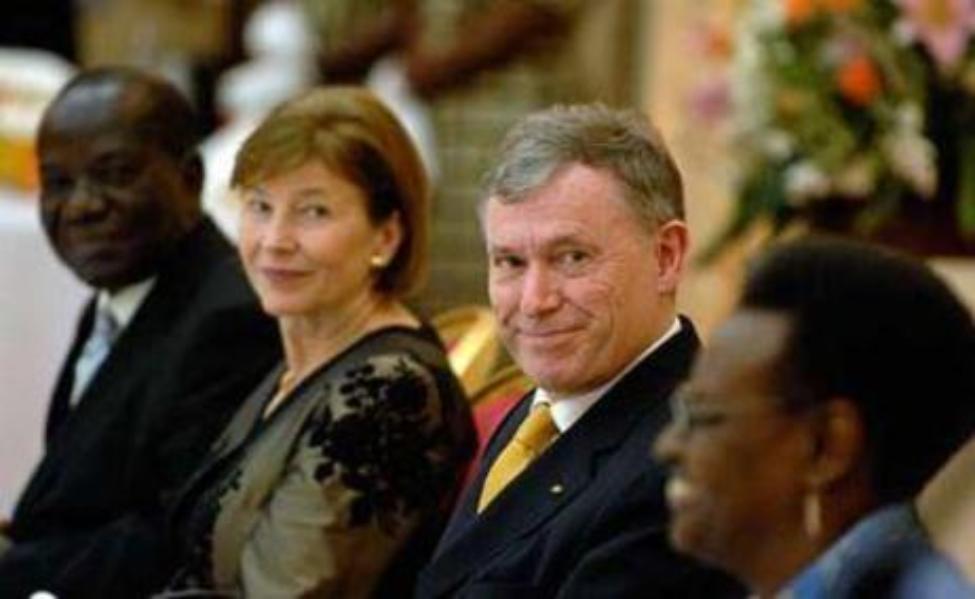 Entebbe / Uganda, 4 February 2008 Photo: Steffen Kugler, BPA © Photo: Steffen Kugler, BPA
It gives me great pleasure to be with you here in Uganda today. My wife and I would like to thank you most sincerely, also on behalf of the entire delegation, for your hospitality.
We heard much in Germany about the highly successful Commonwealth Summit which took place just a few weeks ago. Ugandans have every reason to be proud of their summit. Admittedly, Germany is not in the Commonwealth - and I'm not the Queen. I'm therefore all the more honoured and delighted to be the second Head of State to be invited to this wonderful brand new State House.
There is much interest in and goodwill towards the Pearl of Africa in Germany. This is highlighted not least by the large number of journalists accompanying me on my trip, who will help give people in Germany a better understanding of your country - the new Uganda. That's not only important to our political and economic relations. After all, Germans are the world champions when it comes to travelling. And Uganda, with its unspoilt nature, its pleasant climate, its rich culture, as well as its friendly and warm-hearted people, has a lot to offer with regard to tourism.
Mr President, it is little more than six months since we met in Berlin. On that occasion, you told me about the great progress your country has made. Economic growth has been strong for many years now, while it has been possible to substantially reduce the proportion of poor people among the population. Particularly here in the south, in Entebbe and in the modern city of Kampala, this progress really is visible.
Today I visited Parliament and Uganda's Supreme Court. I was very impressed by the self-confidence of the parliamentarians and judges in upholding democracy and the rule of law. At the renowned Makerere University I spoke to committed students whose expectations of the future were quite clear. All of this is encouraging. For strong democratic institutions and citi¬zens with the confidence to actively participate in society are of key importance to a country's favourable development.
Mr President, we also talked about the problems which still have to be tackled, both in Berlin and during the in-depth talks we have just held. You told me that the progress made to date is too concentrated on the cities. Especially in rural regions, poverty is still far too widespread. I'm very much aware that the opportunities for agricultural development in Uganda, indeed in all African states, largely hinges on fair trade conditions on the world markets. The countries of the North, and we Europeans in particular, now have to strengthen our commitment to a partnership of equals with Africa - a partnership without double standards and truly based on equality. The jointly drafted Partnership Strategy adopted at the EU-Africa Summit in Lisbon marked a crucial step in this direction. It must now be followed by action on both sides.
I would like to encourage Africans to formulate their interests and ideas on cooperative partnership with self-assurance. Doing their own homework, for example by enhancing regional integration and strengthening the African Union from within, are key prerequisites for ensuring that Africa's voice is better heard in the world. I'm very pleased indeed that Uganda is also committed to these very goals: as a driving force within the East African Community, with its engagement in the African Union and, to name a concrete example, its involvement in the peace efforts in Sudan and Somalia.
The basic prerequisite for the favourable development of any country is peace - both in the country itself and along its borders. The situation in northern Uganda illustrates this. Happily, the peace process now seems to be underway following a decades-long conflict. The task now is to silence the guns for good and to tackle the consequences of this terrible conflict. It's good that an increasing number of former child soldiers are returning to their families and that, at the same time, more and more families are able to leave the camps for refugees and internally displaced persons. Germany and the European Union are ready and willing to provide assistance. I'm convinced that there is a way to combine justice and national reconciliation.
The settlement of the conflict in northern Uganda forcefully underscores the vital importance of regional understanding and cooperation, for the conflict had an impact beyond Uganda's borders from the outset. In particular, the situation in eastern Congo, which borders on Uganda, where the worst human rights violations and brutal violence - especially against women - are the order of the day, continues to deeply concern us. It will require the attention of the entire international community, as well as the responsible cooperation of all players here in the region, to settle this complex conflict.
I'm convinced that Uganda is on the right path. The friendship between our countries is especially evident at interpersonal level, in the contacts between numerous NGOs and communities in Germany and partners here. Economic relations can undoubtedly be further intensified. Take, for example, the sphere of energy supply, which is so important to Uganda. Or the trade in organic agricultural products, a sector in which Uganda has much to offer the German market. I'm certain that German business will become more involved in Uganda once the image of the new, progressive Uganda I've witnessed first-hand during this trip has caught the attention of more people in Germany.
Mr President, as you are the host of today's state banquet I'll refrain from concluding my speech with yet another "thank you". I do so out of consideration, for a Luganda proverb says: "Weebale, weebale: akumalako ebibyo!". Translated that means: those who say thank you too often will eat you out of house and home!
Instead, I invite you to join me in a toast: To the health of President Museveni and his wife, to the well-being of the Ugandan people and to the friendship between Uganda and Germany.