Speech by Federal President Horst Köhler at the Matthiae-Mahl in the Townhall of Hamburg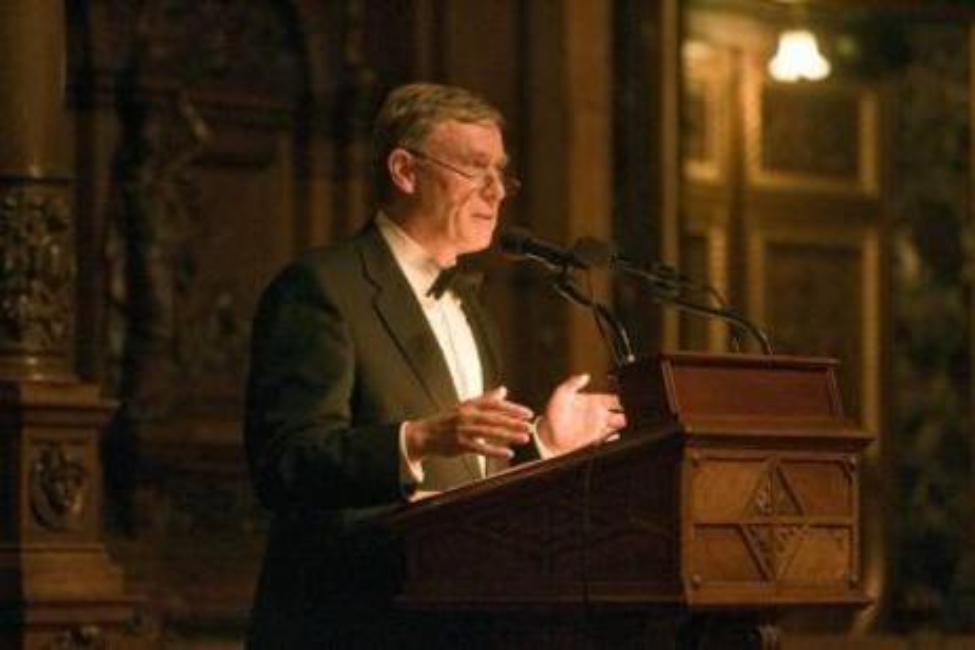 Hamburg, 15 February 2008 Photo: Markus Scholz, BPA © Photo: Markus Scholz, BPA
"An unbiased View of Africa"
The first Matthiae-Mahl took place in 1356. Today for the first time the theme is Africa. It's about time, I think, after more than six and a half centuries.
I am particularly delighted that you have also invited as guest of honour an African head of state - another historic first. You clearly made a very prescient choice: President Kikwete has just been elected President of the African Union. I entirely understand that for urgent domestic political reasons he was forced to send his regrets and that the United Republic of Tanzania, one of Germany's long-standing partners, is represented here today by President Amani Abeid Karume of Zanzibar.
Let's cast our minds back to the time of the first Matthiae-Mahl. In the mid-fourteenth century the Ethiopian Empire already had diplomatic contacts with Europe. Via the Arabian Peninsula African wares were reaching India, South-East Asia and China as early as the 10th century. In imperial China the work of West African goldsmiths was in much demand. Along the coasts of Kenya, Tanzania and Mozambique archaeologists have found Chinese coins and porcelain. So even then, as you see, the Chinese were willing to travel far for African goods and services.
Unfortunately this part of history is little known in Europe. For a long time Europeans dismissed Africa as a continent without history or civilization. For centuries Europe's relations with Africa were based on slavery and colonialism. Later on Africa was the scene of proxy Cold War conflicts. And even now the rest of the world still has a flawed view of the continent, with crisis, misery and chaos the dominant image - a view shaped far too often by ignorance and sometimes also arrogance.
However, there are good reasons to take a fresh, unbiased view of Africa. Especially in Hamburg, our gateway to the world, so to speak, people should know what a dynamic place Africa is. For some years now Sub-Saharan Africa has been achieving economic growth of around five percent. Certain countries - Angola, for instance - have even achieved double-digit growth rates.
China's increased presence in Africa has been a wake-up call for Europe. Suddenly Africa has become important, for the whole world needs its commodities. And without the African voices in the United Nations, a new, cooperative world order is not going to happen.
But there is another reality, too, that is entirely new: Africa now speaks out with self-assurance. With the New Partnership for Africa's Development - NEPAD - African leaders have explicitly committed themselves to democracy, the rule of law and economic reforms. And the reformers in Africa, who are definitely growing in number, realize very clearly that the key to tackling poverty lies in generating greater added value in Africa.
I am pleased to say that the business community in Germany is seizing the opportunities offered by this surge in economic activity in Africa. Germany's trade with Sub-Saharan Africa has risen substantially. At just under 6 billion euro in 2006, Germany's direct investment in Africa far outstripped our development cooperation there. But that still leaves ample scope for further enterprise. Those who act with foresight now and make long-term investments in Africa will be among the front runners later on.
The motto you have chosen for this year's Matthiae-Mahl is "Responsibility for Africa". Of course the responsibility for Africa clearly lies first and foremost with the Africans them¬selves. It is above all up to them to pursue wise policies that help the continent to tap its true potential. The main priorities are to build viable institutions in the sphere of government, education and health, provide better infrastructure as well as a better environment for private sector enterprise and ensure that government action is more predictable.
For many African governments the high commodity prices we're seeing right now mean higher revenues. I view this as a historic opportunity. If African governments can ensure that these revenues are made transparent and used for the good of the whole population, the continent will make remarkable progress. It is about time Africa's wealth should benefit those who live there.
On my visits to Africa I have met many people with great initiative and creative talent who want neither charity nor finger-wagging but simply genuine partnership with us. Gone are the days when Europeans could impose their own patent recipes for solving Africa's problems. Today there is a new Africa. And this new Africa wants change. It took centuries, by the way, for Europe to develop the democracy, rule of law and separation of powers we take for granted today. What we are seeing now in Africa is that many young people - including many who have trained abroad - are getting involved in politics and demanding that their voices be heard. And while their view of political parties may differ from our own, an increasing number of parliamentarians, too, are subjecting government action to ever closer scrutiny.
Genuine partnership can mean only that Europe bears a share of the responsibility for Africa. We don't need to invoke history to explain why. Let's be under no illusions. Whenever something goes wrong in Africa, sooner or later it will be our problem, too. And whenever something goes right in Africa, this opens up new prospects not just for business but also for global security and stability. In this interconnected world of the twenty-first century we can't just look the other way when close by children are starving, rape is used as a weapon of war or pandemics spread like wildfire. To do what we can to help is not just a moral imperative. On this planet that is home to us all interdependence is now a fact of life. So we must realize it is in our vital national interest to help Africans help themselves.
Hence a development policy that brings real results is also a core component of Germany's foreign and security policy. It is a good thing and much to be welcomed that the German Government now intends to honour its long-standing commitments on funding. As from 2010, I am pleased to say, Germany will every year earmark 0.51% of GNP for development cooperation and as from 2015 this figure will rise to 0.7%. For me that is not just a question of international credibility, something that is increasingly important in building greater trust between people as well as nations. Also in Germany we have been saying ever since the collapse of the Berlin Wall that division can only be overcome by sharing. I believe that's a good principle for the internal development of any nation as well as an important tenet for relations between nations in the emerging global community.
Credibility and trust are the key to cooperation in the true sense of the word. That is why also in Africa I have a very clear message. People in Germany will only back an increase in development cooperation funding if they are sure their money is not going to be wasted. It must not be frittered away on wars, mismanagement and corruption. Ultimately, it's all about helping people to help themselves.
"Running water," as the Ghanaians say, "is never going to jump over a hole." Cooperation needs patience and optimism - it's the same everywhere, whoever our partners. But from Africa we sometimes expect miracles. Things take time to change. Just think of India. Given the widespread poverty, India was long regarded by many as a hopeless case. Today - despite the persistent problems - India is one of the world's powerhouses. And Africa, too, can find its way out of poverty.
Genuine partnership also calls for self-examination on both sides. If we condemn corruption in Africa, we must be equally severe on those who engage in corrupt practices in our own countries. If we are serious about development in Africa, we must be prepared to cut tariffs on manufactured goods; we must also consider how more added value can be generated in Africa itself. And when we see more and more African countries subjecting their policies to critical appraisal through the African Peer Review Mechanism, we, too, must allow our policies to be regularly monitored for double standards and inconsistencies.
Ladies and gentlemen,
some of you are perhaps wondering what this "new Africa" is that I've been talking about. Don't the images from Kenya carry a quite different message?
I don't want to gloss over anything. The rigging of the election results in Kenya and the resulting violence are a huge setback for the country and the whole region. Kenya's political leaders have been deliberately playing with fire.
The images we see on our TV screens are one thing, but a real analysis of events there requires that we look deeper. It requires knowledge of conditions on the ground, for instance - and that casts a rather different light on the elections. The voters often travelled long distances to get to the polling-stations. They stood in line patiently for hours to cast their vote. The ballot itself passed off very well, it was only afterwards that the rigging occurred.
My impression is that many sections of African civil society are now streets ahead of many African politicians. And more and more African voices have roundly criticized a political caste that continues to view the state as their personal property, at the service of themselves and their cronies, and who fail to understand that power in a democracy is conferred for a limited period only. This debate is a manifestation of the new Africa.
Of course it makes sense to consider how democracy can function in a multiethnic setting
- and with their colonial-era borders nearly all African countries are multiethnic nations. But from my many encounters with representatives of Africa's civil society, I'm firmly convinced democracy will indeed take root in Africa - and it will of course have an African face. We Europeans should follow these developments closely and in a spirit of dialogue - which may also be a critical dialogue. There is no point, however, in waiting for Africans to more or less copy our own models of democracy.
African and international political leaders, including notably Kofi Annan, responded purpose¬fully and promptly to the crisis in Kenya with offers of mediation. They've put their prestige on the line, they're toiling to find an African solution to the crisis. We in Europe should do everything we can to help them. The violence in Kenya must be stopped.
Kenya reminds us that we also need to critically examine our own policies towards African governments to see how serious we are about our self-proclaimed principles of good govern¬ance and human rights. Have we, for example, really learned the lessons of the grim Cold War years that made Africa - for higher-order geostrategic reasons, it was claimed - the scene of proxy wars, a playground for dubious regimes?
The world must not look the other way either, when it comes to other African hot spots. Just think of Darfur, for instance, or eastern Congo and the Central African Republic. These con¬flicts may all be very different, but there is one thing they have in common: it is always ordinary people who suffer most.
On this score Africa is now increasingly conscious of its own responsibility. It is no mean achievement that the African Union has now broken with the principle of non-intervention. Today it is even prepared to use force of arms when circumstances demand it. However, it's early days yet. The necessary expertise and capabilities for peace missions are in short supply. So it's good that the European Union is supporting the African Union as a whole with advice, logistical assistance and funding.
But beyond that we need a much more intensive and in-depth debate both at the national and international level on how best to protect the civilian population everywhere from violence. I know this is a very sensitive and difficult issue. If the outside world fails to intervene in time, as in the case of the genocide in Rwanda, it can be rightly blamed for what follows. When it does intervene, as in Kosovo in 1999, it becomes involved in a controversial military conflict. At the initiative of then UN Secretary-General Kofi Annan, an independent commission extensively examined these issues and in 2001 spelled out the principle of the international community's "Responsibility to Protect". This principle was endorsed at the 2005 United Nations Summit. I'd like to see much more public debate on this to clarify all the practical issues involved.
Peace and security were also on the agenda of the Europe-Africa summit in Lisbon. Last December European Union and African Union heads of state and government made an important fresh start and agreed on a set of common goals in the area of trade, for example, as well as climate protection and migration. That is something new. If this is to lead to a truly equal partnership, however, we in Europe must also ask what we ourselves need to change. How much real substance is there to a policy that, on the one hand, helps African farmers increase their yields and, on the other, dumps subsidized European foodstuffs on Africa's markets?
Ladies and gentlemen,
just a week ago I returned from my trip to Uganda and Rwanda. Rwanda is still striving to cope with the legacy of the genocide in 1994. After over twenty years of civil war Uganda at last has a prospect of peace. In both countries African traditions are playing an important role in the quest for justice and reconciliation. To these ongoing discussions we should bring critical judgement but also understanding. We need more substantive dialogue between Africa and Europe. Of one thing I have no doubt, however: Africa is keen to strike a new balance between tradition and modernity.
Clearly we Europeans, too, should be giving African cultures serious attention. Africa is more than drums and dancing. There are still far too few opportunities to learn African languages. In the arts and sciences cooperation with Africa is still at the very early stages. We ought to have far more contacts with African research institutes. The planned expansion of Germany's cultural presence in Africa, including the opening of new Goethe-Institut branches in Angola and Tanzania, is a step in the right direction. By the same token, our Ministry for Economic Cooperation and Development now works very intensively with civil society actors and supports also youth exchange projects with Africa.
Face-to-face contacts between young people made a vital contribution to overcoming the tragic legacy of the past in Europe. If our aim is better relations between Europe and Africa, there has to be far more contact between young people in both continents. Hospital or school twinning arrangements are another very good way to bring people together. One example of such a long-term partnership is the cooperation between Rhineland-Palatinate and Rwanda. Over the past quarter-century Germans and Rwandans have built up something that survived even the tragedy of the 1994 genocide in Rwanda. I know many of the present company are very active in this connection. I would like to thank you very much indeed for your energy and commitment.
The splendid work you are doing encourages me in my own activities. As I see it, the whole idea of the Partnership with Africa initiative is to encourage a dialogue of equals. In the African Fora we organize in cooperation with the Hamburg-based Zeit Foundation, we regularly bring Africans and Europeans face to face - representatives of government and civil society, young and old, business people and intellectuals, people prominent in the arts as well as traditional authorities. Our aim is not simply that they should discuss their concerns openly and frankly but above all that they should listen to one another. It is in no small part due to these encounters that I have such confidence in the new Africa. A young and creative continent that is changing faster than most people in Germany can even imagine. A continent not content with being either poorhouse or mere commodity supplier, a continent that aspires to play a full and equal role in a globally interconnected world. And despite all the difficulties, a continent that will find and pursue its own path to modernity. This Africa deserves our full attention and support.