Speech by Federal President Horst Köhler at the State Banquet in honour of President Mary McAleese and Dr. Martin McAleese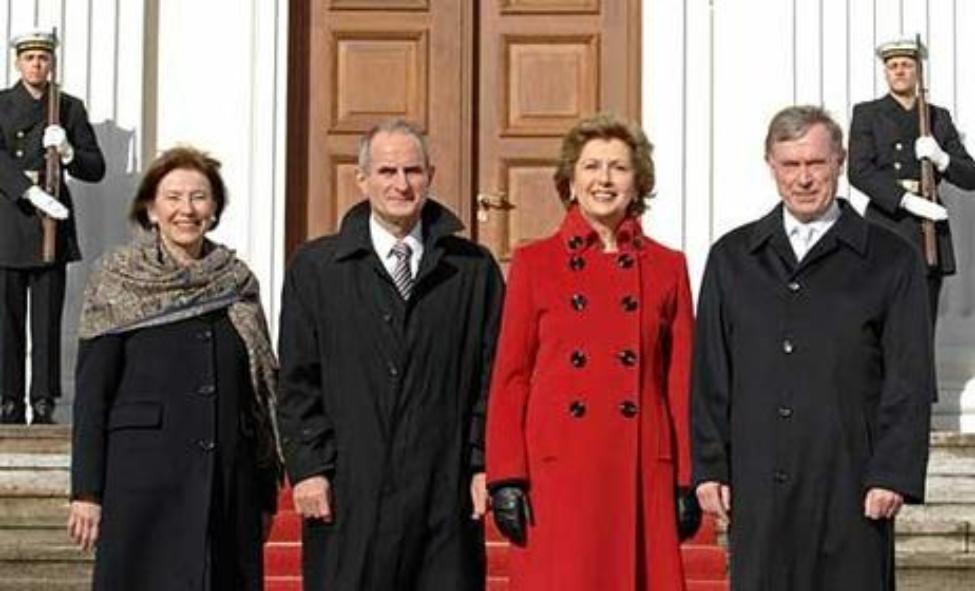 Berlin, 25 February 2008 Photo: Steffen Kugler, BPA © Photo: Steffen Kugler, BPA
My wife and I bid you, Madam President, your husband and your delegation a warm welcome to Germany. We are delighted to be celebrating with you here in Schloss Bellevue this evening the good relations between our two countries and the friendship between our peoples.
The Irish and the Germans feel tremendous good will and empathy for one another, they have a special relationship that is well over a thousand years old. It dates back to when Irish monks and scholars first arrived on the European continent and reached what later became known as Germany. In the turmoil that followed the end of the Roman Empire and successive waves of migration, these lands had entered a period of cultural and political decline which the monks from Ireland - whose work would today be seen as development aid perhaps - helped to reverse. These holy men included one Kilian, who in the seventh century travelled to Würzburg in Franconia and is now revered there as the city's patron saint. That's another reason I'm sure you can expect a great welcome when you visit Würzburg on Wednesday.
The "emerald isle" so lyrically described by Heinrich Böll in his "Irish Diary" is now an up-and-coming economic power. Per-capita income is today one of the highest in the European Union and there has been strong growth in jobs and employment. The success of the "Celtic tiger" has impressed people everywhere. Thanks to far-sighted reforms and supported by European structural funding, you've created an economic climate that's made Ireland a prime destination for foreign investment and a globalization winner. German companies, too, have discovered how keen and highly motivated your many hard-working and well-educated young people are. Both Europe and Germany could learn a good deal, I believe, from this new Irish can-do spirit.
With its flourishing economy, Ireland is now increasingly a country that attracts immigrants. Who would have believed such a thing possible a few short years ago? I know, Madam President, that you have made the integration of these newcomers an important theme of your presidency. You are conscious, too, of the growing income disparities in your country and their implications for social cohesion. You are concerned about those who have been left behind as the economy has forged ahead. In Germany we have much the same concerns. I'm sure that sharing our experience in this area could generate valuable new ideas also for a common European policy.
According to the latest Eurobarometer survey, three out of four Irish people think the European Union is a good thing and over 80% say Ireland has benefited from membership in the European Union. That's the highest approval rating anywhere in Europe. It shows, too, that Ireland is a reliable friend and partner within the European Union and continues to contribute in a most positive way to its further development. With its impressive record, Ireland can be rightly proud of sharing with its partners in the European Union the lessons learned from its own experience of structural change. To achieve the ambitious goals Europe has set itself, it is vital that Member States both large and small should learn from one another.
The signing of the Treaty of Lisbon was a milestone, for it will help the European Union to rise to the challenges of the future. It will make the European Union more democratic and transparent and enable it to act more effectively. We Europeans must manage to speak increasingly with one voice when it comes to world events. That is the only way to safeguard our interests. Then we'll also be in a better position to play our part in building a world of peace and justice.
Madam President, your country's international presence reaches far beyond the borders of Europe. I'm thinking here not just of the generations of hard-working young emigrants who have made their homes far afield but also of the role Ireland plays in international affairs. Like most countries in the world today but very few in Europe, Ireland has first-hand experience of colonialism and its legacy. This was the background to your country's policy of neutrality, which is entirely compatible with its extensive international engagement. Over the past decades, for example, Ireland has time and again provided blue helmets for United Nations missions. That has earned it great respect worldwide.
Ireland's development aid is well-targeted, generous and in financial terms considerably above the international average. You represent a country, Madam President, that is open to the world and knows how to share - a fine example to others, including Germany.
Both of you, Madam President and Dr McAleese, have a deep and long-standing commitment to work for peace in the whole of Ireland. It is thanks to the efforts of people like yourselves that good inter-communal relations and a peaceful future for Northern Ireland are now a real prospect. The accords reached last year have ended the violent conflict there. Like you, we greatly welcome these developments. An important step has been taken towards peace and reconciliation. Now further steps must follow so that at long last we can say the conflict is truly over. The pictures we've seen of First Minister Ian Paisley and Deputy First Minister Martin McGuinness at the European Commission and the White House are grounds for hope and optimism. You can be sure that Germany will continue to follow the peace process with keen attention and every sympathy.
Ladies and gentlemen, let me now invite you to join me in a toast to the health of President Mary McAleese and Dr Martin McAleese, to German-Irish friendship and to our common future in Europe and the world.