Speech by Federal President Horst Köhler at a dinner in honour of Mr Kofi Annan, former United Nations Secretary-General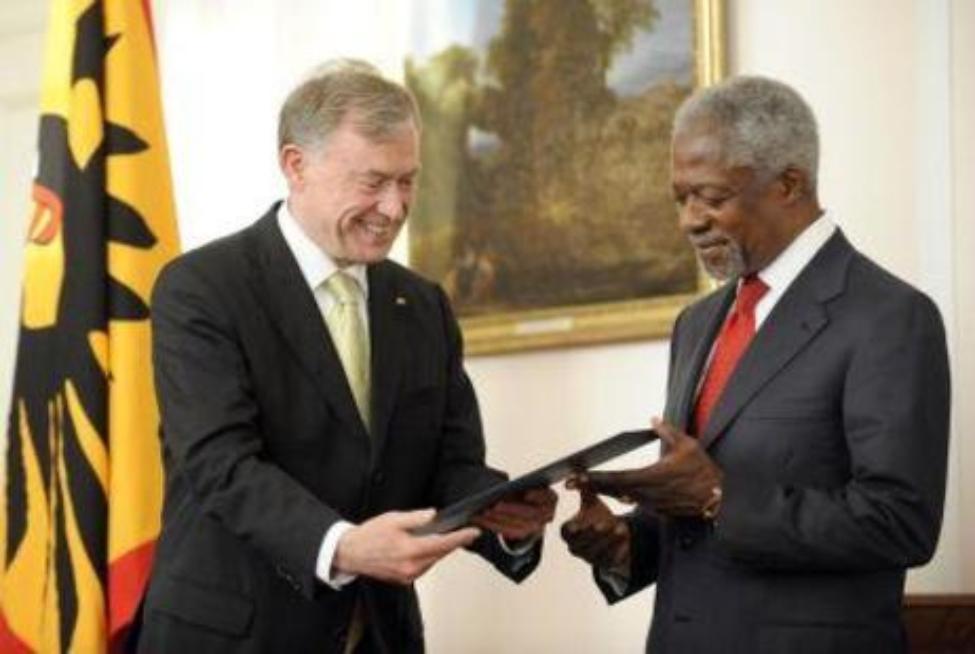 Berlin, 5 May 2008 Photo: Guido Bergmann, BPA © Photo: Guido Bergmann, BPA
"Work for a better world"
Kofi Annan, Nane Annan, Ladies and gentlemen, may I first bid you all a very warm welcome to Schloss Bellevue. My wife and I are delighted to have you with us this evening. This dinner is being held in honour of Kofi Annan, the former United Nations Secretary-General.
My dear friend, Germany is thankful to you for your tireless and successful work for a better world. You set the course of the United Nations for many years and you served the international community faithfully as an honest broker. The Nobel Peace Prize was well-deserved recognition of this. It gave me great pleasure today to present you with the Grand Cross 1st class of the Order of Merit of the Federal Republic of Germany.
Moreover, my wife and I have fond memories of our get-togethers at the Annan's house in New York. Today, Nane, we want to return your hospitality, especially as your husband had a landmark birthday just recently. It is great to be able to celebrate this with you all.
Kofi, we got to know each other personally at the United Nations System Chief Executives Board for Coordination. The discussions you conducted there turned even proud independent institutions such as the World Bank and the International Monetary Fund into members of the UN family. As you know, I took this membership seriously. And I believe that cooperation among various multilateral institutions can become even stronger under the coordination of the United Nations Secretary-General. At our first meeting in the Chief Executives Board, Kofi Annan assured me in a private conversation of his confidence and loyalty. He honoured this pledge throughout our working relationship and for that I am grateful to this very day.
Giving and receiving confidence - that above all else is what distinguishes Kofi Annan. And that is also the secret of his success at the United Nations and to the present day.
In Ghana, Kofi Annan's home country, reserve is regarded as strength, impatience as weakness and forgiveness as the height of human greatness. The influence of African culture was certainly a boon to the United Nations. Kofi Annan also contributed his own personal experience when he shared his conviction that it is important to listen and look around, otherwise one can make serious mistakes. It's just a pity that it is taking so long for all members of the United Nations to understand this. Otherwise we would be more aware by now that the peoples and nations on our planet are dependent on one another and that no state can safeguard its people's long-term welfare at other countries' expense.
Kofi, as Secretary-General you named three global challenges on which you focused your actions: development, peace and human rights. Time and again, you made it clear to what extent these three objectives are interlinked and cannot be separated. I would like to quote you: "We will not enjoy development without security, we will not enjoy security without development, and we will not enjoy either without respect for human rights". It is ten years since you formulated this fundamental idea in your report on the causes of conflicts and peace development in Africa. Even then, you brought to the attention of the international community its share of responsibility for Africa's fate.
In your many years of service at the United Nations, you realized early on that we need a development policy for the entire planet and that this would also involve changes in the so-called developed world. You highlighted these ideas in the United Nations Millennium Report of April 2000: the halving of poverty by 2015, the containment of violence and conflicts, better education, the fight against AIDS, environmental protection, as well as the establishment of a global development partnership. Some 189 Heads of State and Government subsequently committed themselves to these goals in the Millennium Declaration. The bar was set high, but to this day it demonstrates the objective and moral demands which the United Nations has placed on itself. The fact that we are still so far from achieving those goals should spur us to act. Industrialized countries are evidently finding it difficult to honour their commitments, and you yourself, Kofi, have called upon poor countries to do more so that external help falls on fertile ground. The way I see it is that everything we have not yet accomplished should be an incentive to try harder.
Thanks to your holistic approach, Kofi, you realize that the concept of a global development partnership always has to include the private sector. That is why you initiated the Global Compact in 1999. I am pleased that more than 4,000 companies around the world have now responded to your appeal and have given a commitment to the United Nations that they will respect human rights, observe labour and social standards and fight corruption and exploitation. I am sure you share my sentiment when I say: this figure should rise further!
Some 88,000 UN blue helmets are currently risking their lives in 20 missions throughout the world aimed at ensuring stability and peace. This, too, is inextricably linked to the name Kofi Annan. Certainly, it can be argued whether every mission really is a resounding success. However, there is no doubt that countless lives have been saved. And your achievement, Kofi, has been to remind the international community again and again that turning a blind eye to conflicts is not the solution.
You have repeatedly pointed out that peace cannot be brought about with military means alone. Ultimately, hearts and minds have to be convinced if UN missions are to be successful.
Unfortunately, we also associate the history of blue helmet operations with experiences in Rwanda and Srebrenica. Kofi, the failure of the international community made a lasting impression on you. You then asked yourself the question: faced with genocide and other grave human rights violations, does the international community have an obligation to act?
You said yes and developed the concept of "responsibility to protect". There are still many unanswered questions as to how it can be implemented in a binding manner. However, it must give you satisfaction, and it must serve as a message to us all, that Pope Benedict professed with such force his support for this principle when he addressed the forum of the United Nations recently.
My dear Kofi, we all know that we will never live up to this obligation to act in full and without making any mistakes. After all, we humans are limited by our own inadequacies. However, this cannot justify inaction. You yourself said that, "The fact that we cannot protect people everywhere is no reason for doing nothing when we can". I am pleased and grateful that you have always regarded the United Nations as the moral authority of the family of nations.
And you remain true to yourself: in Kenya you recently translated responsibility to protect into concrete action with great personal commitment. Yes, there was a risk you would fail. But you intervened swiftly and resolutely to mediate. And your success shows that courage is needed if we want responsibility to protect to work optimally, namely as a preventive measure.
Ladies and gentlemen, I share Kofi Annan's conviction that we have to view the triad of development, peace and human rights as a single whole and incorporate it as such into all political action. For this, however, we need the will and strength of all countries in the world to forge a new, cooperative brand of world politics. Your successor Secretary-General Ban Ki moon is strongly committed to this idea, and the United Nations is the natural and legitimate forum for this. Kofi Annan has provided key impetus for reforms aimed at strengthening the UN. It is in the interests of us all to take them up and develop them further.
My dear Kofi, my dear Nane, your commitment and character are an example to many people around the world; you are citizens of the world who have shown it is possible and worth the effort to fight for a better world. I hope you will both remain the way you are.
Ladies and gentlemen, may I invite you to join me in drinking a toast to the health of Kofi and Nane Annan. For many years to come.