Speech by Federal President Horst Köhler opening the Fourth Africa Forum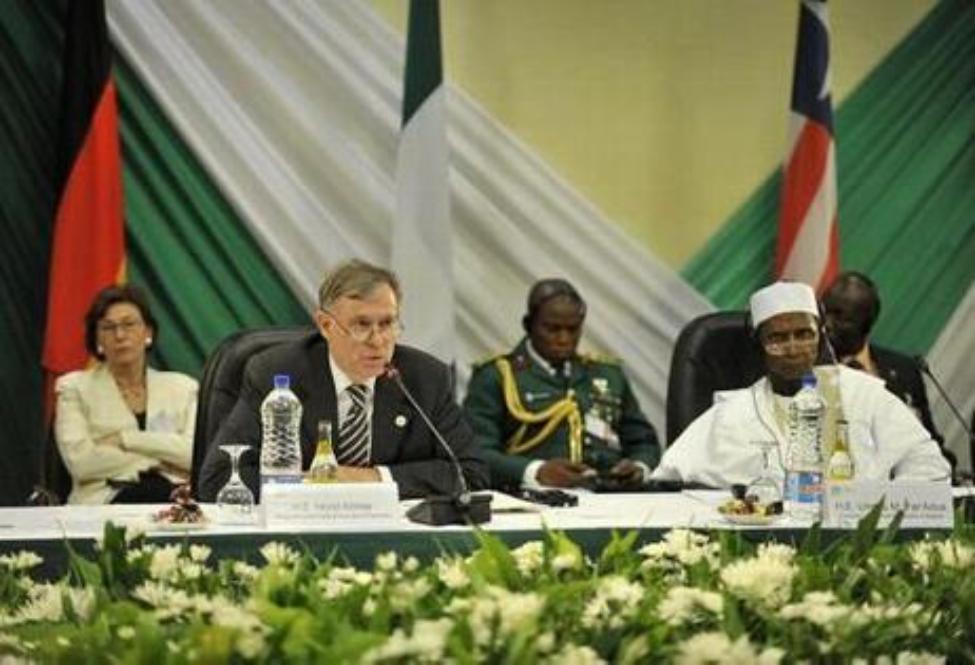 Abuja/Nigeria, 7 November 2008 Photo: Sandra Steins, Presse- und Informationsamt der Bundesregierung (BPA) © Photo: Sandra Steins, Presse- und Informationsamt der Bundesregierung (BPA)
"Egoism in the 21st century"
Welcome to the Fourth "Partnership for Africa" Forum. President Yar'Adua, I am delighted that you have made it possible for us to hold this meeting in your capital, Abuja. Thank you.
We have a saying in Germany that goes like this: "Better an uncle who brings a present than an aunt who plays the piano."
I cannot play the piano, and I don't have any presents to hand out. But we are all here nonetheless.
I am confident that I know why: our world seems to be shrinking. We all sense that we are becoming more and more dependent on each other. And so we are also reliant on each other. Africa needs Europe. Europe needs Africa. Up until now, however, we certainly have not made enough use of this realization.
The people gathered here today are very different. We undoubtedly hold different opinions. We look different. Our cultures are different. Our responsibilities are different.
But we believe that it is these very differences that can produce wisdom. Not wisdom that belongs to each one of us individually. But wisdom that belongs to all of us. That's why we're here.
On the basis of the global situation at present, let me suggest two very different scenarios.
Scenario 1: The financial crisis leads to national self-absorption and protectionism in the West. China's growth collapses. Prices for raw materials drop. Investment in the countries of Africa stops. The funds for development cooperation are cut. Inner-African conflicts erupt violently once again. Poverty and migration increase dramatically. Climate change is no longer of any interest. The new world order is called chaos.
Scenario 2: The financial crisis leads to a process of rethinking. The industrialized nations realize that it is in their own vital interest to make every effort to ensure that a globally networked world finds confidence again. One aspect of managing this crisis is ensuring that the economic downturn does not have a massive impact on the emerging economies and developing countries. The international community has the power to conclude the Doha Round before the end of this year. A development-friendly, multilateral trade system without double standards emerges. A comprehensive global programme of forward-looking investment in infrastructure and education is drawn up, with the focus on the poorer countries. Countries which buy and sell raw materials work together in a vigorous effort to counter illegal trade in commodities. Where conflicts erupt - as is happening again now in Congo or Sudan - the regional partners of the parties to the conflict face up to their responsibility, seek to stop the bloodshed and violence - and support attempts to find a solution based on law. The industrial countries recognize their share of the responsibility for climate change and the repercussions for the poor countries; the North does not leave the South in the lurch. A development strategy for the entire planet is drawn up. A new world order is arrived at in a spirit of cooperation.
So, ladies and gentlemen, which scenario do we want our children and grandchildren to live through?
I know the world will never be as luminous as we would like it to be. But nor is it likely to be as grim as we fear. And I derive confidence from the fact that virtually everything which is weighing down on us now is of our own doing. People have caused the crisis. So too can people resolve it and learn from it.
Realizing this means understanding that our actions should in future be coordinated and sustained. We know that the things we need to live are finite. And we also know that the number of people in Africa will almost double over the next 50 years. The commodity we are most in need of now is confidence. It is up to us, and only us, to create it.
That is why I say that the current crisis also affords a tremendous opportunity. The crisis was started by the industrial countries - by those who have till now felt themselves to be the strongest. They have learnt from their own mistakes that even they are vulnerable. The industrial countries would do well to derive greater modesty from this, as well as the ability to learn. And not just in terms of the economy. A time has come when we can agree on common tasks for humanity and commit ourselves to them. It is time for a new regulatory framework for the global economy which makes capital the servant, not the master, and in which combating poverty and climate change is defined as a strategic task for each and every one of us. We can lay milestones for a new, cooperative world order. I hope that the G20 financial summit in Washington this coming week will provide some impetus.
Egoism today means caring about others too. It really is up to us.
When we met for the first time, three years ago in Bonn, we learned to approach each other openly and with respect. In Accra the following year we brought together young and old. The result was the Young Leaders' declaration "Two Generations - One Future". This declaration embodies the quintessential spirit of partnership. This critical encounter between the generations did us all good. In Eberbach a year ago, we recognized that globalization is bringing us together irreversibly in One World and that the aim must be to give political shape to this development.
Here in Abuja we have undertaken to speak about barriers which stand between us - barriers of perception and incomprehension, but also very real barriers.
I would describe the path we have followed so far like this: we have listened to each other. We have spent time in reflection. We have realized that we still need to know much more about each other. And if we now manage to identify the barriers which divide us, so that we can overcome them, then the way is clear for action.
I am looking forward to the Fourth Africa Forum and to the introductory statements by Ambassador Kiplagat, Professor Lahnstein of the ZEIT Foundation, which set up the Partnership Initiative with me, and not least the Young Leaders. Above all, however, I am looking forward to our discussions, both in the plenary and then in the smaller working groups.
I wish us all every success!