Message of greeting by Federal President Horst Köhler on the presentation of Roland Berger Human Dignity Award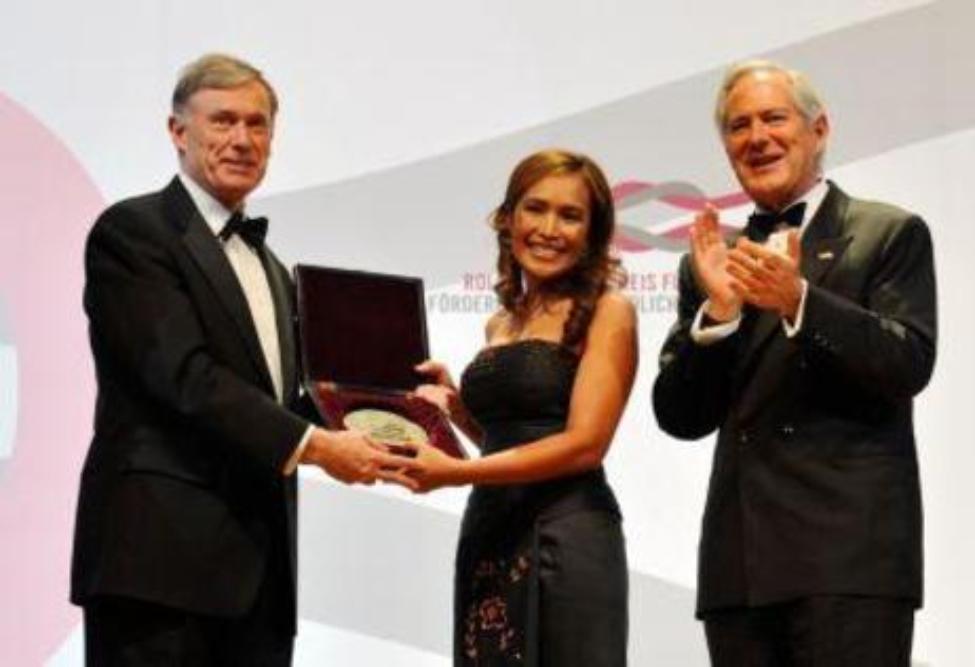 Berlin, 24 November 2008 Photo: Steffen Kugler, BPA © Photo: Steffen Kugler, BPA
"Courage for a better world"
Human dignity is "beyond all price."
With these words, Immanuel Kant sought to express the idea that the dignity of every human being has a unique value, because every human being is unique; that human dignity comes right at the top of the hierarchy of values; that it cannot be weighed up against other goods. Human dignity has no price. Those who demonstrate commitment to human dignity are truly worthy of distinction. So I am pleased that tonight, for the first time, we are presenting the Roland Berger Human Dignity Award.
Today, more than 200 years after the death of Kant and almost 60 years to the day since the United Nations' Universal Declaration of Human Rights, it is a bitter fact that human rights are still not protected as a matter of course in many parts of the world. Even today, people are subject to repression by regimes of injustice, prisoners are consigned to oblivion. And it is still the circumstances of people's lives - above all, poverty and the spiral of misery and violence - that make it difficult for many to lead a life of dignity.
Globalization has given many people - mainly in Asia - the chance to free themselves from poverty and misery. Yet it has also drawn our attention to the needs in other parts of the world and shown us new forms of human indignity.
We must work for better globalization, a form of globalization that benefits all. This also means working for a shared ethos in the global community, an ethos that says: we should treat others only as we would want to be treated.
The Roland Berger Human Dignity Award is intended to contribute to advancing this ethos. I applaud and welcome this endeavor. The choice of recipient for this first award steers our attention toward issues that many would rather ignore: human trafficking, forced prostitution and sex tourism. These are fundamental violations of human dignity - and they are taking place not only in distant lands, but in our own country too. I am truly ashamed to say that men from this country are involved in the sexual exploitation of women and children throughout the world. And it is a scandal that women are trafficked to our country for the purposes of prostitution.
I am particularly pleased that the Roland Berger Human Dignity Award goes to a woman who knows this issue from her own experience, someone who faced untold suffering as a victim of forced prostitution in her own country. Today she fights on behalf of other women and children, so that they can be spared this fate. We are recognizing a woman whose story both disturbs and inspires us; a woman, who through her uncompromising mission to defend human dignity serves as an example for us all: Somaly Mam.
Roland Berger has brought this award into being and endowed it generously from his own pocket. For this, we owe you our thanks, Professor Berger. Going beyond one's duty, getting involved, creating an endowment, acting as patron - that is an expression of true civic mindedness, a sense of one's responsibility as a citizen. And it is such civic mindedness above all that promotes cohesion in our society. It is important that wealthy citizens do not view their prosperity simply as the basis for an enjoyable life or even as a source of power and influence, but also as a particular responsibility toward the community. It is encouraging when successful people feel the need to give something back to society in the knowledge that their success is always built on the work of others, too, besides themselves. It is not without reason that we have enshrined in our Basic Law the idea that "property entails obligations."
The Foundation created by Roland Berger does more than just award this prize. It also concerns itself with an important issue for the future of our society: the education of young people from difficult social backgrounds. We cannot afford to let talent go to waste. And talent can be found everywhere. I am pleased, Professor Berger, that you are also involved in precisely this area through your Foundation. A good education for all is what makes our society open and creative. The better the education, the greater the chances for social advancement too. Education is a human right, and at the same time it helps realize human rights. Chances for education are chances for life. That is true here in our country - and everywhere in our one world.
Ladies and gentlemen, it is great that you have all come to this first, celebratory presentation of the Roland Berger Award. We are celebrating the courage and the perseverance of Somaly Mam and the noble commitment of Roland Berger. Together, they give us courage that a better world is possible. For that, we thank them.