Speech by Federal President Horst Köhler on the International Day of Commemoration in Memory of the Victims of the Holocaust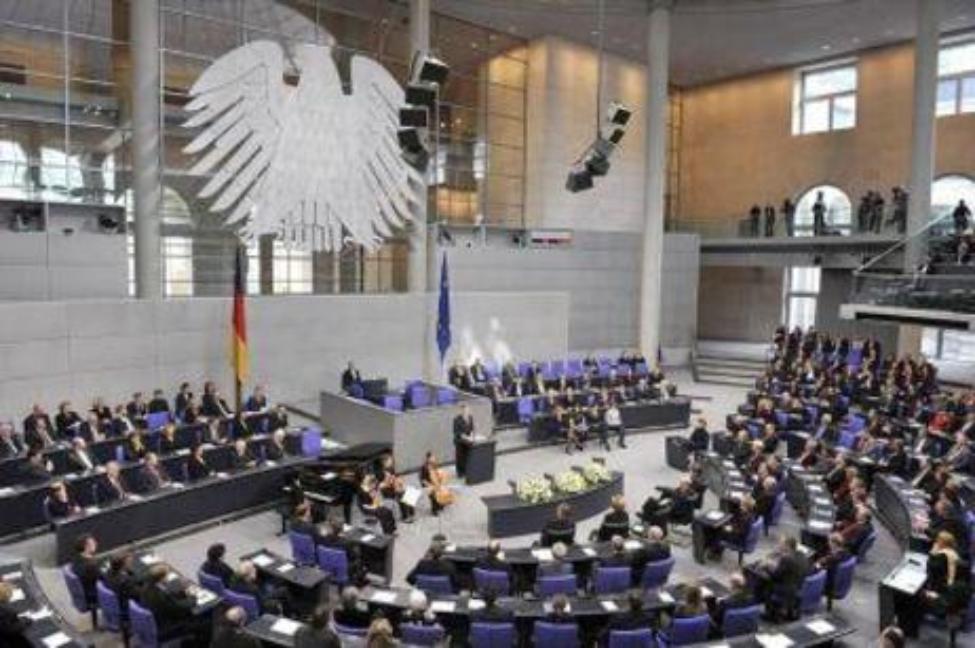 Berlin, 27 January 2009 Photo: Sandra Steins, BPA © Photo: Sandra Steins, BPA
"Our Task of Remembrance"
There's a strange signpost in front of Mannheim railway station. It says "Gurs 1170 kilometres".
Gurs is a village in the French Pyrenees. It was unknown to the people of Mannheim for a long, long time.
On 22 and 23 October 1940 over 6.000 people were taken from their homes in the German regions of Baden, Saarland and the Palatinate. They were marched to railway stations, herded onto trains and transported across France. These people were craftsmen, workers and doctors; men and women of all ages, children and infants. There was only one thing they had in common: they were Jews, accompanied by their families.
The journey began on Sukkoth, the Jewish Feast of Tabernacles. It lasted for three days, and when the people from Mannheim and Karlsruhe, Kaiserslautern and the Saarland finally arrived, they found themselves in Gurs. But not in the small mountain village itself; they were taken to a detention camp nearby. The conditions there were terrible. Over a thousand of those deported died of famine and illness. Some managed to escape, but in the end most of them were taken to Auschwitz and murdered.
13 May 2005 again saw people leave Mannheim and the surrounding area on their way to Gurs. They were young people who wanted to know more about the history of their city and that of its citizens who were abducted and killed. In Gurs, they found the remains of the camp and visited the cemetery where many people from Mannheim are buried. They compared lists of names. They met with survivors. These experiences changed them for life.
On their return, they decided to create an exhibition. It continues to attract many visitors to this day. And these young people managed to convince the city council to put up the signpost in front of the railway station. As a marker, as a memorial, to cause people to reflect and to ask questions.
The Jewish citizens from Mannheim, from the other parts of Baden and the Saar-Palatinate region, are among the millions of people who were humiliated, defrauded of their rights, persecuted and murdered in what is called the "Third Reich". Today, when we commemorate the liberation of Auschwitz concentration camp by the Russian Army, we also commemorate these people: the Jews, the Sinti and Roma, the mentally ill and disabled, political dissidents and homosexuals and all of those who fell victim to the tyranny of National Socialist rule and the German wars of robbery and annihilation.
"Auschwitz" - this name is the epitome of the crimes committed by the National Socialists. It stands for the attempt to eradicate an entire people. When we think of Auschwitz, it is not the scope of the genocide alone that is so disconcerting. We are shaken also because it was a factory of death, with efficient processes and machinery. And we are moved by the fates of those behind the numbers - the life stories of men, women and children from all over Europe who were killed here because the National Socialists denied them their right to live.
The National Socialists came far in their attempt to destroy that people who according to the Bible received the Ten Commandments from God; they wanted to erase these commandments and our respect for life as holy. They wanted to create Germans excised of all conscience. Thus, the Shoah is more than a monstrous violation of the moral principles that unite all cultures and religions. It is the attempt to do away with morals altogether.
The crimes against humanity perpetrated by the National Socialists have shown how thin the veneer of civilization is, how dangerous the achievements of science and technology can become, and how fragile the cultural constructs are that we take for granted every day.
Without their many collaborators and the so-called Mitläufer (fellow travellers), Hitler and his ilk would not have been able to commit their crimes. There were the rabid fanatics, but also the "ordinary men" and women - dull followers of orders and unscrupulous profiteers, in all of whom we encounter the banality of evil. And finally, there were the many who looked away and kept silent.
The reason for us to remember the past is that we need to relate it to our own present and future, we need to learn the lessons it holds for us. We remember the victims because we respect them. We remember in order to learn from history. And we remember for our own sake. Because remembrance also means seeking the truth and, with it, a firm foundation for our own lives.
Those who do not come to terms with their own past will not have the foundation they need for their future. Those who disavow their own history will forfeit their souls. This holds true for everyone. And I am convinced that it does so for peoples and nations as well. Because only if we live with our memories do we have the chance to face ourselves and others.
The responsibility incumbent on us because of the Shoah forms part of our identity as Germans. Our mourning for the victims, our deep shame over the horrible deeds, and our will to achieve reconciliation with the Jewish people and with those who were once our enemies in war - all of this brings us to the roots of our republic. "The dignity of man is inviolable". These are words from the first Article of our Constitution, the Grundgesetz. This sentence is the answer to Hitler's dictatorship. It is our commitment to humanity and freedom.
The fundamental issue is how people - in other words, how we - deal with each other. How do we want to live with one another - in our country, in the one world we have? How can we ensure that, regardless of all our differences, we will never forget that those we encounter, the others, are human beings? That they are unique, our equals, and just as much a part of God's creation as you and I.
This is an issue for us all, no matter when and where we were born, no matter whether we are the children, grandchildren or great-grandchildren of those who lived through the Third Reich.
It is a good thing that Federal President Roman Herzog proclaimed 27 January to be Remembrance Day for the Victims of the Holocaust in 1996. It is good that the United Nations declared this day to be the International Day of Commemoration to honour the victims of the Holocaust in 2005 - because the lessons history has to teach are important for everyone.
And I am grateful to Secretary-General Ban Ki-moon for his poignant message to the global community in which he underlined the significance of this day.
We Germans have accepted our responsibility to face up to our past. And we will continue to work through it. I am glad to see young people in particular continue to ask questions. They want to know what happened to the Jews in our city. What became of the patients in the local psychiatric wards? How did Christians and Jews coexist in the decades and centuries prior to 1933? What was the fate of the survivors after 1945 - and of the perpetrators? And how do we treat minorities today? What can we do when new, perverted ideologies take hold? None of these questions is new. But it is important to ask them anew, again and again.
It was questions like these that more than twenty years ago moved the residents of the Bayerisches Viertel here in Berlin, in the district of Schöneberg, to research the history of the area in which they lived. Prior to 1933, it was a community filled with Jewish life. The result of their efforts was an exhibition, a list of streets setting out over 6000 names of Jewish residents with their dates of birth and death, and an unusual memorial ensemble: eighty signs, distributed across the entire quarter, with quotes from the texts of anti-Semitic laws and ordinances. Thus, passers-by can read "Jews are no longer allowed to keep pets." A nearby sign records the story of a man who was unable to give up his parakeet. He was summoned to the Gestapo, the secret state police, and his wife reports that "after many weeks of fearing the worst, I received a postcard from the police, instructing me to pay a fee of three Reichsmarks and collect the urn with the ashes of my husband".
In 1995 in Landsberg am Lech, the pupils of the Ignaz-Kögler-Gymnasium dug up the foundations of a concentration camp sub-camp, where hundreds of Jews lost their lives during the war as a result of the Nazi "annihilation by work" programme.
In 2000, the employees of the Stuttgart Youth Welfare Office put up a memorial to the children of Sinti and Roma families who had been taken from their parents under Nazi rule, made to suffer through medical experiments and in the end were killed in Auschwitz.
In Leipzig, the inhabitants brought to light the obliterated traces of Jewish life in their city, creating an exhibition, a website and a CD-ROM that can also be used as an audio guide.
Students of the Technical University in Darmstadt have used computer programs to digitally reconstruct the destroyed synagogues of many German cities. They have published the images and plans on the web, as a source of information and a virtual memorial.
A year ago, the German Federal Archives and the Institute of Contemporary History published the first volume of their joint edition of primary source texts on the Persecution and Extermination of the European Jews by National Socialist Germany. This book includes many newly available documents from archives in Eastern Europe. It provides us with a more exact understanding of the scope of the crimes committed in Central and Eastern Europe. The collection of texts is also a text memorial to the victims, containing many private letters and journal entries.
Countless similar examples show that we are keeping the memory of the reign of terror by the National Socialists alive and that we commemorate those who were persecuted and murdered.
Many projects of remembrance also deal with the history of those who did not keep silent, who did not look away, and instead helped those who were being oppressed and persecuted. It touches us to read Victor Klemperer relate in his diaries how Gentile neighbours and business people quietly slipped food to him and his wife. We are moved to learn, in reading Hannah Arendt and Arno Lustiger, of the Wehrmacht sergeant Anton Schmid, who spared Jews in Vilnius from being shot; when his actions were discovered, he was sentenced to death and executed.
Federal President Johannes Rau edited a compilation of competition essays written by high school students, which forms a memorial to quiet heroes like Anton Schmid. It is important to remember these courageous men and women. They saved their fellow human beings and thus defended humanity.
Those who read these records and who allow themselves to be moved by them sharpen their own conscience. Millions of children and teenagers have grown up reading the Diary of Anne Frank and Judith Kerr's novel When Hitler Stole Pink Rabbit. Tens of thousands of readers know the harrowing letters exchanged between Lilli Jahn, who had been deported to Auschwitz, and her children. More recently, modern authors have approached this difficult subject in various, impressive ways. I am thinking of Art Spiegelman's graphic novel Maus or the two comic books published by the Anne Frank House, which have met with great interest.
Dealing with the National Socialist regime and the crimes it perpetrated is a fixture of the curricula of all schools in Germany, whatever their type. However, studies have repeatedly shown that our young people's knowledge of history leaves much to be desired. This is also the case for other periods of history and not just the first German dictatorship and the Holocaust; but it is truly saddening that they take so little interest in that particular era. How did this happen? Is too little time devoted to the subject in history classes, are there too few books and movies, do the teachers not have the proper supplementary teaching materials? Are they not cooperating with extra-curricular history projects, established long since nearly everywhere in Germany?
In my view, this is a joint task for all those in Germany to whom the "future of remembrance" (Roman Herzog) is important. They need to come together and work with each other. We want to open up many opportunities for such projects, and those offered to young people should take them out of the classroom. Our objective is to ensure that all schools in Germany will find good partners nearby for their history classes.
As all teachers who have already committed time and energy to working in this field know, it is well worth the effort, and at this juncture I wish to thank them with all my heart. It is worth the effort also because knowledge of history is a building block for the humanity of the society in which we will be living tomorrow.
This is a challenging objective. We want to ensure that the soul of each person is touched by the suffering of the victims, by the courage of those who helped them, and by the treachery of the perpetrators. That is our common task.
Very often, young people will tell me about how they started to take an interest in history, how they were inspired by the traces that the past had left in their present lives to commit themselves to engage in society and to work for greater cohesion. They will tell me about the research they have done on the fate of the Jewish pupils from their own schools, about their conversations with historical witnesses, and about learning how a minority was marginalized and then demonized. And in the end, they say, they would ask themselves: how can I pass on what I have heard and learned to my fellow students - even those who are not interested?
There are many good examples of initiatives that add to the teaching done in classrooms and enhance it; the experiences of such projects should be made accessible to all schools. Projects such as "step21" come to mind, which was formed with the aim of teaching young people moral courage, open-mindedness and tolerance. Or the work group "Retracing History" formed at the Jakob Grimm school in Rotenburg on the Fulda River, which has created a website on the history of Jews in the region from the 13th century onwards. Another example is provided by the pupils from Apolda in Thuringia and Mühlheim am Main in Hesse, who, ever since the peaceful revolution in the GDR, have travelled together each year to Auschwitz. They help to keep the former concentration camp in good repair; they research the camp's history, and they soak up the atmosphere of the place. For a part of their stay, they live with the families of pupils at a Polish partner school. In this way, the task of remembrance serves the friendship of peoples - and these young people have learned a lesson for life.
I would wish that the many excellent projects of remembrance that have already been instituted in our country spawn many imitators and successors. I would wish that first and foremost, young people continue to retrace history, to try and give the victims and their oppressors a name and a face - wherever they have lived and worked, wherever they could have been our neighbours.
We need many "Stumbling Blocks", and many other new forms of commemoration that make us pause in our daily routines. And we need the power and energy of artists in order to find new ways of addressing the unfathomable horror.
The time will come when no one is alive anymore who could tell us about their personal experiences in the years before 1945. That is why it is so important that the witnesses of that era speak to those born thereafter. Because one day, the young people in Germany who are listening to the elderly right now will be the ones carrying remembrance into the future.
In preparing for this speech, I met with some young people a few days ago and asked them what they thought the future of remembrance was going to be like. One pupil from Berlin who had made a movie with Holocaust survivors told me, "Now we are the witnesses of the historical witnesses. If our grandchildren ask us one day, we will have lots to tell them."
That answer gave me hope. Let us make sure that there will always be lots that young people in Germany know about the crimes perpetrated by the National Socialists, so that they will have lots to tell.
I wish to thank all those people who have gathered today, in our country and all over the world, to commemorate those who were murdered. And I would also like to thank the speakers who addressed the German Bundestag in the commemoration ceremonies of the past years; their words have left a profound impression. Many of them were witnesses of the era, and they recounted their own experiences and suffering. Their message is precious. We will carry it on. Perhaps, on some future 27 January, we will listen to a young person telling us what remembrance means to him or her, and to his or her generation.
Remembrance engenders trust. As a child, Michaela Vidlakova from Prague was imprisoned in Terezín concentration camp for six years. When it was liberated, she swore that she would never again utter a single word of German. Last year, she came to Berlin to give a speech at the ceremony for the fiftieth anniversary of the Action Reconciliation Service for Peace (Aktion Sühnezeichen Friedensdienste e.V.).
She spoke in German, and her first words were "Liebe Freunde", "Dear friends". And then she related to the assembled guests how important it is to the Holocaust survivors in Prague to meet with the volunteers of the Reconciliation Service - because these young Germans saying "Never again!" give them the feeling that it is not just an empty phrase.
It fills me with gratitude when I see Jews and the members of other victim groups extend their hands to us in reconciliation. I appreciate very much that the chairmen of the associations of concentration camp survivors are with us today.
It is gift that we are seeing Jewish life return to Germany, that the Jewish congregations are growing, that rabbis are being trained in our country and that new synagogues are being built. But it is a disgrace that the locations where this Jewish life takes place need to be protected by the police, against old and new extremists. Let us take a stand with our Jewish fellow citizens. Whoever attacks them attacks all of us as well.
Remembrance has two great enemies: denial and lies. We cannot allow Holocaust deniers and extremists of any kind to be applauded in our country, or even just to be met with understanding. Those who incite hatred against Jews and other minorities, who deny their dignity as our fellow humans, have learned nothing from our history. Let us oppose these people with all our might. We should not allow them to put Germany to shame.
When I visited Israel in 2005, we also travelled to Sderot. Many people are familiar with the name of this town in the south of Israel because of the news reports. For years now, it has been hit by missiles fired from the Gaza Strip. While I was there, I sensed how fear pervaded everything, and it was palpable how strongly people felt menaced: nervously waiting for the sirens to sound, constantly taking care to know where the next roadside bunker is located, keeping near it on the schoolyard. That is terrorism.
But the many dead, the destruction wrought in the Gaza Strip by the war there are also part of the vicious circle of violence that must finally be stopped. The world must now stand together so that peace will be possible in the Middle East. It is a good thing that the German Federal Government is actively contributing to this process.
Because of its history, Germany has a special responsibility towards Israel. We Germans want the citizens of Israel to be able to live within secure borders, free of anxiety, without violence. And we want to ensure that the Palestinian people will be able to find a future in a viable state of their own.
For peace to finally come to the Middle East, it will take realism and courage - this includes the courage to believe in miracles and to work towards making them happen. Just recently, I met some people at a concert here in Berlin who have precisely this kind of courage. They were young musicians from Israel and Palestine who play together in the West-Eastern Divan Orchestra founded by Daniel Barenboim and Edward Said in 1999. I spoke with some of them during the intermission. They stood by their different opinions. They did not negate their heritage. Nonetheless, they were able to find common ground in a joint declaration. Permit me to cite two sentences from it:
"We, the members of the West-Eastern Divan Orchestra, are convinced that there is no military solution to the Israeli-Palestinian conflict."
"We are striving for complete freedom and for the equality of Israelis and Palestinians - that is the basis on which we have come together today to play music with each other."
In my mind, these two sentences also prove that peace in the Middle East is not utopian. They should be an inspiration to all of us.
The National Socialists wanted to create a world in which the other no longer existed. No-one who thought or felt otherwise, no-one who was ill or disabled, and above all, no-one who was forced to wear the Yellow Star.
One of the best-known paintings by Felix Nussbaum, a Jewish artist who was murdered in Auschwitz, is a self-portrait he painted a few months before his arrest. It shows a high wall beneath a dark sky and, standing before it, a grave man wearing the Yellow Star of David. He is holding out his identity card for the viewer to see. The date and place of birth on it have been erased. On the line reserved for entering the nationality, it says "none". All that remains on the card are the name, the photograph and, in large, red letters, the words "Juif - Jood": Jew. These words were a death sentence for Nussbaum and millions of his fellow sufferers.
Even today, people are reduced to their race, their national origins, or to some other characteristic that is then described as being inferior. After Auschwitz, there were and still continue to be attempts to annihilate people and entire nations - in Rwanda, Darfur, Bosnia and elsewhere.
"Not a year goes by without Srebrenica being repeated somewhere in the world", the Polish journalist Konstanty Gebert wrote in 1995 after having travelled through what was once Yugoslavia together with Tadeusz Mazowiecki. "Could it be," Gebert continued, "that we consider Auschwitz to be a museum in which we can study the past - and not a place that confronts us with our own present and future?"
We Germans must not allow this past to become a museum. What has happened will always remain a part of our present-day lives, and the lessons from the past are a part of our foundation, of our sense of identity as a nation.
I would like to make a promise today. We Germans will keep alive the memory of the crimes of National Socialism, and we will commemorate the victims. This is, to us, our mission. We are committed to upholding freedom, human rights and justice, and we will work to safeguard them. We will do this for the souls of the dead. And for our own.