Speech by Federal President Horst Köhler at the State Ceremony Marking the 60th Anniversary of the Federal Republic of Germany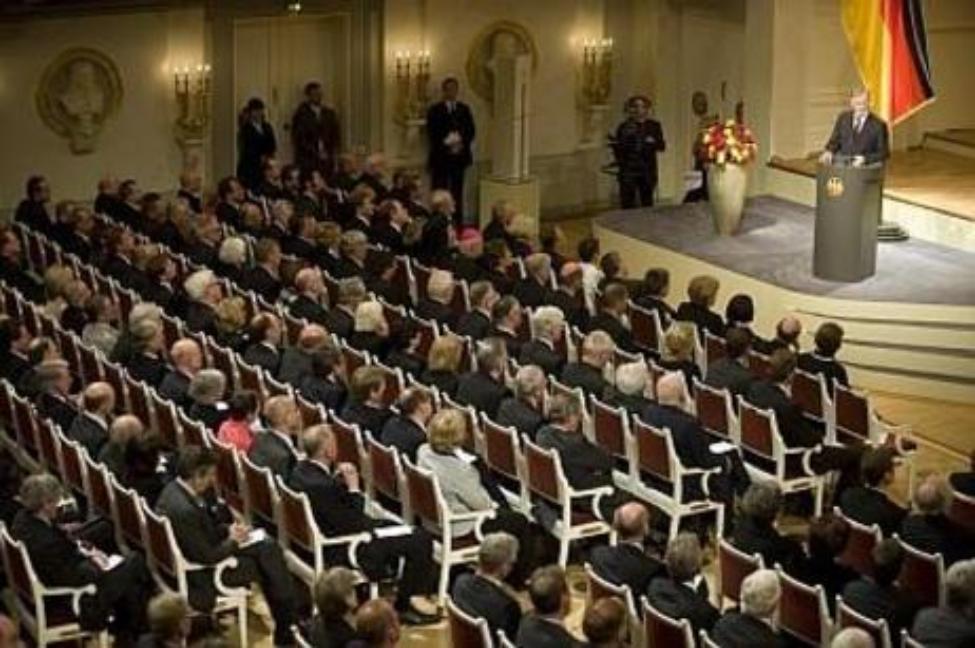 Berlin, 22 May 2009 Photo: Sandra Steins, BPA © Photo: Sandra Steins, BPA
Let us take a moment and imagine a family celebration taking place somewhere in Germany:
The grandmother is having a chat with her youngest grandchild. He is in his mid-20s - slightly younger than his grandmother in 1949, when the Federal Republic was founded. It's been some time since the two have seen each other. The young man tells her that he has just completed his studies. He tells her about the two semesters he spent abroad, about the many trips he's taken and about the friends he's made all over the world, with whom he stays in touch by e-mail and Internet. And he tells her that in a few weeks he'll be starting his first job, in a city that at the time of his birth was in the other part of Germany, all but impossible to reach.
The grandmother is happy for him. And she shares a few stories from her own past. About how glad she was to find work after the Depression, despite her lack of qualifications. About the false expectations that the National Socialists and the Communists stirred among many of her peers, and about the terrible disappointments which followed.
About her wedding, despite war and uncertainty. About her husband, who fell in battle at the very end of the war. About having to flee with her small child, and about dwindling hopes. About how tough the years of reconstruction were. How hard she had it as a war widow. How happy she was for her son to attend master school after completing his apprenticeship, even though his paycheck would've been urgently needed at home. About how proud it made her when his children - her grandchildren - became the first in the family to attend higher secondary school.
And perhaps she also mentioned how she recently revisited the town of her birth in Silesia for the first time, and how easy it was to make the trip. How she would've liked to have taken him - her grandson - along, and shown him so many things. And then she probably said, "But you're too busy anyway, and you're always on the go. Besides, have you started thinking about a family and children of your own yet?"
In our country, there are countless stories like this. They belong to us all. They tell of hardship and need, of diligence and confidence. They show us what the older people have accomplished, and what the younger people can build upon today. They show how much we can all learn from each other.
After 1945, nearly all Germans in East and West wanted to build a better Germany: a peaceful, democratic and just Germany.
For 40 years they had to take separate paths. Those in the West were lucky: they were able to build a democratic community. And as they did so, they were supported, encouraged and sometimes even prodded by the Western powers.
Not so in East Germany: there, the Germans had the political and social model of the Soviet occupying power imposed on them. Many could not and would not live like that, and left for the West - as my parents did in 1953, taking us younger children with them. My older siblings stayed behind: they already had families of their own. Many others stayed, too - because they had no other prospects, because they hoped that conditions would improve, and some of them because they honestly believed in the GDR.
But in the East, a new dictatorship emerged. Its authority could only be sustained through barbed wire, shoot-to-kill orders and oppression. Freedom was absent. Instead, there was diligence, creativity and hard work. Most people in the GDR managed their lives with integrity. Social interaction, community support, the pursuit of private happiness - all of that existed. Perhaps it was even particularly prevalent in the GDR, because so many deficits could only be overcome by solidarity on a pragmatic, everyday level, and also because people consciously sought to retreat into the private sphere. That's not being critical of the people. It's being critical of the regime.
The Germans in the GDR had to watch as ideological objectives and the planned economy deprived them, over and over, of the fruits of their labour. Much of what they accomplished was squandered in this system. And the environment was exploited until the very end.
Many were broken by this regime. Many were killed when they tried to flee. On this day, let us also remember them.
"Human dignity shall be inviolable". That is the central sentence of our Basic Law. The fathers and mothers of our Constitution applied the best of centuries of German legal and liberal traditions and drew lessons from the failure of the Weimar Republic and the crimes of the Nazis. The parents of the Constitution created a solid foundation for free citizens to attain a life in a just society. And with the Federal Constitutional Court, they provided this liberal system with a strong guardian.
The citizens filled the Basic Law with life. Our constitutional order became a beacon of freedom. It gave hope to the Germans in the GDR.
In West Germany, an unprecedented reconstruction took place - thanks to entrepreneurial freedoms, thanks to social equality and thanks to sound cooperation between social partners. That led to the social market economy, which in turn made growing prosperity and social security possible.
One of the young Federal Republic's most difficult tests consisted of absorbing over ten million refugees and displaced persons. It passed that test. And those taken in quickly contributed to the economic boom. Meanwhile, our society underwent change: rigid boundaries between confessions, dialects and mentalities faded. East Prussians moved to Schleswig-Holstein, Sudeten Germans to Bavaria and Bessarabian Germans to Swabia. Oftentimes, it was any¬thing but easy. But in the end, an understanding carried the day: there was a new homeland, while the old one continued to exist in the heart. And everyone came to realize that there are many homelands in Germany, and that this diversity is an enrichment for our country.
The success of our Constitution is also an achievement of the political parties. They incorporated into their platforms the notion of the common good, thereby appealing to broad segments of the voters. And where the founding parties overlooked important issues - the rights of women, for example, or environmental protection - new forces made their voices heard, which helped the old ones along.
The boundaries between social classes in Germany have become more permeable, thanks in part to the educational revolution of the 1960s. It is no longer an exception for a child of a working class family to attend university. But it still doesn't happen often enough. Even today, the opportunities for a child's development are too dependent on the parents' social status and income. That is something we must continue to work on.
For the Constitution, every single person counts. We need conditions which offer people encouragement, which continue to rouse their curiosity and their ambitions, and which give them the certainty: I am good at something. I am needed. I belong, and I feel a shared responsibility. My voice counts. The Constitution gives us freedom. But it also lives from our responsibility. All the more reason for every man and woman to ask him or herself: am I utilizing its opportunities? Am I living up to my responsibility?
For it was the awareness of a common responsibility that helped our country deal with crises and overcome challenges. We have learned how to argue passionately about political goals and courses of action. We argued about rearmament, and later about the emergency laws. We fought off the threat of RAF terrorism with constitutional means. And we coped with many an economic crisis.
In the process, we came to realize that dispute and compromise are an indispensable expression of democratic freedom. And we haven't stopped learning: we've learned that our planet's resources are limited. That growth has its price and that no country in the world can achieve happiness for itself without taking the others into consideration.
Over the past 60 years, we have become an open and cosmopolitan society. We helped found the European Communities and helped shape their political objectives - including through the idea of the social market economy. Our country has friends all over the world. We have earned a good reputation abroad. People appreciate us for our efficiency and reliability, for our helpfulness and our peaceable nature.
We have confronted the crimes of the National Socialists and sought reconciliation with the Jewish people. We have learned lessons from our history and will therefore always stand up against anti-Semitism, racism and xenophobia. We have regained the trust of our neighbours in the West, and subsequently in the East.
We are a free, united nation, and we are happy about that. At the same time, we realize: without our friends in Europe, without the European framework of peace and without the common market, we wouldn't have achieved much of this. That is why we face up to our responsibility as a motor of European unification. That is why we feel so strongly about where Europe is heading. And that is why we should all vote in the European elections on 7 June, and thereby send a clear signal. For that is another place where our future will be decided.
Our country is an integral part of the international community of the United Nations, as well as of NATO. Together with our partners, we take responsibility on the international stage, helping to resolve conflicts, preserve the peace and enforce human rights. That is another reason why today I extend a particular word of greetings to the Bundeswehr soldiers who are serving abroad. A number of soldiers, coming from all the federal states, are attending this celebration today. I thank you and your comrades for your service.
"Wir sind das Volk!" "We are the people!" - 20 years ago, hundreds of thousands of people took to the streets in Leipzig, Plauen and many other cities in the GDR, shouting this slogan and demanding freedom, democracy and human rights. Many of them had an uneasy feeling. But their courage prevailed. And with their peaceful revolution in the autumn of 1989, the Germans in the East liberated themselves from an inhuman dictatorship. They paved the way to the unity of our fatherland. Thanks to everyone who was a part of it! Your valiant action contributed enormously to our reputation around the world.
Let us also thank the civil rights activists and everyone who fought for freedom and human rights in the East: the Solidarnosc freedom movement in Poland, the Hungarians who opened the border in the summer of 1989, the trailblazers of Glasnost and Perestroika in the former Soviet Union who committed themselves to peaceful transformation rather than violence. We thank all our friends who supported us on the path to reunification, in particular the United States of America.
And we remember those who rose up earlier, on the 17th of June 1953, and throughout the years of the SED regime.
Now, since the 3rd of October 1990, we Germans walk our path together. Half a year earlier, people in the GDR, taking part in the first free elections there, cast their vote for unity and the Basic Law.
People in Saxony, in Brandenburg and Mecklenburg-Western Pomerania, in Thuringia and Saxony-Anhalt have accomplished a fantastic reconstruction endeavour. With the support and solidarity of West Germans, they have built new, state-of-the-art plants and created a modern infrastructure. We can be proud of both of these qualities - the will to rebuild and the solidarity.
Overcoming the dictatorship did not bring with it the fulfilment of all hopes and wishes. Many are bitter about the fact that unemployment in eastern Germany is still higher, on average, than it is in the West. That means that we must all redouble our efforts. We cannot accept the fact that the division of our country lives on in the form of unemployment statistics.
Unity is a little like democracy: it is never finished. It must be lived, learned, constantly explored anew in everyday terms and communicated to others. Such a process of discovery requires human encounters, requires an increased curiosity about each other, requires a common search for new answers to new questions. It pays to listen to each other. Let us seek out the dialogue.
Our country is celebrating its birthday in difficult times. Many families are worried, and the employment situation is going to worsen before it gets better. But we must not lose heart. Using our freedom, we can overcome the crisis. Let us secure jobs and create new ones.
I'd like to refer explicitly to two opportunities: we need a new, ecological industrial revolution - all over the world. New energy sources must be tapped, new modes of production developed. And the plundering of resources must come to an end. All of that spells change for our everyday lives. And change means hard work and effort. But it will improve our overall quality of life in the end. Do we as Germans not have the best prerequisites, given the capabilities of our scientists, engineers and skilled workers, to be part of a global economic miracle of sustainability?
And I see a second great opportunity that this crisis poses: it can open our eyes to the value and dignity of the work that people do for others: when it comes to caring for children and the elderly; when it comes to people counting on receiving the best possible advice; when it comes to engaging people in education and culture. Let us measure fulfilment and satisfaction not least by how much humanity, compassion and cohesion exists in our society. A purely material "give me more" will not suffice.
Let us not underestimate how smart people are: they know they don't get anything for nothing. They want to live in a country where freedom is rooted in responsibility. And they are already reacting to the crisis - with a new sense of togetherness at the workplace, and with solidarity. Our social state will prevail. Our social market economy offers many possibilities of dialogue, interaction and of a reconciliation of interests. That opens up avenues out of the crisis. One day we will look back and say: we learned a lot during that time.
60 years ago, the Germans in the Western part of our country made a pledge. They also did so for their countrymen, who at the time could not speak out freely. In the form of the Basic Law, they made the pledge to rebuild Germany on the basis of freedom and human dignity; they pledged to create a democracy and to lead their country back into the family of free nations.
We Germans have upheld this pledge. The Basic Law and the Federal Republic are now turning 60 years old. And 20 years ago the Wall fell, clearing the way for reunification. Let us continue on our path - as German patriots, as good Europeans and citizens of one world.
What if today we were to renew that pledge we made 60 years ago? If we set out some objectives that together we want to reach over the coming years?
Let us pledge to turn our positive experiences and achievements into a commitment for the future. We want to be a society that does not look the other way when people are in need, a society that leaves no one behind.
Let us keep working on the unity of our country - a unity between the old and the young, between people with disabilities and those without, between locals and immigrants, between poor and rich.
We want every child in this country of ours to graduate from secondary school. Let us strive for the best possible education for everyone.
Let us pledge to spare no effort in creating an environmentally sound economy and jobs for the future.
Let us strive to give our politics staying power. Let us set long-term political goals, so that our children and grandchildren can also take advantage of the opportunities of freedom.
Let us strive to advance our political system on all levels, so that every citizen can see for himself: democracy is each and every one of us.
Let us not make ourselves out to be bigger than we are. But not smaller either, for that matter. Let us strive to live up to our responsibility as a country in the heart of Europe, and let us share with others the positive experiences that we have had with democracy and with our social market economy.
We look back, and we realize: we have learned much and accomplished much. We can be proud of what we have achieved. We are aware of the new, substantial challenges we face, and we take them on with confidence. We are up to the test.
God bless our country!