Speech by Federal President Horst Köhler at a state banquet in honour of Mr Shimon Peres, President of the State of Israel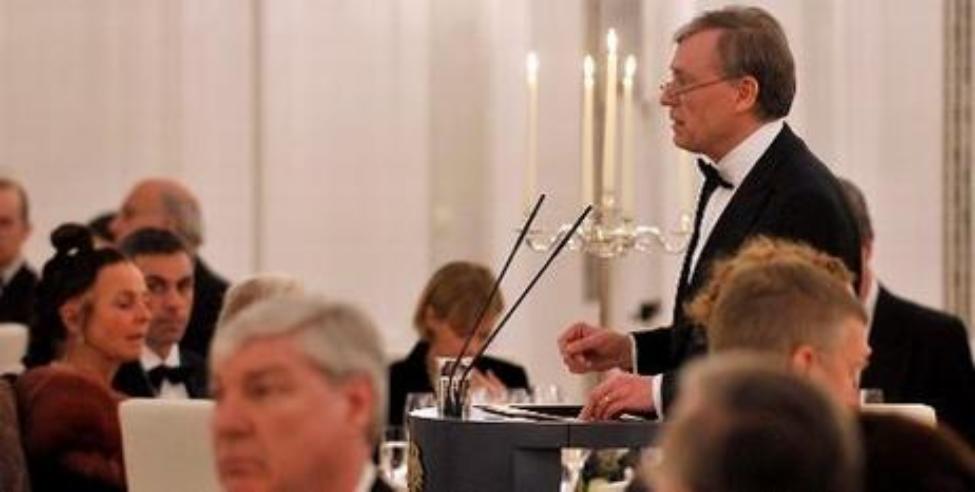 Berlin, 26 January 2010 Photo: Jürgen Gebhardt, BPA © Photo: Jürgen Gebhardt, BPA
My wife and I would like to bid you, Mr President, and your delegation a very warm welcome to Schloss Bellevue. I'm delighted, indeed everyone here in Germany is delighted, that you've come to our country on this state visit.
I would like to extend a special welcome to the survivors of the Holocaust accompanying President Peres on this trip. By doing so, you have set an example of generosity and trust which moves me and for which I'm indebted to you.
Mr President, this morning we stood together on "platform 17" at Berlin Grunewald station and remembered the crimes committed by the National Socialists against their fellow human beings, against Jewish men, women and children. Disenfranchised and humiliated as German citizens, they were taken from there to concentration camps and murdered in an attempt to exterminate the Jewish people.
You yourself, Mr President, lost close relatives in the Holocaust, including your grandparents, and friends who had stayed behind in Vishniova, the then Polish town where you were born. Tomorrow, on the 65th anniversary of the liberation of Auschwitz concentration camp, you will address the German Bundestag and commemorate the victims of National Socialism together with representatives of the German people.
I myself made a pledge there a year ago which I want to repeat here today: "We Germans will keep alive the memory of the crimes of National Socialism, and we will commemorate the victims. This is, to us, our mission. We are committed to upholding freedom, human rights and justice, and we will work to safeguard them. We will do this for the souls of the dead. And for our own."
The responsibility resulting from the Shoa is and will remain part of German identity. I'm firmly convinced that in order to ensure that relations between our countries continue to be good, it is our duty to keep alive the memory of the Holocaust and to pass it on to younger generations.
During more than four decades, our countries have made great progress in their cooperation. This is thanks to courageous people who were prepared to look past everything that divides us and reach out to each other.
Today we are linked by a unique relationship. Israel is the only non-European country with which Germany has intergovernmental consultations. They took place for the second time here in Berlin just a few days ago. The topics on the agenda - for example, climate protection and renewable energies - demonstrate that both countries have recognized the magnitude of the common challenges which lie ahead.
Our two countries have close ties in the economic, scientific and cultural spheres. Germany is Israel's third most important trading partner and Israel, with its cutting-edge research, is a sought-after partner for German scientists. Along with Chancellor Kohl, you, Mr President, gave this fruitful cooperation key impetus by establishing the German-Israeli Foundation for Scientific Research and Development. And I was delighted to celebrate the 50th anniversary of scientific cooperation between Germany and Israel recently with researchers from the Weizmann Institute and the Max Planck Society.
How close relations between our two countries have become is evident from the almost 100 town twinnings and the many celebrations throughout Germany to mark the 60th anniversary of the State of Israel in 2008. I believe it's no exaggeration to say that the contribution of committed citizens to German-Israeli relations is without parallel. I'm pleased to see so many of them here today and thank you most sincerely for your commitment.
Mr President, we share the firm conviction that we have to do more in future to persuade young people to actively continue this partnership. Youth exchange is of crucial importance here. It's clear that the existing programmes on both sides must be further extended and intensified. For today's young generation will be responsible for cultivating the solidarity and good relations between our countries. At the event in "Max Liebermann Haus", President Peres explained how he sees things and the young people listened. They adopted a vision, an inspiration from you, Mr President. And I was truly grateful to be present. Naturally, we spoke about the Holocaust. The young people wanted to get to know each other, to exchange views - also about the music they like, what clothes they wear, or what's going on in Jerusalem or Berlin. This getting to know each other, or even arguing with one another, is - I believe - the basis for a bright future.
I'm therefore very glad that together we had an opportunity in Liebermann Haus this afternoon to present the German-Israeli Future Forum to the public. I trust that the two film schools in Sderot and Potsdam Babelsberg are helping to foster mutual understanding with their short films on each other's country. It's important to me that even more people experience the other country at first hand. I'm therefore very excited about the next Future Forum project which will enable young Israelis to do a year of volunteer service in Germany. I look forward to meeting the young people in Schloss Bellevue.
Mr President, you have fostered German-Israeli relations from the outset in various capacities and, indeed, have played a key role in their development. Despite the suffering which befell your own family, you extended your hand to us Germans and look forward to the future with us. We know that Germany has a good friend and reliable partner in you. For that, Mr President, I thank you.
Of course, I'd also like to say that I'm pleased that once more there is a wealth of Jewish life in Germany. With its rich cultural heritage and its diversity, it has been a formative part of our culture for more than one thousand years. Any visitor, for example to the wonderful Jewish Museum in Berlin, can experience that for themselves. There are 140,000 citizens of the Jewish faith living in Germany today. The inauguration of new synagogues, the ordination of rabbis and the training of Jewish religious education teachers are eloquent testimony of this. We can speak of a renaissance of Jewish life in Germany. And that's good for Germany. I'm grateful for this.
Mr President, There are voices in your region which dispute Israel's right to exist and deny the Holocaust. They should know that standing up for the State of Israel's right to exist and its security, as well as the uncompromising fight against anti-Semitism, remain unalterable maxims of German policy, irrespective of which parties are in power. For us, Israel's security is non-negotiable. Chancellor Merkel spelled this out very clearly. I quote: "A nuclear bomb in the hands of an Iranian President who denies the Holocaust, threatens Israel and denies Israel the right to exist, is not acceptable!"
Germany is committed to ensuring that Israel's citizens can live in peace and security. An end to the violence in the Middle East is a central prerequisite for that. Like you, Mr President, I'm firmly convinced that in the long term Israel's security can only be achieved through a two-state solution. That's why we and our European and transatlantic partners support the efforts towards progress in the peace process. We are calling for the swift assumption of negotiations between Israel and the Palestinian side under President Abbas. We hope this will come about.
Mr President, with your untiring commitment to striking a fair balance of interests and to reconciliation, as well as to political and economic cooperation with your Palestinian neighbours, you have made an invaluable contribution. One tangible manifestation of this is the Peres Center for Peace founded by you. You regarded the Nobel Peace Prize as an incentive and mandate to carry on working for peace, international understanding and tolerance. In this, you have my - and Germany's - full support and we wish you, as well as the entire Israeli people, every success for the future.
You can see, ladies and gentlemen, and I don't want to hide it: I was very moved when the President's first spontaneous remark during our talks today was that Germany and Israel are friends. Friends based on values. And this was also the message of President Peres to the young people: What better could happen to us than this kind of offer? I thank you very much, Mr President.
Let me now invite you to join me in a toast to the health and happiness of President Peres and the Israeli people.