Speech by Federal President Horst Köhler at the state banquet during the state visit to India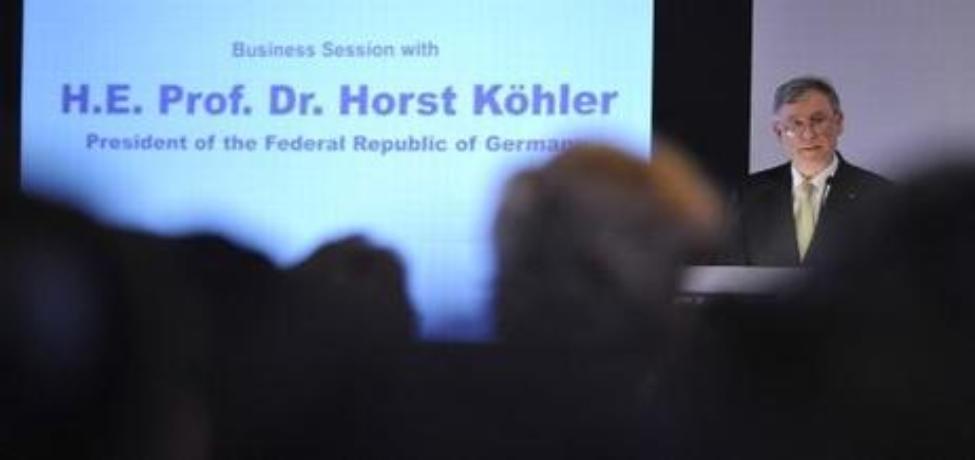 Delhi, India, 2 February 2010 Photo: Steffen Kugler, BPA © Photo: Steffen Kugler, BPA
I am delighted to be able to enjoy your hospitality this evening with my delegation. Today's talks have confirmed to me the high level of agreement between Germany and India on many global issues. Our countries are working to promote democracy and the rule of law, the market economy and the preservation of the natural sources of life.
The Strategic Partnership which has been agreed and constantly further developed by our two governments shows that Germany and India work closely together to face the shared global challenges. A prime example for this kind of cooperation based on trust is the Indo-German Consultative Group which, as a civil-society body, advises the heads of government of our countries.
India shoulders a central responsibility for peace, security and stability in South Asia and its voice is being heard more and more on the international stage. We are following the tensions in the region with great concern and empathy. The terrorist attacks in Mumbai in which Germans also lost their lives shook us to the core. Together we must combat this insidious violence all over the world.
When it comes to repressing violent extremism, it is important that democracy shows its people the opportunities provided by an open society: the chance for each individual to participate and have a better life. Given the vast challenges faced by a country like India, this is not easy. I have the utmost respect for India's difficult task of taking account of the needs of its population. In India, you are right to be proud of your successes in the economic sphere. Each success story makes India into an important model that radiates all around the world.
India's culture has long had this impact. This holds true for interest in Indian high culture which communicates for example the timeless message that "ever more" does not necessarily mean "ever better". This also includes the curiosity about Ayurveda, Bollywood and not least Indian cuisine. You see, Germany wants to know more about "Incredible India".
In turn, we want to tell the Indian public more about Germany. That is why we will stage a Germany year in India next year to mark the 60th anniversary of the establishment of diplomatic relations between our countries with the motto "Germany and India - Forming sustainable partnerships". We want to use the year to present Germany and its various facets to you.
Ladies and gentlemen, I would ask you to join with me in raising your glass and drinking to the health of President Patil and Prime Minister Singh, to the Indian people and to the friendship between India and Germany.