Speech by Federal President Horst Köhler at a luncheon hosted by the four Indian business federations during his state visit to India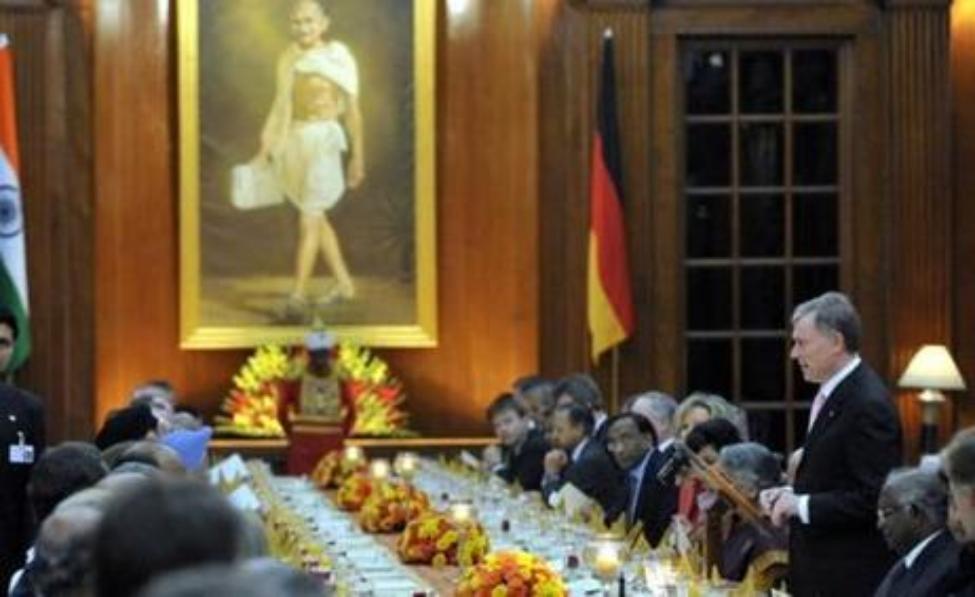 Delhi, India, 2 February 2010 Photo: Steffen Kugler, BPA © Photo: Steffen Kugler, BPA
"There is not a thought that is being thought in the West or the East that is not active in some Indian mind". I share the respect expressed by the British historian E.P. Thompson for India's creative diversity, which certainly doesn't make it easy for a speaker from abroad to tell an Indian audience anything new. But I'm delighted to have this opportunity today in Delhi to share some thoughts with you which are "active in my mind".
Although I'm far away from Germany, I don't feel like a stranger in Delhi. That's certainly partly due to the historical ties between our countries and the respect which Indian culture has inspired among German intellectuals, for example Friedrich Schlegel and the founder of Indology in Germany, Max Müller. However, it's also due to the increasingly dense network of links between our countries in today's world. In a speech three years ago, I deliberately used India as an example to illustrate this to people in Germany. At that time, the slogan "Incredible India - only seven hours away" was emblazoned on the side of Berlin buses. But India is much closer to Germany. Indeed, often it's only a mouse click away.
I don't need to say much about this network of ties to Indian business people. Since India opened up its economy in 1991, our trade relations have developed rapidly. Thinking in global terms is more vital than ever today for economic success. This not only applies to large firms but also to the many small and medium-sized companies which form the backbone of Germany's economy. Ultimately, our economies as a whole would be poorer without the intensive links between all of these companies.
The same goes for the scientific sphere, where Germany and India are also working closely together. One beacon project is the Indo-German Science & Technology Centre. Tomorrow we will inaugurate the Indo Max Planck Institute for Computer Science, another example of our cooperation. And the establishment of a German House of Science and Innovation in New Delhi, under whose roof German institutions will come together and present themselves as partners for the future, is imminent.
Thanks to a spirit of inquiry and a thirst for knowledge, we Germans discovered Indian thinking on central issues concerning the human condition a long time ago. Wilhelm von Humboldt was so impressed by the millennia-old Bhagavad Gita epic poem that he described it as the most beautiful, indeed perhaps the only true philosophical poem which any of the literary traditions known to us has to show. Traditional Indian medicine is respected in Germany and has broadened our concept of health care. I believe it's worthwhile to also listen to Indian voices when it comes to searching for the meaning of life.
Nor is New Delhi far away from Berlin's political world. Germany and India are linked by close friendship and a partnership based on trust. Our two countries are federal, secular and parliamentary democracies. And by recognizing the equality of religions despite all adversity, India has set standards which have had an impact far beyond the region.
This ideal of an open society is anathema to extremists of every stripe. The horrific terrorist attacks on Mumbai in November 2008 are another ominous example. These cowardly attacks, which cost the lives of 166 people - including three Germans - were not only directed against India and the Indian people but against the entire free and democratic world. During those difficult times, we Germans knew that we stood side by side with India. Our heartfelt sympathy goes out to the victims' families. The attacks brought home to us once more that we can only overcome such threats if we work together.
However, our joint efforts to deter terrorist activities shouldn't blind us to challenges of a very different nature. Globalization brings more economic growth and thus greater opportunities for gaining prosperity. But what happens if a growing number of people have the feeling that their expectations of sharing in this prosperity have been disappointed? Throughout the world, we need a much better set of rules to ensure greater justice.
We therefore need genuine global governance which really does take into account the fact that the destiny of each nation, regardless of their size, is increasingly dependent on that of every other country. Common solutions will only be accepted if everyone regards them as fair.
In a new multipolar world, different forms of international cooperation will continue to exist. The financial and economic crisis, for example, has lent cooperation within the G20 a new quality and intensity. I welcome that. The United Nations continues to be the key forum for cooperative global governance. During the last few years, India and Germany have joined forces to make it clear that our two countries are prepared to shoulder even more responsibility in New York.
When drawing up new rules - whether they be for the regulation of financial markets, world trade or climate protection - nation-states will continue to play a central role for the foreseeable future. This poses ever growing challenges for democratically elected politicians. On the one hand they have to increasingly think in global terms but, on the other, they are not globally elected but, rather, have to maintain support in their own constituencies. Taking the interests of other countries into consideration in a democracy requires both responsible politicians and informed voters. That's not easy for anyone.
In Europe, we have embarked upon the path of integration and transferred sovereign rights to the European Union. We Europeans have learned from our terrible experiences during the 20th century and founded a peaceful order on our continent. For us Germans, this has also meant reconciliation with our old "arch-enemy", France. Following the eastward enlargement of the European Union, we Germans are now surrounded only by friendly nations for the first time in our history.
Nevertheless, even in Europe some are still led by a strong instinct to put their own interests first instead of regarding Europe as a community with a shared destiny. This tendency is even more pronounced at global level. We saw how in many countries protectionist tendencies increased as a reaction to the crisis, even though this will ultimately be to the detriment of everyone. The world must continue to take decisive action to counter such tendencies.
That humanity shares one planet is even more evident when it comes to the problem of climate change. Copenhagen showed although we agree that we want to limit global warming to two degrees, there are still huge differences of opinion on how we can achieve this target. The disappointing outcome of the Copenhagen Conference shows that the international community still has far to go if it wants to effectively protect the one world we share.
At around one tonne per inhabitant, India's greenhouse emissions are still far below those of the industrialized nations. Nevertheless, the Indian Government's national plan on climate change is far-sighted. A change of course towards a green economy not only makes ecological sense but will also make Indian enterprises more competitive. Both Prime Minister Singh, with his convergence principle, and the German Chancellor have focused on the question of global per-capita emissions. Concentrating on this will provide a standard for fairness in the long term. We industrialized nations can and must work together with emerging economies to limit climate change and to adapt now to the foreseeable consequences. Cooperation on renewable energies and increased energy efficiency will therefore continue to be priorities in Indo-German development cooperation.
But climate protection can only work if - as in the case of cricket - there are binding and verifiable rules for everyone which are accepted by all as fair and just. Critical and controversial discussion in an open society plays a crucial role in gaining acceptance for these rules. Thankfully, this is possible in both India and Germany. I believe the increasing dense mesh of links among communities, NGOs and companies can also play a key part in winning the fight against global warming.
In 1921, Mahatma Gandhi said in reference to cultural exchange: "I want the cultures of all lands to be blown about my house as freely as possible. But I refuse to be blown off my feet by any". With its concept of unity in diversity, India should be well-prepared for the cultural whirlwind of globalization. How the world's largest democracy has managed - at times under extremely difficult circumstances - to unite more than a billion people of diverse origins, languages and religions in one state is quite unique. I'm therefore looking forward to learning more about India's experiences during the next few days and to contributing them to the debate in Germany. In the 21st century we have to work together to devise new rules on living together on our one planet while preserving cultural diversity.
In other words, "All the nations and peoples are too closely knit together today for any one of them to imagine it can live apart. Peace has been said to be indivisible; so is freedom, so is prosperity now, and so also a disaster in this One World that can no longer be split into isolated fragments". Those were the words of Jawaharlal Nehru on the eve of Indian independence. This idea, too, has been long active in Indian minds. We should work together to take it out into the world. Thank you for your attention.