Founders' Day Lecture by Federal President Horst Köhler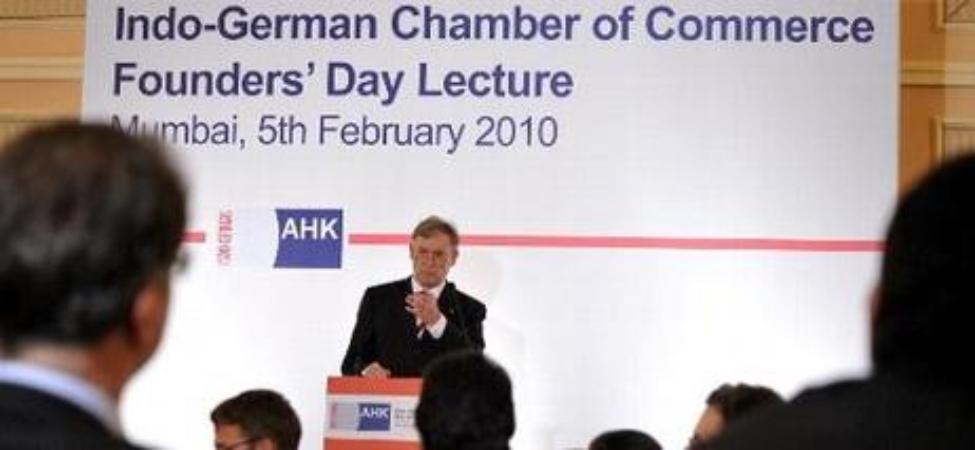 Mumbai, India, 5 February 2010 Photo: Steffen Kugler, BPA © Photo: Steffen Kugler, BPA
Thank you very much for your kind invitation to deliver the Founders' Day Lecture today. It is a good opportunity to look back at the fifty-year history of the Indo-German Chamber of Commerce, Germany's largest chamber abroad. However, our two countries have a shared history of trade and business which goes back ten times further. Even more than 500 years ago, Jakob Fugger, a merchant and banker from Augsburg, financed the voyage of the first German ships to Goa thus opening up the trade route between Germany and India. As a pioneer of information technology, Siemens established the first telegraph link between Kolkata and London in 1867. Today, Indians and Germans are together building cars and wind energy converters, developing modern climate technology and pharmaceuticals - and are learning from each other as they do so.
Yesterday I had a look at two interesting examples of this fruitful cooperation. The production of the Volkswagen Polo in Pune where the model is being tailor-made to match the needs of the Indian market and the Indian company Thermax which, in cooperation with German businesses, is improving the purification of waste air from power stations. Thermax is an example of how forward-looking Indian businesses are focussing on resource efficiency and how self-confident they are on the world market.
I was very impressed by your daring and entrepreneurial spirit in India as you break new ground, by your enthusiasm and commitment in pursuing visionary goals. It was such pioneering spirit and thirst for success that moved our country forward, too. And even today in Germany we have committed members of the business community, including many in small and medium-sized businesses, who see the crisis as an opportunity and are expanding - also to India. This is something we welcome.
Particularly in difficult times, we need determination to rise to the challenges of the future.
I think we can learn from you here! In Germany, we had to learn lessons from the years of stormy economic growth from the 1950s. We then pushed ahead with industrialization but very much to the detriment of the environment - and we realized only later how much we were polluting our rivers, contaminating our soil and destroying our forests. We had to learn the hard way just how important it is to develop an awareness of the environment and make growth sustainable. But we also experienced the manifold blessings of such environmental awareness - and the economic advantages generated by environmental protection.
When these debates were conducted in Germany in the 1970s and 1980s, they focussed primarily on how to make the sky blue and the rivers clean again. The fact that our method of conducting business and manufacturing also had a global impact on the environment and therefore on the lives of billions of people on our planet was not yet a political issue. It is different today. Climate change will force a re think around the world and create competitive advantages for those who are prepared. Over the last few days, I have seen and heard time and again that India is well aware of this. Germany is happy to provide concrete help and advice here.
But it is no coincidence that Indo-German economic relations are as close and diverse as they are. In many ways, our economic cultures are very similar. Alongside major enterprises, small and medium-sized family-run businesses play a central role in both India and Germany. They leave their mark on a business culture which focuses on long-term success, on sustainability, on reliability. This cultural affinity has certainly helped ensure that direct investment is no longer only going in one direction. In Germany, Indians are welcome investors because they are reliable partners in the long term.
This business culture which looks beyond short-term profit had almost fallen into disrepute somewhat on the international stage - some found it antiquated and ponderous. Then came the financial crisis and suddenly everyone thinks back to what we in Germany call the "honourable merchant". Such a merchant is not just guided by economic expertise but also by virtues such as far sightedness and moderation, honesty and earnestness, by a good balance between caution and daring at the right time. The merchant's focus is turned not just to personal profit because the merchant knows the business can only be successful in the long term if the society in which the business is run is in good shape. The merchant needs education which imparts not just knowledge but also character.
It is right to look back and remember this model, indeed we should have done so long ago. To my mind, this needs to be the central lesson from this global crisis. We need to turn back to old virtues. The business world - and particularly the financial sector - has to ask itself: What serves people?
Visiting the site of Mahatma Gandhi's ashes in Raj Ghat on Tuesday this week deeply moved me. This is also the site of the plaque with the seven deadly sins of the modern world. One of them reads "Wealth without Work", another "Commerce without Morality". It is my wish that all those bearing responsibility in the economy and above all in the financial sector would take this to heart and ensure such a crisis does not happen again.
After all, it is clear that governments, central banks and regulatory authorities made mistakes. It is clear that we have to better regulate the international world of finance - and the G20 countries are working on this. But in democratic states based on freedom there cannot be perfect regulation and monitoring. Democracy and the social market economy cannot be decreed into existence. Decency, public spirit, social norms, moderation and morality are their backbone. The more these virtues are lived, the less control is needed. In turn where these virtues are lacking, the rule of law and thus also the market economy are on thin ice. That is why the market also needs morals.
There is something else we also ought to have learnt from this crisis: Humility in the face of the limits to our knowledge. I doubt that anyone could have predicted a crisis on such a scale. This should make us cautious in our own judgements and more open to other opinions, to what we can learn from others.
Having said that, it would be quite wrong to hide ourselves away. Pulling up the drawbridge doesn't help anyone, but in fact just makes things worse. The speedy conclusion of the current world trade round would be an important signal that we are serious about international cooperation. So let's roll up our sleeves to achieve this goal quickly. We have come so far. Should it not also be possible to find solutions to the remaining issues?
India has been hit far less by the financial crisis than others. The Indian financial sector had hardly any toxic assets and a relatively high capital and liquidity buffer. Other countries will surely take note. India can bring its experience to bear in the discussion within the G20 process and thereby help influence the rules for the international market to which it wants to open. This opportunity must be used. We have a shared interest in strict regulation and monitoring of financial markets. Of course, some financial institutions in Germany got into real trouble in the crisis but now we can focus once more on our culture of stability in continental Europe, on monetary stability, long-term thinking and respect for the saver. We would be pleased to get international partners on board who support this approach.
Let me come back to Gandhi once more. He doesn't just address the manufacturers, doesn't just criticize "Commerce without Morality", he also turns to us all as consumers. Another of Gandhi's deadly sins is "Pleasure without Conscience".
"Pleasure without Conscience" is in the best case thoughtless and otherwise ignorant about the consequences of one's own pleasure n others. We believed for far too long that "ever more" would make us happy - no matter what impact this "ever more" had on our fellow citizens and on the generations to follow. Would it not be much better only to enjoy, produce and consume in a way that can be combined with the preservation of our one world? This question is directed primarily at the people in industrialized countries. A glance at the environmental degradation triggered by growing meat consumption means we can only hope more people will take on Indian eating habits.
We use GDP to measure our prosperity. In industrialized countries we are now learning again that the development of this indicator tells us very little about progress within a society. The OECD, the Organisation for Economic Co operation and Development, has launched a comprehensive project looking at how to better assess progress within a society than by using GDP. I feel it is also worth up and-coming nations like India, who are right to be proud of the high growth rates in their social product, following this approach - and thus avoid mistakes which have been and are being made elsewhere. India has realized this and therefore devotes particular attention to the spheres of health and education for example in its current development plan. Of course the path between planning and implementation is long. But individual Indian states are showing that, for example, a high literacy rate is possible.
Education is central - for the personal development of each individual and for society as a whole. India faces major challenges here. Germany and India are working together on vocational training at governmental level. But this is not just a matter for governments but also for businesses who are dependent on well-trained staff. Thus I can only encourage each and every one of you: Get involved in vocational training! Don't rely on others to train for you! Play a role in setting up a reliable training structure that combines theory and practice. I would be delighted if in particular German businesses could make their long experience of vocational training available to India. Let us launch a joint flagship project for vocational training just like we did last year for research and teaching at the Indian Institute of Technology in Chennai. You will see this is an area where it is worth making an extra effort.
Rohinton Aga, the founder of Thermax, the company I visited yesterday, knows this. That is why Thermax supports the programme "Teach for India" that has set itself the goal of granting all children excellent training. After all, to quote Mr Aga, and ladies and gentlemen, this is my message today, "Profit is not only a set of figures, but of values". Thank you.