Words of thanks to the 15th Federal Convention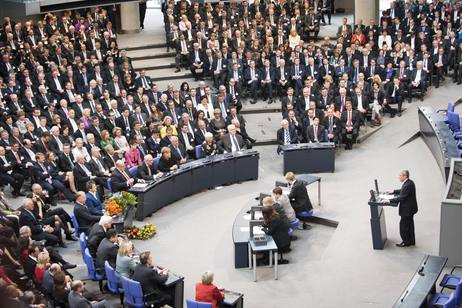 Berlin, 18 March 2012 Words of thanks by Federal President Joachim Gauck to the 15th Federal Convention following his election as Federal President © Jesco Denzel
What a beautiful Sunday!
It was 18 March, 22 years ago today and we had voted. By we, I mean the millions of East Germans who were finally allowed to be citizens after living 56 years under dictatorships.
For the first time in my life, at the age of 50, I was allowed to decide in a free, fair and secret election who was to govern in the coming years. The people who flocked to the polling stations that day were still living in the echo of the peaceful revolution when we were the people and then the walls fell.
I myself had the privilege of playing a part in this as the spokesperson of the New Forum in Rostock. We were already free of oppression. We were preparing to learn to use our new freedom to do certain things and to champion others. I'll never ever forget this election, neither the turnout of over 90 per cent nor my own emotions. I knew that my home town, this grey humiliated country and we ourselves were about to become part of Europe. At that moment, I was filled not only with joy but also with the certainty that I would never ever miss a chance to vote in an election.
I'd simply waited too long for the satisfaction of playing my part in the democratic process to ever forget the feeling of powerlessness which is the lot of the oppressed.
"I wanted to be a citizen. Nothing more. But nothing less." That was how Dolf Sternberger, a German democracy scholar, once defined his political beliefs.
I felt that very same desire on 18 March 1990. On that day, I embraced something emotionally which I only later figured out intellectually: that the joy of being free must engender the duty, as well as the joy of responsibility, and that we can only fully understand freedom when we also embrace our duty and responsibility and put them into practice.
Today, you – the members of the Federal Convention – have elected a President who cannot imagine being without this freedom and who cannot and will not imagine his country without responsibility being put into practice. I accept this task: with the infinite gratitude of an individual who following the many wrong turns in the political deserts of the 20th century has finally and unexpectedly found his way home and who has experienced the joy of helping to shape a democratic society during the last 20 years. That's why I say: what a beautiful Sunday this 18 March is for me, too!
I also find it encouraging and gratifying to see how many people in this country have got involved recently and have encouraged me to accept this candidacy. These are people of all ages and from all walks of life; people who have been living in this country for a long time, as well as people who haven't been here very long. That gives me hope that the governing class and the people can move closer together, and I intend to do everything in my power to foster this process.
I'm quite certain that I won't manage to live up to all the expectations that people have of me and of my Presidency. However, I can promise one thing: I will fully and wholeheartedly accept the responsibility which you have handed over to me today; for when I as a citizen say to others that they have duties as well the right to expect that their hopes will be fulfilled, I'm aware that this also applies to me as Federal President. That also means that I'm willing to engage with new themes, problems and people, to discuss issues which concern us today in Europe and around the world.
I'd like to thank you, the members of the Federal Convention, for the trust you've placed in me. You're not merely delegates but also – and I'm very much aware of this – representatives of a vibrant civil society. Whether we as the electorate help foster the foundations of democracy or whether we as the elected determine our nation's path and goals: this is our country in which we bear responsibility, just as it's our country when we shy away from responsibility.
We should always remember that both those actively involved in shaping our country and those standing on the sidelines have children. We will hand over this country to those children. It's worth every ounce of effort to ensure that when we entrust it to our children they, too, can call it "our country".