Liberation Day in the Netherlands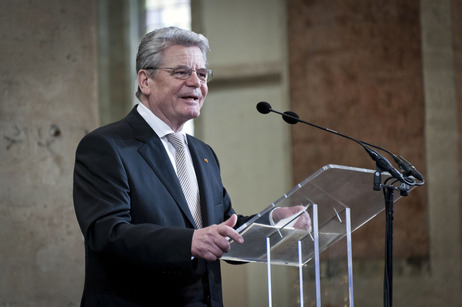 Breda/The Netherlands, 5 May 2012 Speech by Federal President Joachim Gauck in commemoration of Liberation Day in the Netherlands © Guido Bergmann
Celebrate liberation – take responsibility
I stand before you as a grateful man, moved and full of joy that the National Committee for Remembrance and Liberation Days (4 and 5 May) has asked the German Federal President to speak in Breda. I was born in 1940, the year the Netherlands fell victim to German great-power policy and German racial fanaticism. For a German – and certainly for me – it is not self-evident to be permitted to stand here and address you today.
With this invitation, the National Committee has expressed great trust in my country and myself. It is a gift I accept with humility and gratitude, and one I will not forget.
Along with my gratitude, I am joyful about the fact that our countries have been partners for decades now – committed to human rights, freedom and democracy. I belong to the generation of Germans that for the most part had to painfully learn that the old saying "right or wrong – my country" no longer has absolute validity. We had to learn that a distinction must be made between a fatherland that is dear to one's heart and an unjust regime. And that resistance fighters are neither guilty of high treason nor traitors. And that emigration is not a sign of cowardice, or that desertion is not by definition inexcusable. We have learned that a govern¬ment with a blatant disregard for human life and dignity cannot and must not be assured of steadfast loyalty. When confronted with an unjust regime, we stand with those who – as Federal President Theodor Heuss already said in 1954 – struggle to wrest the state from the murderous grip of the evil that has befallen it, while trying to save the fatherland from destruction.
Precisely because we Germans have had to face up to the burden and blame of history, we and I in particular have reason to celebrate liberation from the yoke of National Socialism together with all those who were liberated; to celebrate with all those who regained their independence and freedom. And our hearts go out to people all over the world who these days are discovering or rediscovering freedom. Germany and the Netherlands are not only partners within the European Union and NATO – despite the suffering that National Socialist Germany brought upon your country, we are elements of a larger project that, across borders and traditions, has united nations into a greater whole. We are elements of a grand project in which peoples are no longer encouraged to rise up against each other; instead, it strives and manages to unite us in mutual respect for human rights. It is the affirmative "yes" to freedom that once created your nation of the Netherlands, this "yes" is today the foundation of our community. This "yes" to freedom, I must add, unites us at a much deeper level than do all our mutual treaties.
Yet we are also united in mourning, when we commemorate, as we do today in Breda, the more than 100,000 Dutch Jews who fell victim to the extermination policy of Hitler's Germany. The Netherlands, after all, was where many Jews from my home country Germany sought refuge, including Anne Frank and her parents. But then the deportations began – and three-quarters of Jews living in the Netherlands were murdered in the death and concentration camps, or died of mistreatment, hunger and disease.
I am also thinking of resistance fighters such as Max Kohnstamm, the later champion of European integration, who was imprisoned near here in the detention centre in Haaren. I am thinking of the Sinti and Roma, whose fate was so movingly described by Zoni Weisz last year in his speech to the German Bundestag. I am thinking not least of the hundreds of thousands of Dutch who were deported to Germany as forced labourers. I am thinking of all those who were made to suffer hunger, were forcibly evacuated or lost their home. But I am also thinking of those in the former Dutch East Indies for whom the war was not over on 5 May. For them, suffering and death had not yet come to an end.
Remembering the end of the war, 67 years on, not only abominable deeds such as the bombing of Rotterdam should come to mind. We must also think of the acts of disobedience, of sabotage and of military and civil resistance.
In Breda, you commemorate the Polish general Stanisław Maczek, who managed to free the city without losses among the civilian population. Today, this liberation can collectively symbolize the liberation of all countries in Europe from Hitler's yoke, including Germany itself. General Maczek's fight against the occupiers began in the early days of the war – fighting first in Poland and later in France, where he participated in the invasion of Normandy in 1944. The city of Breda declared this war hero an honorary citizen and gave him a digni¬fied final resting place at its war cemetery.
Our collective memory seeks out examples like him to give direction to our lives. Or individ¬uals like Bernard Ijzerdraat, who after the German bombardment of Rotterdam founded the first resistance group and was executed in Scheveningen after a show trial – along with 17 others, including three communists who had organized the Strike of February 1941.
I must admit: before this trip, I knew nothing about this general strike that took hold in all of northern Holland. It was with great awe and admiration that I read how shops remained shuttered, shipyard and factory workers went on strike and pupils stayed home from school in response to the strike declaration of the illegal Communist Party of the Netherlands – all this in protest against the deportation of the first 400 Jews from the Netherlands to Mauthausen concentration camp.
This example deeply moved me. I was again reminded of how such heroes are important in a double sense: for the societies that give birth to these resistance figures and for people from other societies, even in other generations, as they face different challenges and crises. For it is in times of war and persecution that we learn what human beings are capable of. In both good and evil terms.
I would like to remind you of the publisher Emanuel Querido, who founded a publishing house in Amsterdam for the specific purpose of printing the work of exiled writers from Germany. Until the Gestapo confiscated his property in 1940, he published 110 German-language books. Querido was later betrayed while in hiding and murdered together with his wife in the Sobibor death camp.
I would like to remind you of Corrie ten Boom, who, together with her family, hid Jewish families in her home for one and a half years. She, too, was denounced and sent to Ravensbrück concentration camp. After the war, Corrie ten Boom committed herself to aiding the victims of National Socialist terror and to reconciliation between the former wartime enemies.
We praise these people because what they did is not at all self-evident – far too many conform to what appears unavoidable and are incapable of resistance. We praise these people because they give us access to a truth that we should again and again remind ourselves of: we always have a choice. In times marked by war and terrorism, we may not have every choice, but even under these conditions people can – as history has taught us – rescue human dignity and what makes us human.
In this connection, I also want to remind you of Hans Keilson, the German-born Jew who fled to the Netherlands in 1936, where he joined the local resistance after 1940. Despite being in great danger personally – his parents were murdered in Auschwitz – he devoted himself to helping Jewish children who were kept hidden by families in the Netherlands. Based on his medical and psychoanalytical knowledge, Keilson knew that the suffering of persecuted individuals does not end with the persecution itself. For many years after the war, his life's work, both as a fellow human being and as a therapist, was helping the traumatized, and Jewish children in particular. He lived to be more than one hundred years old and died exactly one year ago in Hilversum.
Seldom are individuals' stances as clear as among declared opponents of dictatorships or members of the resistance. And by no means are opinions and deeds undivided in all families. Harry Mulisch once said in a very unsettling way: "I am the Second World War." Through this image, he expressed the fact that his parents were both victim and perpetrator. His mother was a Jew and his father an administrator of "aryanized" assets in a bank. Harry Mulisch and his mother were able to survive thanks to the father's position, but it was for this very same position that his father was punished as a collaborator after the war.
In the Netherlands, 4 and 5 May are symbolized by a burning torch, with a flame shaped like the outline of a dove. You lit this torch in Wageningen this evening; it will be carried throughout the country and later also brought here, to Breda.
From the very beginning, the fire of freedom has been a driving force behind peaceful European integration. At the Congress of Europe in May 1948, your compatriot Hendrik Brugmans stated that the mindset behind Europe is that of the unadapted, of those who are 'in a constant struggle with themselves; in Europe, no certainty is accepted as the truth if it is not constantly rediscovered. […] everywhere, Europe's banner will be the banner of freedom' – and these words were spoken in 1948!
Still, freedom must be continually reclaimed.
In this respect, the city of Breda is an outstanding place of remembrance. The Compromise of Breda, a document signed by nobles in 1566 for the purpose of speaking out against the Inquisition, was a starting point for the uprising against Spanish rule. The later bond of the Gueux demonstrated to neighbouring countries in Europe the strength that can grow out of our love of freedom.
So clearly, before freedom can become a social reality, it must take root in the hearts and minds of individuals and small groups. What later becomes an all-encompassing movement is first the brainchild of a precious few. Free individuals precede a free society, just as free cities precede free countries.
The United Netherlands of the 17th century shaped our idea of a liberal, federalist and tolerant republic. Here, the burgher was a federal citizen and not a subject. Free thinkers such as Spinoza and Descartes were free to develop their ideas, and various religious faiths were free to prosper next to one another. Hugo Grotius, who died in my hometown of Rostock while on his return journey from Sweden, formulated the idea of mare liberum, or the freedom of the sea, on which modern international law of the sea is based.
In Europe, the Dutch took the "step into maturity" referred to by Immanuel Kant at a very early stage. All of Europe should be grateful to them for doing so! This, among other things, encouraged Germans in the 19th century to join the emerging freedom movement. And even though the 1848/1849 revolution failed in the German lands, the ideas lived on. In my home country, Hambach Castle in the Palatinate region, Saint Paul's Church in Frankfurt and other symbolic sites of freedom convey the German people's desire for freedom.
In our common Europe, it is no longer an internal matter of individual countries if they curtail freedoms or violate citizens' basic rights. We can be proud that nationals of almost all European countries turn to the European Court of Human Rights to request examination of their complaints regarding possible violation of their fundamental and human rights.
We can be proud that charges for genocide, crimes against humanity, war crimes and wars of aggression can be brought before the International Criminal Court in The Hague. Perpetrators must not be given the hope of impunity. Though it is a difficult and long road, our goal is clear: throughout the world, the strength of the law must win out over the law of the strongest.
It is not least from their joint military operations in Afghanistan and Kosovo that the Germans and the Dutch know how long this road is, and what sacrifices it may require. However, considering that today violations of individual human rights are being globally condemned and in many cases also punished, and that people are being helped to live in a more self-determined way, as well as gain greater esteem and more self-respect, then this is a worthy achievement in and of itself.
It is on days like today that we realize how, after long struggles, freedom and the rule of law have become the governing principle of the European social fabric. In many parts of the world people can only dream of the rights we enjoy. In North Africa and in the Middle East, recent years have seen an eruption of the people's desire for freedom. Many of us were awestruck as we watched what we believed to be sheerly impossible. These movements demonstrate that freedom and human rights are by no means the invention of an imperial Western world.
Human rights are universal, their language is understood everywhere – at least by the oppressed: in Asia just as in Europe, in America just as in Africa. People are awakening around the world and demanding their rights – even if those taking to the streets do not yet number in the thousands, as they did at the time in East Germany, calling out "we are the people!" to demand their rights.
Yet while the spirit of freedom lifts other peoples to new heights, many in Europe have only a very limited idea of the blessing that freedom represents. They mistake freedom to mean licentiousness, as holding the promise of a hedonist lifestyle, as political or ethical arbitrariness, or even as a call to stop being an active part of society. This idea of freedom lacks what motivates many young people to take their protest to the streets – it lacks responsibility, reliability, public spirit and solidarity.
So we can see that freedom not only demands being constantly won anew, freedom must also be constantly reshaped. Every generation faces the challenge of completing freedom for itself and its specific circumstances – freedom that in its most beautiful form becomes responsibility; that is what must be learned and be given a concrete form over and over again.
Some 67 years ago, we would have described our current state of affairs as pure paradise: for three generations, Dutch and Germans have lived with shared values and have been working together in Europe and worldwide to promote these values. We can be proud that our countries have been part of this united Europe from the very beginning, and that we are considered honest and reliable partners in many regions of the world. We are jointly benefiting from the freedom, peace and prosperity that come with strengthened European and international cooperation. I hope this unique success will give us the strength we need to master our present-day challenges and to shape our common future in Europe.