Opening of the Italian German High Level Dialogue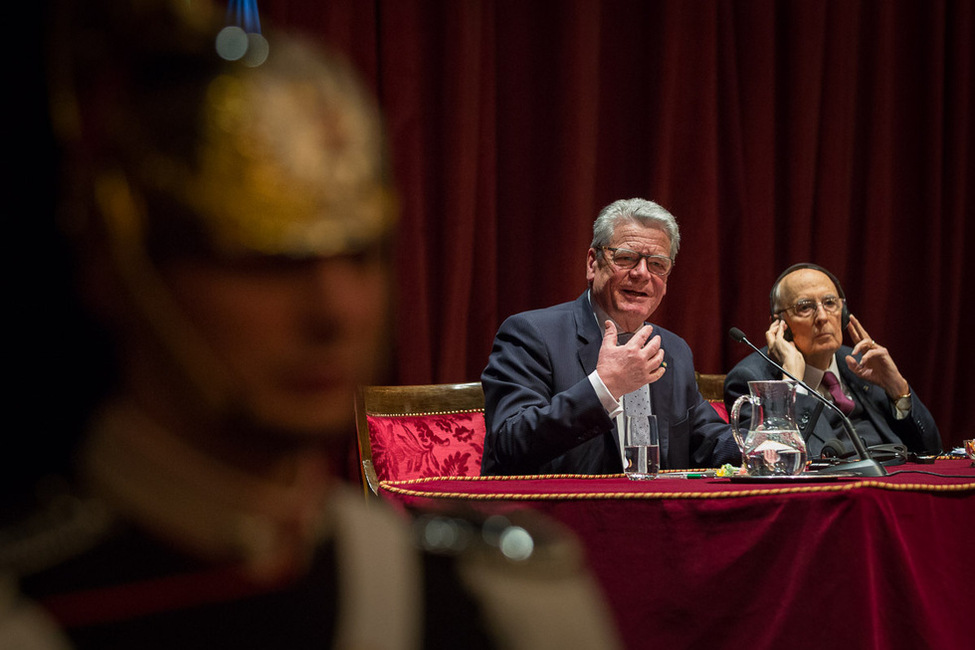 Turin/Italia, 11 December 2014 Federal President Joachim Gauck during his speech at the opening of the first Italian German High Level Dialogue on 11 December 2014 in Turin © Steffen Kugler
My time in office – almost two-and-a-half years so far – has prepared me in a very special way for today's forum, as every time I enter my office in Schloss Bellevue, I see an example of Italian-German dialogue, the beautiful painting of the baroque city of Dresden by the Italian artist Canaletto. And if I turn slightly, I see the painting "Italian Landscape" by the German artist Adolf Friedrich Harper.

So I would like to thank you, my dear President Napolitano, for launching this forum here in Turin. I find it very fitting that the forum was your idea. As an Italian patriot, as a former fighter against fascism and National Socialism, as a great friend of Germany, and as an ardent European, you have always been a role model as regards promoting dialogue between our two countries – indeed dialogue between the countries on our continent.

Talking about the outlook for Italian-German relations, as we are doing here, reminds me of another painting, "Italia and Germania" by Friedrich Overbeck. This picture shows two young women, apparently sisters, turned towards each other, with their hands intertwined as a symbol of their closeness. Yes, Italy and Germany are in fact something like sisters – sisters in a European family with shared roots and values. These similarities form a bedrock for trust and friendship. In contrast, the differences between us express the diversity that developed on our continent over the course of history – the diversity that we have finally learned to value in the past decades.

Our countries have much in common. There are also differences between us. However, indifference is a far rarer occurrence in our relationship – and that is a good thing. After all, we look at each other and we relate to each other every day. But we sometimes think we know each other inside out – and as a result, we fail to question this conviction and to take a closer look.

Time and again, Italy has influenced Germany – and vice versa. The impact of Italian culture and art on Germany and its intellectual heritage can scarcely be overstated. This is also a reason why Germany has more cultural institutes in Italy than in any other country in the world. Indeed, some of these institutes were the first of their kind. Examples include the German Archaeological Institute, which dates back as far as 1829, the Bibliotheca Hertziana and the German School in Rome, and Villa Vigoni at Lake Como.

As a country, Italy touched and indeed continues to touch Germans' imagination. The poet Goethe travelled to Italy in search of new inspiration and creativity. His aim was to temporarily shake off the constraints of serving as the Duke of Saxe-Weimar-Eisenach's legation councillor. Italy's great cultural appeal across the Alps has not diminished to this day. Anyone who goes to the opera or theatre in Italy and experiences theatre all'italiana will understand this fascination very well. And I am pleased to be able to say that Germany, particularly its capital city Berlin, is now a great source of fascino – fascination – for Italians.

Our mutual curiosity is as lively as ever. My hope is that this meeting in Turin will send a signal that we should pass our mutual curiosity on to the young people in our countries. We want to foster this interest where possible. Real dialogue develops when we are open to others, when we interact with them and when we are willing to learn other languages. For example, more Italian students have come to Germany in recent years, while the number of German students at Italian universities has also increased. These are encouraging signs.

In 1951, Konrad Adenauer embarked on his second official visit abroad as Chancellor of the recently founded Federal Republic of Germany. This trip took him to Rome. As Adenauer himself wrote, he and Alcide De Gasperi shared "the firm conviction that Europe must be united". The fact that the European Defence Community never came into effect was a bitter setback for the two politicians. Shortly afterwards – three years after his visit to Rome – Adenauer had to overcome the tragic sudden death of his friend De Gasperi. However, their shared role in creating a free and strong Europe lives on in today's European Union.

Italy and Germany are close partners in this Union and in this Europe. This partnership has proven itself. And it also proved itself when difficult and painful issues were addressed. Our two countries faced up to their history by establishing the German-Italian Commission of Historians. It is good that we have been putting the Commission's recommendations into practice since the summer of 2013. One of these projects is the restoration of a chapel in Sant'Anna di Stazzema, a village where Germans committed an appalling crime, and where you, President Napolitano, very kindly accompanied me on a visit last year. Creating a shared culture of remembrance that does justice to the complexity of Italian-German history is a challenging and important task for academics and politicians, as well as for our societies.

There is no doubt that the uncertain economic environment in which we find ourselves today is also a challenge for our societies. We Europeans are well integrated into global trade, and Italy and Germany have frequently been in the vanguard of globalisation throughout history. We can achieve a great deal, but we should not assume this will last forever without any effort. We can only preserve progress if we remain open to change. This is something that we are learning once again in Europe. High-performing companies, especially from Asia and from North and Latin America, pose a challenge to our countries' firms. European countries are suffering from declining competitiveness and high levels of public debt. And even if opinions vary on the question of how we can overcome the ongoing crisis and prevent further threats, it is obvious that comprehensive reforms are needed, also to combat unemployment.

All of us here are aware that such reforms require perseverance and do not lead to overnight success. But we will only give our young people the chance to take control of their own lives and to contribute to the well-being of society as a whole through their work if we tackle these reforms with determination. Italy recently took the first important steps on this path.

I thus sense great recognition in Germany for the ambitious reform plans by Matteo Renzi's government, as well as for the clear commitment to Europe in which these plans are embedded. My hope for the Italian Government is that these steps will unleash the enormous creative potential that is so deeply admired by us other Europeans.

Italy and Germany enjoy close economic and trade relations. I believe that the forthcoming reforms in Italy can lend even greater impetus to these relations. The Turin Forum, where so many business people from our two countries have gathered, is a good opportunity to speak about these prospects. EXPO 2015 in Milan can also be a catalyst for further business links.

Europe is not only faced with major tasks as regards economic affairs, but also with foreign policy challenges. We see this in the military conflicts in the eastern part of our continent, as well as in the wildfire in the Middle East. We see it where human rights are being trampled underfoot. And we cannot close our eyes to the challenges when we look into the eyes of the many thousands of people who risk their lives on Europe's borders while fleeing from violence and hardship. We need to find answers and we need to find these answers together. We owe it to the people in need, but we also owe it to ourselves – to our values and beliefs.

Enhancing Europe's role on the international stage is one of the key goals of Italy's current EU Presidency. Federica Mogherini's appointment means that an Italian is now the face of Europe in the world. And the world will truly respect Europe if European countries stick together and lend Ms Mogherini their support. This should be a matter of course, but I mention it because the Europe of 2014 seems to feel like a jaded love affair to some Europeans. However, we need to repeatedly assure each other of the foundations of our alliance. And these foundations without the shadow of a doubt include democracy and human rights. Our greatest priority should be to uphold and defend these outstanding achievements.

Italy and Germany share the task of carrying the spirit of European unity into the future.

The writer Carlo Levi described his home town of Turin as a place – and I quote – where "ideas and friendships are tended with great devotion and the tree-lined avenues are so long, wide and empty that one feels words could fly and develop unhindered."

May this wonderful city provide the same inspiration for the talks and encounters at this meeting as it once did for Carlo Levi!